Tim Tebow Has Already Landed With a New Team Just Days After Being Cut by the Jaguars
Tim Tebow had a short-lived career with the Jacksonville Jaguars.
After he was signed to the roster as a tight end, a position he had never played before, Urban Meyer and the Jaguars hoped to catch lightning in a bottle. The strategy obviously didn't pan out for the Jaguars, but Tebow didn't take long to land with a new team.
Tim Tebow partners with juice bar company Clean Juice
No, it's not another NFL or MLB team for Tebow. Instead, the former Heisman-winning quarterback has found a new home with the company Clean Juice.
Signing on to be the brand's national ambassador, Tebow had the following to say about Clean Juice during his first press release as a company partner:
"I'm very excited to be partnering with Clean Juice and to offer something that is truly clean and healthy," Tebow said, per Fox Business. "The biggest thing about Clean Juice over everything else is that you can trust the product and brand. There aren't a lot of products that are transparent about what is in your food."
As its national ambassador, Tebow will star in the company's first big TV advertisement while also appearing in smaller ad-related videos.
Clean Juice CEO Landon Eckles had the following to say about Tebow partnering with his company:
"We are truly blessed that Tebow has chosen to stand side-by-side with Clean Juice in becoming the face of the brand's continued mission and vision of being healthy in body and strong in spirit. The entire Clean Juice family is blessed to work with Tebow."
Clean Juice is looking to build off its partner's fame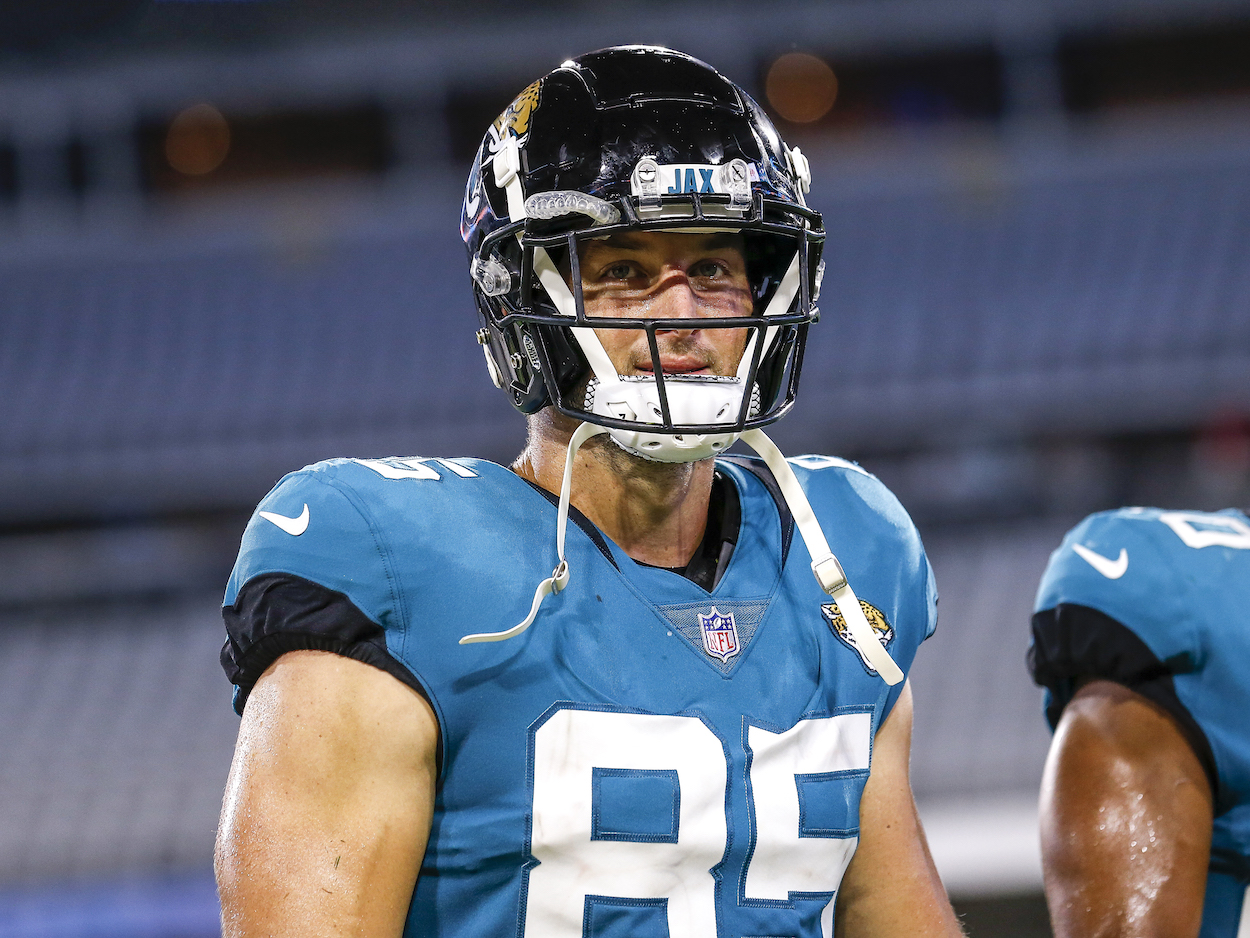 While Tebow's stay with the Jaguars ended up being brief, his initial decision to join Jacksonville sparked some serious hype around the NFL.
Tebow's Jaguars jersey was the top-selling NFL jersey for a period of time, and national media pundits all around the country were talking about his odds of cracking the roster. The city of Jacksonville loved the signing as well, as Tebow is still a bit of a folk hero due to his University of Florida days.
If anything, Clean Juice should be able to capitalize on the fiery new wave of attention that has engulfed Tebow.
Tim Tebow should finally retire his dream of making it in professional sports
First, it was the NFL, then it was MLB, and then it was the NFL again but at tight end. As much as it may pain Tebow — an intense competitor — the time to hang up the dream of making it in professional sports has finally arrived.
While he's still in incredible shape (based on his training camp pictures with the Jaguars), Tebow just turned 34. The odds of playing in the NFL at that age are already slim. Forget trying to learn a completely new position.
Tebow's new deal with Clean Juice likely signals as much — that he's finally willing to step away from the professional sports scene. However, you never know with Tebow. This is the same man who labored through years of minor league play with the New York Mets.
Maybe he should take up coaching?
Like Sportscasting on Facebook. Follow us on Twitter @sportscasting19.
[Correction: An earlier version of this article used "singing" instead of "signing" with respect to Tebow's new deal.]
RELATED: Joe Schobert Failed to Accomplish His Wildly Unrealistic Goal With the Jacksonville Jaguars