Tim Tebow Drops Massive Truth Bomb When Asked to Choose Between Patrick Mahomes and Derrick Henry Ahead of Titans-Chiefs Clash
Remember when Tim Tebow was fighting for a roster spot with the Urban Meyer-led Jacksonville Jaguars? It wasn't that long ago, which is hard to believe.
Now, the former Heisman Trophy winner appears on ESPNs First Take alongside Stephen A. Smith. In his short time on the show, he has already made some eye-popping revelations.
However, his latest truth bomb might be a hot topic over the remainder of the NFL season. Two players discussed as the best in the NFL are constantly Kansas City Chiefs quarterback Patrick Mahomes and Tennessee Titans running back Derrick Henry.
Well, Tebow was asked about which player he would rather have this season. While it might be a tough decision, his answer might surprise a lot of people.
Tim Tebow is all in on the King Henry hype
Through six weeks of the NFL season, Mahomes has struggled for some reason. On the other hand, Henry has run wild and is the sole reason the Titans are 4-2 and even competitive in football games.
Tebow always joins in on ESPN's First Take on Fridays, and with the Chiefs and Titans facing off this weekend, the now-TV personality sided with Henry as his pick. Yes, Henry over Mahomes.
Is it an easy pick? No, not this season.
However, Mahomes is the heart and soul of the Chiefs and has pioneered Kansas City to back-to-back Super Bowls. On the other hand, Henry can only do so much every week, and eventually the Titans will have to lean on their passing attack and defense — or lack thereof.
Of course, Stephen A. disagreed with Tebow, and that's half the beauty of the show.
Tebow's choice is Henry but Mahomes is still playing at a high level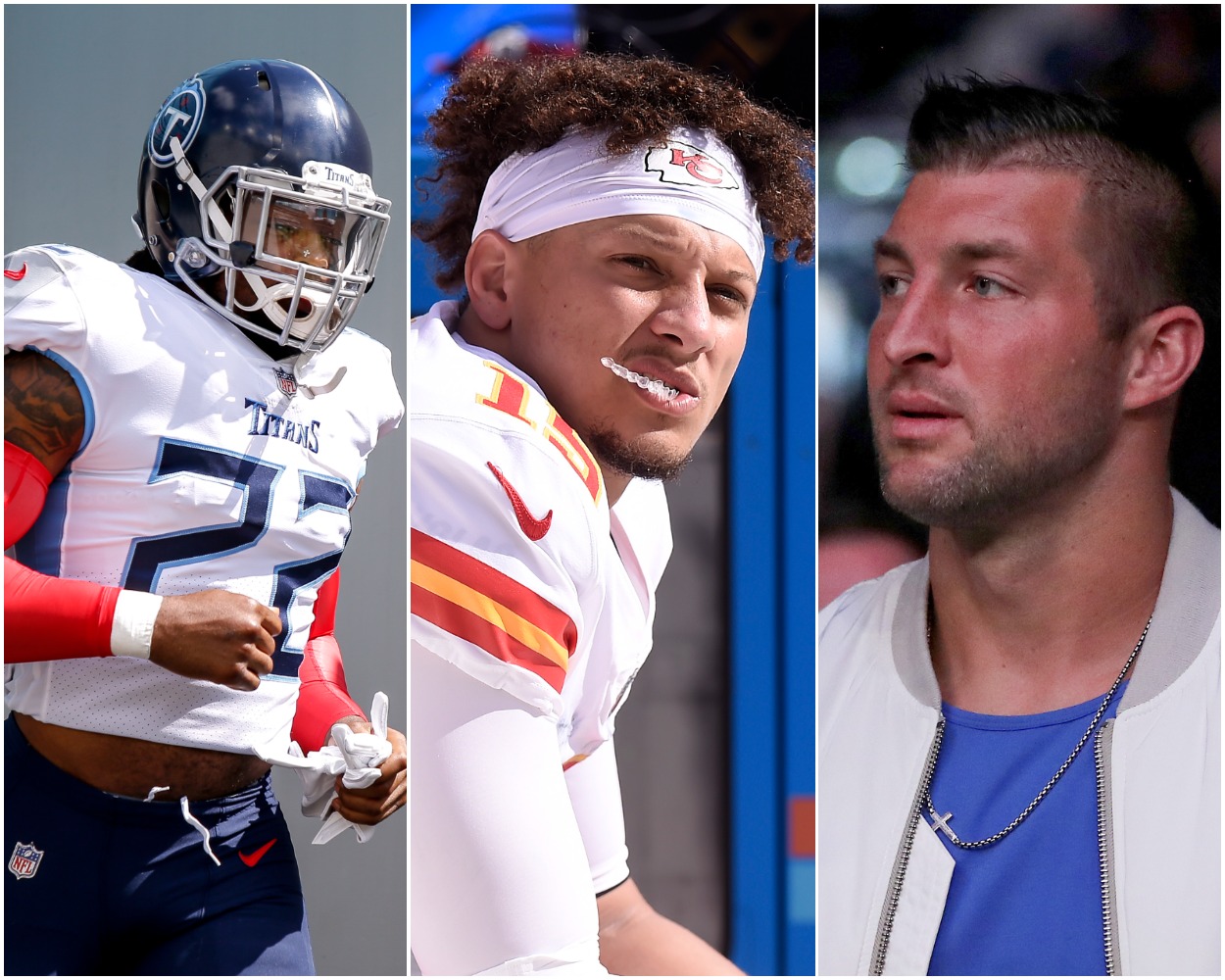 Now, let's dig deeper. There is no correct answer by any means. While Tebow's response brought a disagreement from Stephen A., that isn't exactly an unusual occurrence.
On the year, Henry has posted unworldly video-game numbers. Through six games, the former Alabama star has 783 yards and 10 touchdowns on the ground. He has also improved as a pass-catcher, adding 16 grabs for 138 yards.
The Titans running back ALONE has nearly 1000 yards on the year and has more scores than the entire Tennessee offense combined. So yeah, those are unreal numbers, and his dominance was on display once again on Monday Night Football against the Buffalo Bills.
Mahomes, oddly enough, has struggled a bit in 2021. He's thrown for 1887 yards with 18 touchdowns and eight interceptions as Kansas City sits at 3-3 heading into Sunday's game against the Titans. Mahomes is 3rd in the NFL in passing yards and leads the league in passing scores.
If it weren't for the eight interceptions and the .500 record, he might be toward the top of the MVP ladder. For comparison, over the last two seasons combined, he threw 11 interceptions. The fact that he has eight has people doubting his talent once again — for some reason.
Despite all that, the Chiefs are 2nd in the NFL in yards per game and 3rd in passing yards. Moreover, Kansas City is surprisingly sitting at 10th in rushing yards AND 5th in points per game.
While Henry's dominance has him on pace for another 2000-yard season, there is no denying that Mahomes is still playing at a superstar level. Oh, and it has only been six weeks. Let's not forget that.
On the other hand, we can't ignore Henry's improbable start, and Tebow has every right to roll with the Titans star.
Chiefs-Titans is all set to be a massive shootout
Perhaps the game of the weekend is the Chiefs vs. the Titans. The Tennessee defense has been suspect at best — they lost to the New York Jets. But, the Chiefs' defense has also been beatable. Oh, and not to mention the last time these teams met was in the AFC Championship game.
This game should have loads of points, and both Henry and Mahomes are expected to post massive numbers once again.
This season, Henry has been more valuable to his team, but these players are having stellar seasons. The Titans back is far and away the best running back in the NFL once again and in line for another rushing title.
Mahomes is just a couple of plays away from having the Chiefs above .500. The Kansas City QB has been to back-to-back Super Bowls and is not slowing down whatsoever.
So, while Tim Tebow picks Henry, it certainly is not too outlandish due to the sheer ineptitude of Henry's numbers through mid-October.
Please sit back and enjoy two of the best at their positions to duel it out in a must-watch game and make the decision for yourselves.
Stats Courtesy of Pro Football Reference
RELATED: Derrick Henry Is Running Over Defenses and Sprinting to the Top of the NFL MVP Conversation With Video Game Numbers