Tim Tebow, Dwayne Haskins Prove What Urban Meyer Can Mean To Trevor Lawrence
One of the most successful coaches in college football history is now becoming an NFL head coach as Urban Meyer has been hired by the Jacksonville Jaguars. This could be an excellent job for Meyer as Jacksonville is expected to take Trevor Lawrence with the No. 1 overall pick, but the hire could also be perfect for Lawrence. Meyer's former quarterbacks Tim Tebow and Dwayne Haskins prove how valuable Meyer can be to Lawrence's career.
Urban Meyer is the Jacksonville Jaguars' new head coach
RELATED: Dwayne Haskins Went All out When Spending His First $1 Million From Washington
Urban Meyer has had an incredible amount of success as a college football head coach. He ultimately won two national championships with the Florida Gators and one with the Ohio State Buckeyes. Both the Gators and Buckeyes were some of the country's strongest programs when he was in charge, too.
Now, he will be leading the Jacksonville Jaguars, who have only been to the playoffs once since 2008, and finished 1-15 in 2020.
"I'm ready to coach the Jacksonville Jaguars," Meyer said, according to ESPN. "Jacksonville has an enthusiastic fan base, and the fans deserve a winning team. With upcoming opportunities in the NFL Draft, and strong support from ownership, the Jaguars are well-positioned to become competitive. I've analyzed this decision from every angle — the time is right in Jacksonville, and the time is right for me to return to coaching. I'm excited about the future of this organization and our long term prospect for success."
Tim Tebow, Dwayne Haskins, and other QBs had great success with him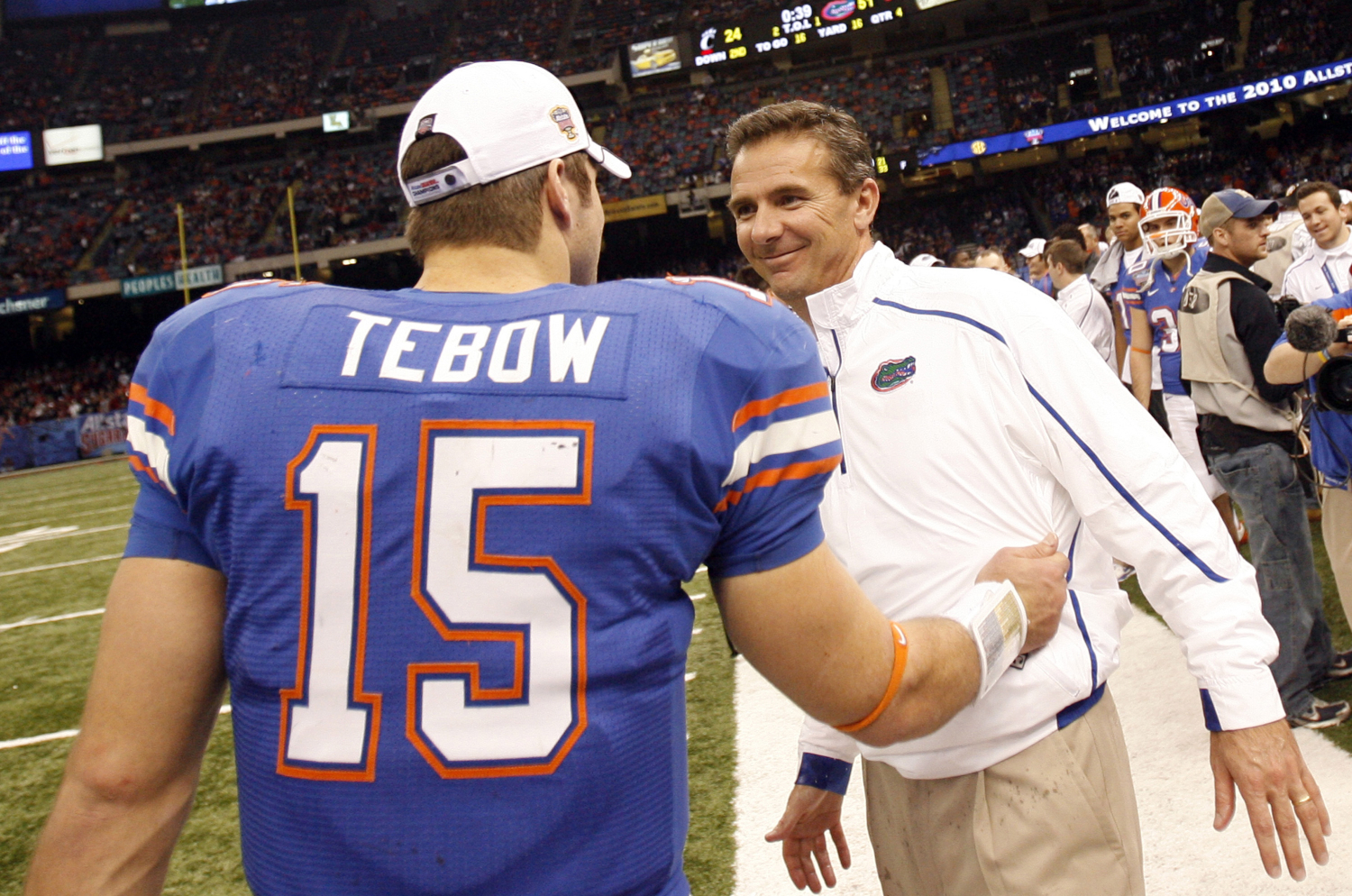 RELATED: Tim Tebow Just Sent a Clear Message About Joining Urban Meyer on the Jaguars
Meyer will most likely have Trevor Lawrence as his quarterback next season. His past quarterback situations ultimately prove how valuable he can be to Lawrence, too, as he knows how to get the best out of his QBs.
Meyer's first championship with Florida came with Chris Leak as his quarterback. Leak couldn't really do anything after Meyer, though, as he had no success in the pros.
Then, for Meyer's second national title with Florida, he had Tim Tebow, who had an incredible college career. Tebow won the Heisman Trophy in 2007 after throwing for 3,286 yards, 32 touchdowns, and six interceptions that year while also running for 895 yards and 23 touchdowns. As you probably know, Tebow only lasted three seasons in the NFL.
Meyer also had success with several quarterbacks at Ohio State. He won a national championship with his third-string quarterback, Cardale Jones, in 2014. In the NFL, though, Jones only threw for 96 yards, no touchdowns, and one interception. 
J.T. Barrett was also one of the best quarterbacks in college football with Meyer at OSU. He threw for 2,834 yards, 34 touchdowns, and 10 interceptions in 2014 and finished fifth in the Heisman race. He also ran for 938 yards and 11 touchdowns that season. Additionally, in Barrett's senior season, he threw for 3,053 yards, 35 touchdowns, and nine interceptions while also running for 798 yards and 12 touchdowns. In the NFL, Barrett has yet to throw a single pass.
Lastly, Dwayne Haskins looked like a bonafide star with Meyer in 2018. He threw for an incredible 4,831 yards, 50 touchdowns, and eight interceptions. This led to him becoming a first-round pick, but Haskins has only thrown for 2,804 yards, 12 touchdowns, and 14 interceptions in 16 games through his first two seasons. He has also already been cut by the team that drafted him.
Urban Meyer can get the best out of Trevor Lawrence
RELATED: Alabama Continued To Lay the Hurt on Ohio State After the CFP Championship Game With a Savage Troll Job
While Meyer was always a good recruiter in college and had a ton of talent on his teams, he did well even when he didn't have the most talented of quarterbacks. This ultimately proves that he knows how to play to his quarterback's strengths.
Now, he will have arguably the most talented quarterback he has ever had when the Jaguars draft Lawrence No. 1 overall. This will give him a lot to work with and many strengths to play to, which means Lawrence can have success in the NFL almost immediately.
No, Meyer's former quarterbacks weren't nearly as talented as Lawrence is, and that's probably why they didn't have success in the pros. But the problem might have also been that their head coaches in the pros didn't know how to use them effectively. Meyer did, and that's why they were stars when they had him as their head coach. 
While he has never been in the pros, Urban Meyer will most likely know exactly how Trevor Lawrence can best find his success, which could be very valuable for Lawrence early on in his career. It could also be pretty valuable for Meyer's NFL coaching tenure, as some college coaches don't translate to the pros very well.
Stats courtesy of Sports Reference and Pro Football Reference