Tim Tebow Failed, but Urban Meyer Is Now Welcoming Another Unsuccessful Former Player to the Jaguars
Urban Meyer should be trying to find success on the Jacksonville Jaguars, but instead, he somehow keeps making news. After giving his former star QB, Tim Tebow, a chance in Jacksonville, it appears Meyer has helped another one of his old players get an NFL job: wide receiver Devin Smith.
Tim Tebow failed with the Jaguars in what was likely his final NFL tryout
Tim Tebow hadn't played in the NFL since the 2012 season with the New York Jets, as he had been launching broadcasting and baseball careers. In May, though, the Jaguars signed him to a one-year contract as a tight end instead of a quarterback, which reunited him with Urban Meyer, whom he played for on the Florida Gators in college.
Together at Florida, Tebow and Meyer helped the Gators become one of the most dominant programs in college football, winning two national championships. Tebow even won a Heisman Trophy in 2007 after throwing for 32 touchdowns and running for 23.
On the Jaguars, however, they couldn't find any of the magic they once had as Tebow looked out of place at tight end during Jacksonville's preseason game against the Cleveland Browns. His inexperience blocking and inability to tackle on special teams proved to be his demise, and the Jaguars cut him on Aug. 17.
"We knew that was an uphill battle for Tim," Meyer said, per ESPN. "Players loved him, locker room loved him, but it was the right thing."
Former Ohio State wide receiver Devin Smith signed with the Jaguars
Despite Tim Tebow's NFL tryout with Urban Meyer failing miserably, the coach is now welcoming another unsuccessful former player to the Jaguars in Devin Smith. The team announced the signing on Aug. 28.
Smith went to the Jets in the second round of the 2015 NFL Draft, but injuries have consistently kept him off the field. He caught nine passes for 115 yards and a touchdown in 10 games as a rookie but has only played in eight contests since, not taking the field for a single game during the 2017 or 2018 seasons.
Smith also hasn't played since the 2019 campaign when he caught five passes for 113 yards and a touchdown with the Dallas Cowboys. He signed a practice squad deal with the Houston Texans in 2020 but never played in Houston before signing a reserve/future contract with the New England Patriots in January and then getting cut in July.
In college at Ohio State, Smith had unreal speed that could take the top off any defense. He caught 33 passes for 931 yards and 12 touchdowns during his senior year in 2014. But he has yet to show any consistency in the NFL, which makes the Jaguars' signing all that more puzzling.
If Meyer wants people to take him seriously, he needs to quit giving his friends jobs. He must quit signing guys like Tebow and Smith.
Urban Meyer must quit giving guys like Tim Tebow and Devin Smith NFL jobs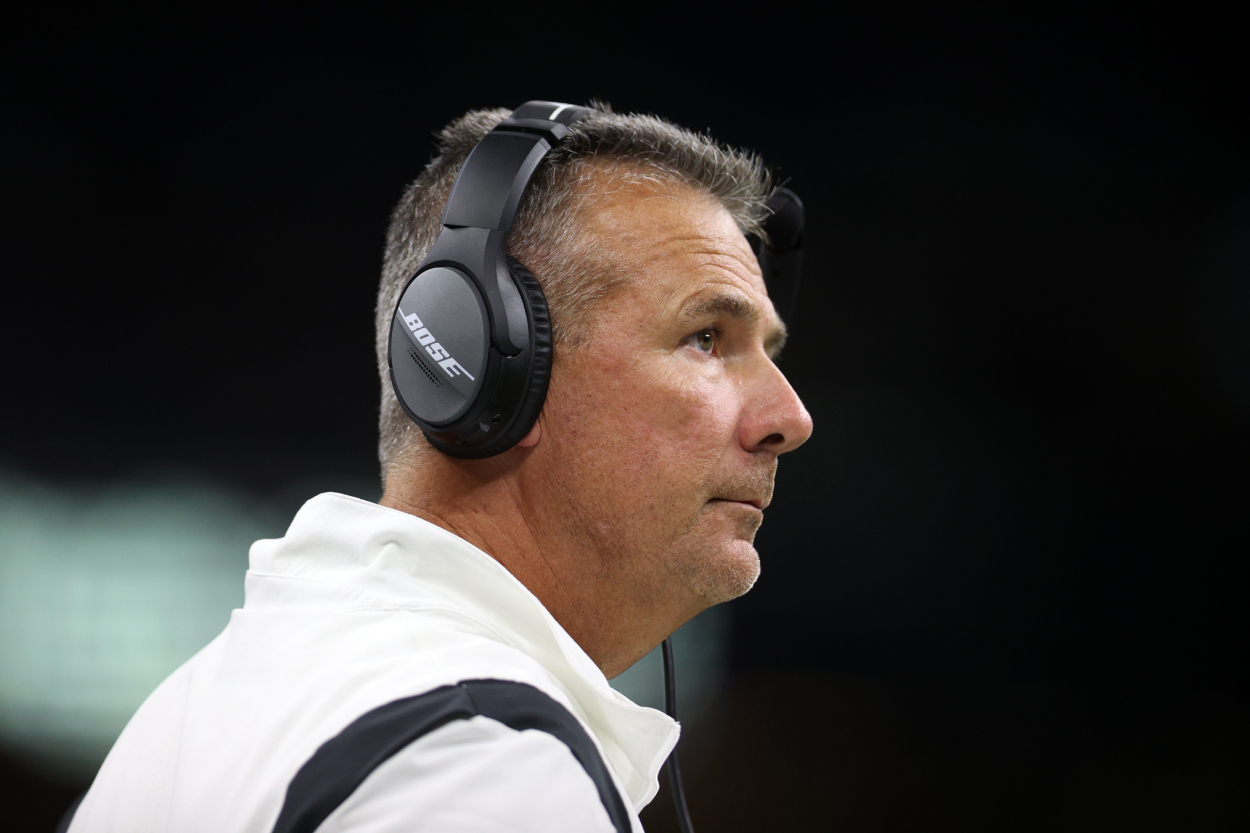 Meyer has an uphill battle in trying to prove he can coach in both college and the NFL. Nick Saban couldn't do it, Steve Spurrier couldn't do it, and Meyer's former mentor, Lou Holtz, couldn't do it. He must prove he's more like Jimmy Johnson or Pete Carroll and not any of the names mentioned above.
So far with the Jaguars, though, his tenure has been met with nepotism and controversy. In addition to Tebow and now Smith, the Jaguars selected former Ohio State tight end Luke Farrell in the fifth round of the 2021 NFL Draft. His stats in college? Thirty-four receptions for 380 yards and four touchdowns over four seasons.
Jacksonville also signed former OSU running back Carlos Hyde despite already having James Robinson and Travis Etienne. But given Etienne's recent injury and the fact Hyde just ran for 1,070 yards in 2019, that pickup might be one of the more understandable ones.
You can't, however, forget about his most ridiculous decision, the one that shouldn't even get mentioned with any of the moves discussed above. Since it's another example of him trying to help a friend, though, we must discuss it: his hiring of Chris Doyle.
Meyer hired the former Iowa strength coach as his director of sports performance despite there being multiple accusations of Doyle allegedly making racist remarks and bullying players at Iowa, per ESPN. Following a ton of backlash, Doyle resigned.
We all know Meyer is a great football coach who knows his Xs and Os, so he has an excellent opportunity to turn the Jaguars around, especially with Trevor Lawrence as his quarterback. But a failed season and numerous questionable moves will result in people not taking the championship-winning coach seriously and, in turn, potentially cost him his job.
He needs to realize this before it's too late.
Stats courtesy of Sports Reference and Pro Football Reference