Tim Tebow's Former Teammate Says His Switch to Tight End Is a 'Stupid Move' and That He 'Wasn't Good' When He Tried Switching Before
As you have probably heard by now, former Heisman winner Tim Tebow is back in the NFL. He recently signed a contract with the Jacksonville Jaguars, and his return has drawn out a wide range of reactions. Some people are just interested in seeing what he can do now that he is switching to tight end, and others think this is a massive mistake.
So, how about one of his old New York Jets teammates? You can put that player-turned-analyst into the latter category, as former NFL quarterback Greg McElroy recently called it a "stupid move."
Tim Tebow is back in the NFL with the Jacksonville Jaguars
Reports came out earlier this month that Tebow was expected to sign with the Jaguars as a tight end. This came after he worked out with the team days before the 2021 NFL draft.
It then became official on May 20, as Tebow signed his contract with the Jags. 
The biggest issue many people have with Tebow's signing is that he hasn't played in an NFL regular-season game since 2012, and has since been trying to become a professional baseball player. His former college coach, Urban Meyer, though, is now the Jaguars' head coach, which has led to Tebow getting his shot with the team.
Tebow's critics say this is a clear example of nepotism, while others just wonder if it can work. After all, we know how great of an athlete he was when he was younger and in Meyer's system on the Florida Gators.
McElroy, however, is of the people who hate this move.
Greg McElroy called the Tebow-Jaguars situation a 'stupid move'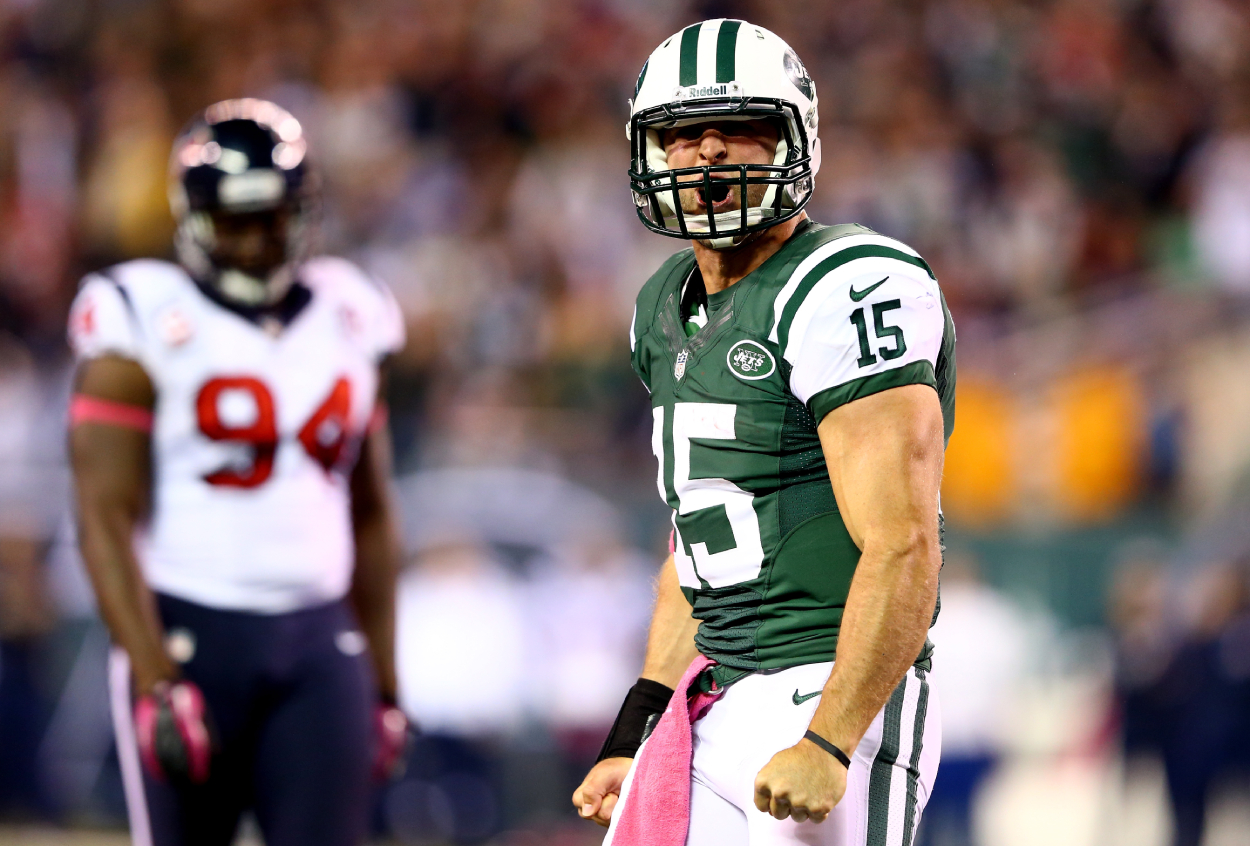 After winning a national championship with Alabama in 2009, McElroy only played in two career NFL games, but was teammates with Tebow on the Jets in 2012. When recently discussing his old teammate's NFL return, McElroy said that the former Heisman and national championship-winning QB tried playing tight end before.
"[The Jets] tried switching him to tight end, and he wasn't good," McElroy recently said on Sirius XM, per the New York Post. 
McElroy also shot down the idea that Tebow can become a player for the Jags like Taysom Hill has been for the New Orleans Saints.
"Tim ran a 4.8 (40-yard dash), Taysom Hill runs a 4.4," McElroy said, per the New York Post. "They're just two totally different players. Tim is a good dude and I hope the best for him. But it's a sideshow, and that's what it will be come training camp time."
McElroy added that he thinks it somewhat "undermines what Urban Meyer is trying to build."
"I bet you there's going to be players, as someone who went to training camp with Tim, there are going to be players who are rolling their eyes at the amount of attention the fourth-string, fifth-string tight end gets, and it's going to piss people off," he said, per the New York Post. "As a result, it's going to affect locker room chemistry, just like it did for us with the Jets. Not because anyone had any animosity toward Tim, they just have animosity with the coverage Tim receives. So, I think it's a stupid move."
Will Tim Tebow fail at playing tight end for the Jaguars?
So, since McElroy has actually seen Tebow try to play tight end, is he right in saying that the former Florida Gator will not be a successful at it?
Possibly. The former Bama star would know better than most since he saw Tebow try to play the position with his own eyes. Tight ends typically block a lot, too, and it's unclear whether Tebow can handle that.
We do know, though, that he was a great athlete during his days at Florida, so maybe that can translate to tight end. 
Here's a look at what he did with his legs in college, in addition to his passing stats:
2006 – Rushing: 469 yards and eight touchdowns
2007 – Passing: 3,286 yards, 32 touchdowns, and six interceptions; Rushing: 895 yards and 23 touchdowns 
2008 – Passing: 2,746 yards, 30 touchdowns, and four interceptions; Rushing: 673 yards and 12 touchdowns
2009 – Passing: 2,895 yards, 21 touchdowns, and five interceptions; Rushing: 910 yards and 14 touchdowns
Tebow used his legs at a frequent rate in college. If he still has some of that athleticism left, he should be able to catch some passes and make some defenders miss. If he can't, though, Urban Meyer's job could already be in trouble in Jacksonville.
Stats courtesy of Sports Reference