Tim Tebow Furiously Defended Lamar Jackson as the MVP Frontrunner Despite the Ravens' Embarrassing Week 10 Loss
Heading into Week 10, Lamar Jackson was near the top of most people's MVP rankings. He was fresh off an impressive come-from-behind win over the Minnesota Vikings and was well on his way to shattering his previous career-high for yards in a single season. However, due to an embarrassing loss to the Miami Dolphins, Jackson is seemingly falling out of favor in the MVP conversation — unless you're ESPN analyst Tim Tebow.
Despite Jackson's struggles against a poor-performing Miami Dolphins, Tebow ferociously defended the Baltimore Ravens' starting quarterback when questioned about the current MVP race.
Tim Tebow came to Lamar Jackson's defense
Appearing on First Take with Stephen A. Smith, Tebow didn't hold back with his praise for Jackson. His central argument is that one bad game shouldn't take away from Jackson's greatness during the Ravens' first eight games of the season.
"Every one of the players right now has had a bad game," Tebow said. "Lamar is sixth in passing, fourth in rushing in the NFL. He's doing it both ways."
"They're [Ravens] 6-3. They still have a shot. People are going to remember December and January way more than they will the second week of November. I think he's [Jackson] absolutely is in a great position to win the MVP. He's dominated this entire year."
"Every other MVP candidate has had a step back. Every single one. This is really one of the first for Lamar. He's dominated every other game. I think he'll be just fine. If he gets back on track…he still controls it [the MVP race]," Tebow concluded.
Tim Tebow absolutely nailed his assessment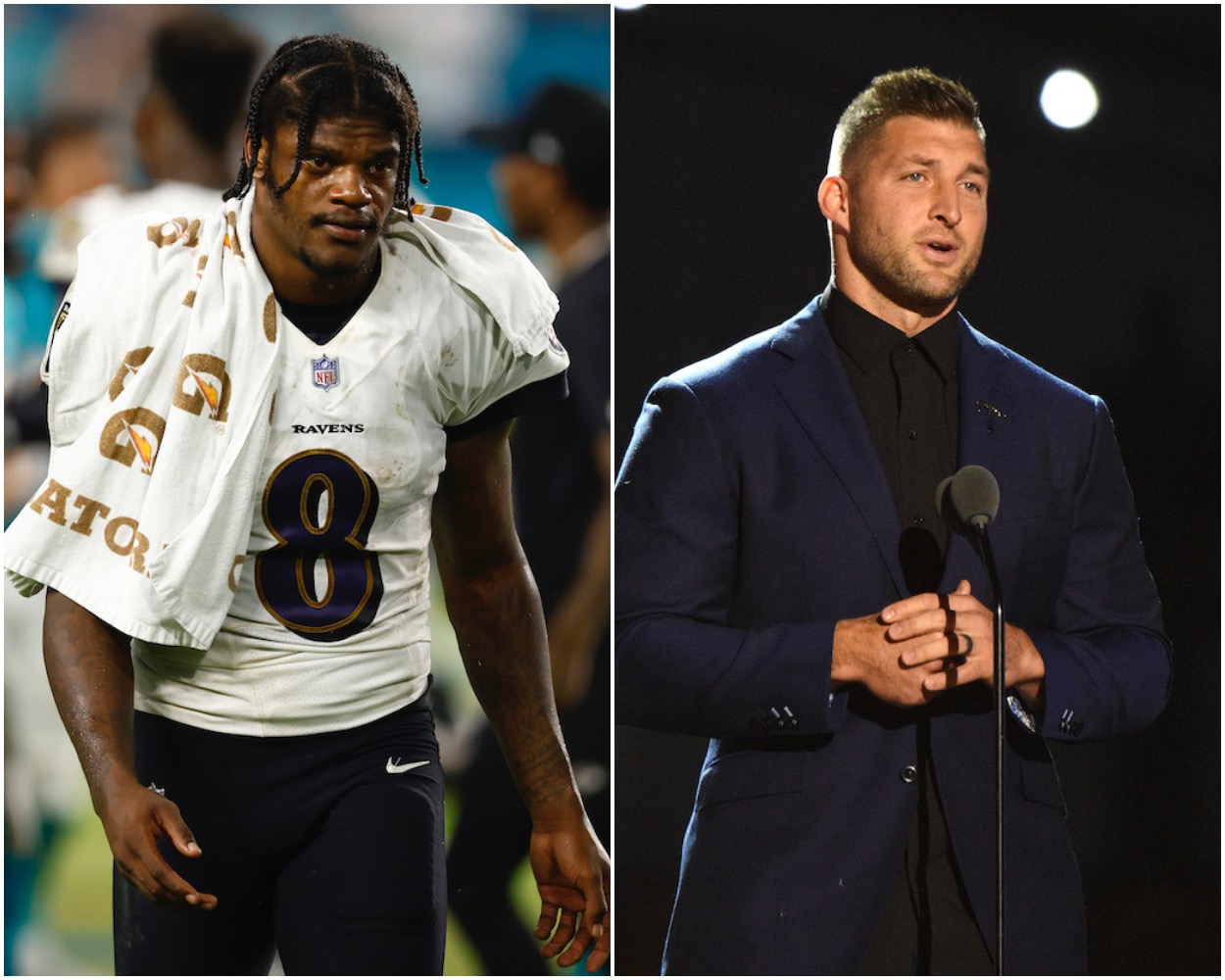 While the numbers Tebow referenced are a tad outdated following the conclusion of more Week 10 games, the overarching point he makes is 100% accurate. One bad game shouldn't take away from Jackson's brilliant season. He's been fantastic all year long and has noticeably improved throwing the football.
Jackson has passed for 2,447 yards and rushed for an additional 639. His passing yards per game sits at a career-high 271.9, and he's averaging a career-high 7.9 yards gained per pass attempt. He's also orchestrated four game-winning drives and four fourth-quarter comebacks — both league-highs.
Jackson is in year four of his NFL career, and opposing defenses still have zero clue how to stop him. In fact, it looks like he's only getting more challenging to stop. He's on pace for 4,000-plus passing yards and 1,000-plus rushing yards, and his team is 6-3. Those are unquestionably MVP-caliber numbers, even with the ugly loss to Miami in Week 10.
Lamar Jackson is facing limited competition
Another strong point made by Tebow is that Jackson's primary competition for the MVP trophy is struggling. There's no clear frontrunner at the moment. Most of the top candidates have had just as many bad games (if not more) as Jackson.
Kyler Murray looked like a lock due to the Arizona Cardinals' fast start. However, he's missed two straight games due to an injury. Tom Brady just threw two interceptions to the Washington Football Team. Matthew Stafford struggled against the Tennessee Titans in Week 9. Josh Allen couldn't even score a touchdown against the Jacksonville Jaguars.
Jackson struggled against the Dolphins. However, he's not the only elite QB to falter against a lousy opponent this year. The playing field is essentially level moving into the second half of the season.
As long as Jackson gets back on track in Week 11, as Tebow suggests, he should remain a hot favorite for MVP by the season's end.
All stats courtesy of Pro Football Reference.