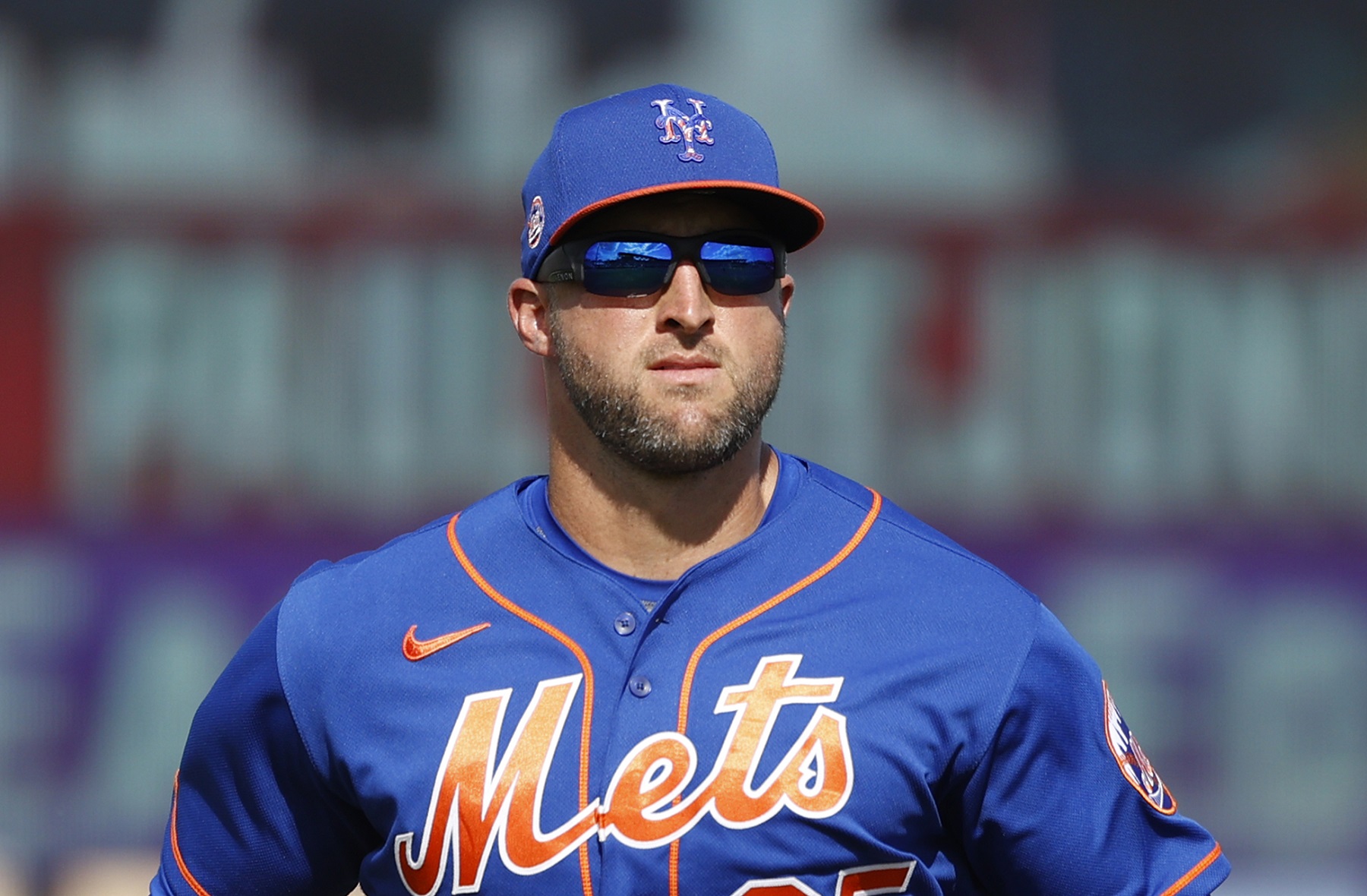 Tim Tebow Is Taking a Crack at His Third Pro Sport
Former Heisman Trophy winner and NFL quarterback Tim Tebow has joined the ownership group of a minor-league hockey team.
Tim Tebow was a great college football player who had a short run as an NFL quarterback and has since been trying to make it in professional baseball in the New York Mets organization. In case that doesn't pan out – and that's certainly the way to bet – Tebow is establishing a fallback position in a third sport.
Tim Tebow has already tried and failed in football and baseball
Tim Tebow had a legendary career as a college quarterback at the University of Florida, where he won the Heisman Trophy in 2007 as a sophomore. Tebow finished his four-year Gators career with 9,285 passing yards and 2,947 on the ground. He threw for 88 scores and rushed for another 57 in helping Florida to a 48-7 record (35-6 as a starter).
The Denver Broncos selected Tebow 25th overall in the 2010 NFL draft despite misgivings around the league about his ability to adjust to the pro passing game. The concerns were not unfounded. In two seasons and 14 starts with Denver and then a cup of coffee with the 2012 New York Jets, Tebow completed just 47.9% of his passing attempts.
After being released by the New England Patriots in 2013 and Philadelphia Eagles in 2015, Tebow changed his focus to baseball. The New York Mets brought Tebow to the Arizona Fall League in 2016 at the age of 29, a decade later than players coming out of high school typically begin their careers.
Now 33, Tebow is a career .223 hitter with 18 home runs in 287 minor-league games as an outfielder. The minor leagues' 2020 season was wiped out by the pandemic. Before that, Tebow's 2018 season with Class AA Binghamton and 2019 for Class AAA Syracuse were cut in half by injuries. He batted .163 in Syracuse with 98 strikeouts in just 239 at-bats.
Tim Tebow will take a crack at minor-league hockey
The New York Mets' motivation for signing Tim Tebow came under immediate suspicion, and their decision to stick with him this long has only added to the criticism. If Tebow sticks with baseball, the best the Mets could hope for is that he reaches the majors in his mid-30s for a stint as a fourth or fifth outfielder.
That won't do much to dispel the notion that the Mets' motivation was to grab some cheap publicity and sell tickets. With billionaire Steve Cohen having taken control of the franchise, the Mets no longer need to play that card.
However, there are other teams out there looking for greater visibility – beginning with the Jacksonville Icemen of the ECHL. On Dec. 1, 2020, the Icemen announced that Tebow and two other figures with NFL connections have signed on as members of the team's ownership group.
"I am extremely excited for the opportunity to welcome aboard additional community members to our Icemen family," franchise managing partner and CEO Andy Kaufmann said in a statement released by the ECHL. "These latest additions to our team will help us extend our reach into the community and will further solidify the Icemen as Jacksonville's team for many years to come." 
Said Tebow: "I simply love Jacksonville. I am excited to be a part of this new endeavor with the Icemen.  It is important to me to invest back into the community that has meant so much to me."
Two big Jacksonville Jaguars names have also invested
Tim Tebow isn't the only well-known athlete out of Florida to have signed on with the Jacksonville Icemen of the ECHL.
Team CEO Andy Kaufman announced that the Iceman have also added current Jacksonville Jaguars linebacker Myles Jack and former defensive end Reggie Hayward to their ownership team.
Jack has started 62 of 68 games since joining the Jaguars as a second-round pick out of UCLA in the 2016 NFL draft.
Hayward played nine NFL seasons with the Jacksonville Jaguars and Denver Broncos after a college career at Iowa State. He settled in Jacksonville after retiring with 39.5 career sacks.
Like Sportscasting on Facebook. Follow us on Twitter @sportscasting19.
(Correction: This article originally cited the ECHL as the East Coast Hockey League. The league's operating name is ECHL.)