Tim Tebow Plays It Safe With His Opinion on National Anthem Protests in the NFL
National anthem protests were a big topic in the NFL when Colin Kaepernick first began kneeling and other players followed. Now, with the racial tension in America, it's become a hot topic again. One player who never kneeled during the anthem is Tim Tebow. He keeps his comments about anthem protests notably safe and non-controversial.
Despite news stories, Tim Tebow never kneeled for the anthem
Back when Tebow was still playing, people thought he kneeled during the anthem as a way of protesting. When news reports started to pick up on that, Tebow denied it and fired back. In 2018, Yahoo Sports reported on a photo of Tebow with his knee on the field from 2011. It had been circulating on social media.
Tebow called it sad when people "try to create something that had zero truth." He insists that all he ever did during the singing of the national anthem was "stand and support [his] country." He also called out people for misrepresenting his kneeling during game as a touchdown celebration.
The Heisman-winning quarterback said he didn't kneel to "take away from somebody else." Instead, he kneeled after scoring because of his "personal relationship with God."
Tebowing gains notoriety and a trademark
The image of Tebow kneeling became known as Tebowing, and it took on a life of its own. To officially "Tebow," you drop to one knee and hold a clenched fist to your forehead. Tebow was officially awarded a trademark on the name in 2012 following a legal battle with two fans who wanted to own the name, details NFL.com.
He reiterated that it wasn't his intention to create a trademarkable positioning. Rather, it was a prayer for him, and "then it got hyped up as Tebowing." Tebow wanted to own the trademark to "make sure it's used in the right way."
He claimed he would not use the term to gain financial advantage. Any money made off of Tebowing would go to his charity. Tebowing became so well-known that it even made it into one of the most famous video game franchises in history, Madden, debuting in Madden NFL 13.
Tebow's thoughts on anthem protests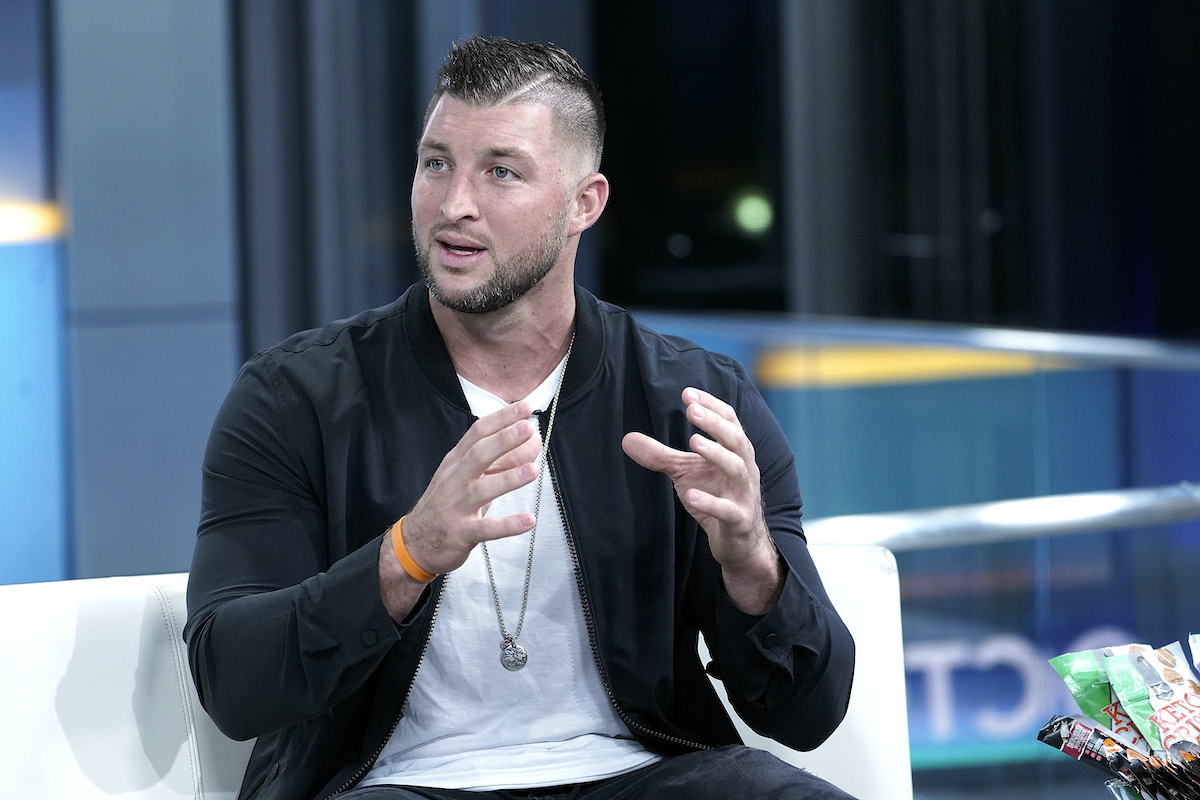 When asked to give his thoughts on national anthem protests in the NFL, Tebow was unsurprisingly non-controversial with his comments. Even though he has always chosen not to protest during the anthem, he doesn't criticize those that do.
The now-baseball player says he doesn't knock people who choose to stand for something that they believe in. He says this includes the racial inequality that originally led to Kaepernick and others to protest. Regardless of whether he agrees with someone's opinion, Tebow says he "appreciate[s] it when people have convictions and they stand for that."
He goes on to point out that "it's important how we do that as well." Tebow notes that he has friends in the NFL who've been on both sides of the issue. The 33-year-old says he understands it and believes "what's more important is to know their heart and where they're coming from."
Tebow continued by talking about it being good to know "where the conviction stands in their heart and what they really want to share." So even though Tebow doesn't believe in kneeling during the anthem himself, he has not publicly shamed any players who've done so.