Tim Tebow Gets Called out by a Pro Football Hall of Famer Who Says He's 'Addicted to Fame'
It seemed like the Aaron Rodgers and Green Bay Packers situation was the only thing football fans were talking about of late. The Jacksonville Jaguars, though, put a stop to that when reports came out saying they are expected to sign Tim Tebow and potentially help him make an NFL return.
It's been almost nine years since Tebow last played in an actual NFL game, which is a major reason why many fans and former players have found themselves upset about the situation. Among those upset is a Pro Football Hall of Famer who said Tebow is "addicted to fame." That Hall of Famer is the one and only Shannon Sharpe.
Tim Tebow's potential NFL signing has many football fans upset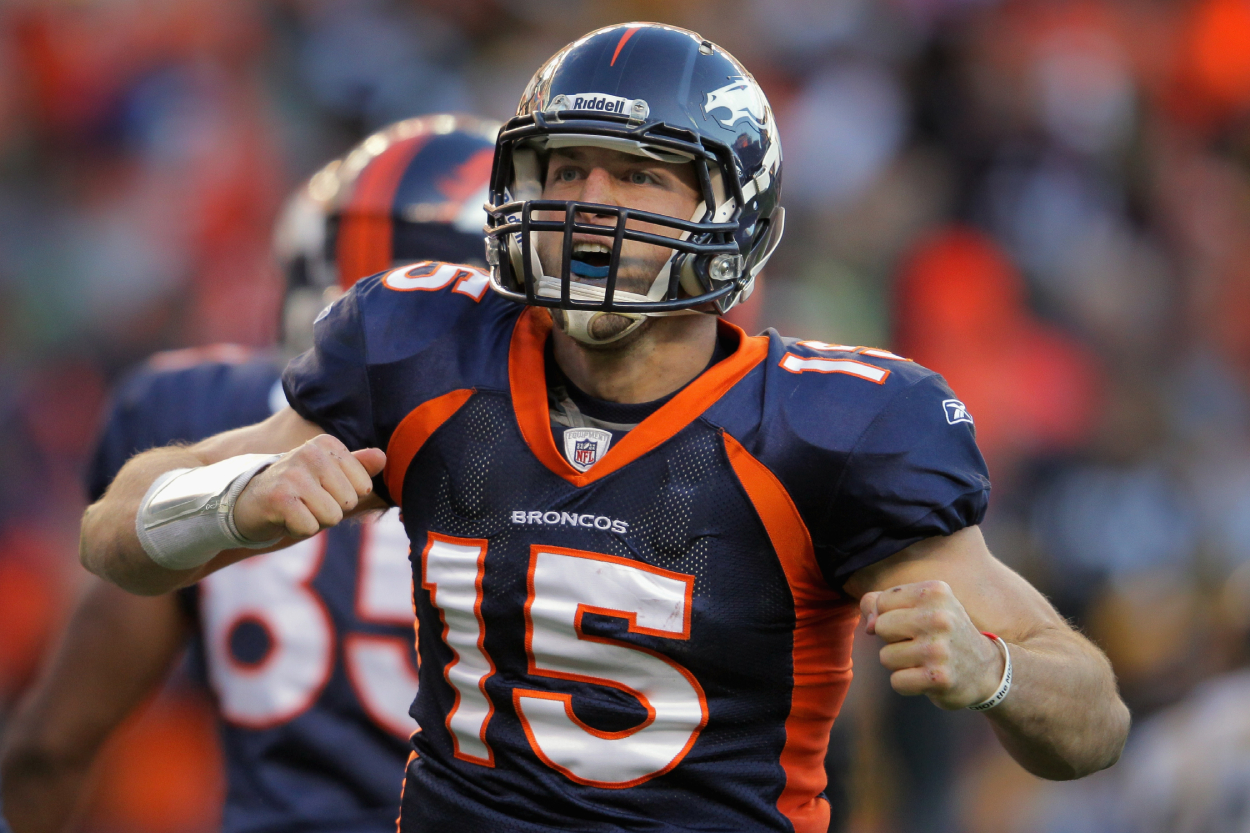 Tebow hasn't played in the NFL since Dec. 30, 2012 with the New York Jets. The former Heisman-winning quarterback then later played in the 2015 preseason on the Philadelphia Eagles but didn't make the final roster for the regular season.
After seemingly giving up on playing quarterback in the NFL, Tebow later decided to try and play pro baseball. He has also spent time working on the SEC Network since leaving football. However, after announcing his baseball retirement in February 2021, Tebow reportedly worked out with the Jacksonville Jaguars as a tight end prior to the NFL draft, per NFL.com. Reports then surfaced this week that the Jags plan to sign Tebow.
Given that it's essentially been just under a decade since Tebow's last NFL appearance, and the fact he has never played the tight end position at a high level, the news of his potential signing left many fans and former players upset.
"All jokes aside. Why is Tebow back in the NFL. There's no proper explanation for this. Dude hasn't seen the field in the regular season in 8 years," former NFL offensive lineman Geoff Schwartz tweeted.
Former Steelers defensive back Ryan Clark, on the other hand, took issue with Urban Meyer, the Jaguars' head coach who was also Tebow's college coach at Florida.
"Urban Meyer says, 'You know what, I know him. We have a relationship; that's my friend; I'm in a position of power, and that's enough,'" Clark said on the May 10 episode of NFL Live.
Shannon Sharpe called out Tim Tebow
Among those not happy with Tebow's return is Sharpe, the Pro Football Hall of Famer who now stars on Skip and Shannon: Undisputed.
"Everybody knows why he got this opportunity; everybody knows that," Sharpe said to his counterpart, Skip Bayless, on the May 11 episode of Undisputed. "He's from Jacksonville; they're trying to sell tickets. … His ex-college coach is now the head coach of the Jacksonville Jaguars, so we know what this is, Skip. Let's not make this like, 'Here's a guy that was very deserving of an opportunity.'"
Sharpe also pointed out the many former college players who deserve a chance over Tebow, a player who has not played in an NFL game in nearly nine years.
"We know what this is; it's not that he can play," Sharpe said. "He thought he was a great athlete, 'Oh, Tim Tebow's a great athlete,' tried baseball, what happened? Tim Tebow is addicted to fame. Tim Tebow cannot let it go — that's what this is. He's the same guy that was in Denver; he loves the attention, he craves the fame, he craves the limelight, and here we are again."
Sharpe clearly isn't a huge Tebow fan, but if anyone knows whether the former Heisman winner can play tight end or not, it's him.
Shannon Sharpe was a Hall of Fame tight end
Because of his top-notch athleticism, some think there's a chance Tebow can succeed at tight end. However, if Sharpe questions it, maybe we should listen.
Sharpe earned eight Pro Bowl selections playing tight end for the Denver Broncos and Baltimore Ravens and was a four-time first-team All-Pro. He also gained over 1,000 receiving yards in three different seasons, and ultimately caught 815 career passes for 10,060 yards and 62 touchdowns.
His play then not only led to him becoming a Pro Football Hall of Famer, but he also contributed to three Super Bowl-winning teams.
The entire Tebow situation is a hot-button issue, and it's unclear whether he is good enough to succeed at tight end for the Jaguars. But if Sharpe, one of the greatest tight ends to ever play, is skeptical about it, maybe we should all be skeptical too.
Stats courtesy of Pro Football Reference