Tim Tebow's Release Does Nothing to Diminish His Career Accomplishments
Tim Tebow's attempt at an NFL comeback failed after he was cut by the Jacksonville Jaguars. Even his former college coach, Urban Meyer, couldn't keep his favorite player around as a tight end. The Florida product played in one preseason game with Jacksonville. He was on the field for 16 plays, was officially targeted once, and went viral for a whiffed block.
Although he's always remembered for what he couldn't do, Tebow was one of the most decorated college quarterbacks of all time, became a first-round NFL draft pick, and played two sports at the professional level. That all gets lost in the noise that's surrounded Tebow his entire career.
Tim Tebow was cut by the Jacksonville Jaguars, ending his attempt at an NFL comeback
The former college star turned NFL quarterback turned pro baseball player turned media member turned NFL tight end completed his on-field odyssey after being released by Jacksonville after one game. Tebow's attempt at making a comeback at a different position as a 34-year-old who hadn't played football since 2012 was a long shot, to say the least. But Meyer, who recruited Tebow at the University of Florida and won two national titles with him at the helm, gave him a chance.
Tebow went into the preseason listed fourth on the depth chart along with two other players, according to Jacksonville.com. The chances of him making the roster were slim at best. Barely more than a dozen plays later, it was over. Even Meyer said in a press conference following Tebow's release, "It was the right thing to do."
Tebow didn't need an NFL comeback to validate his career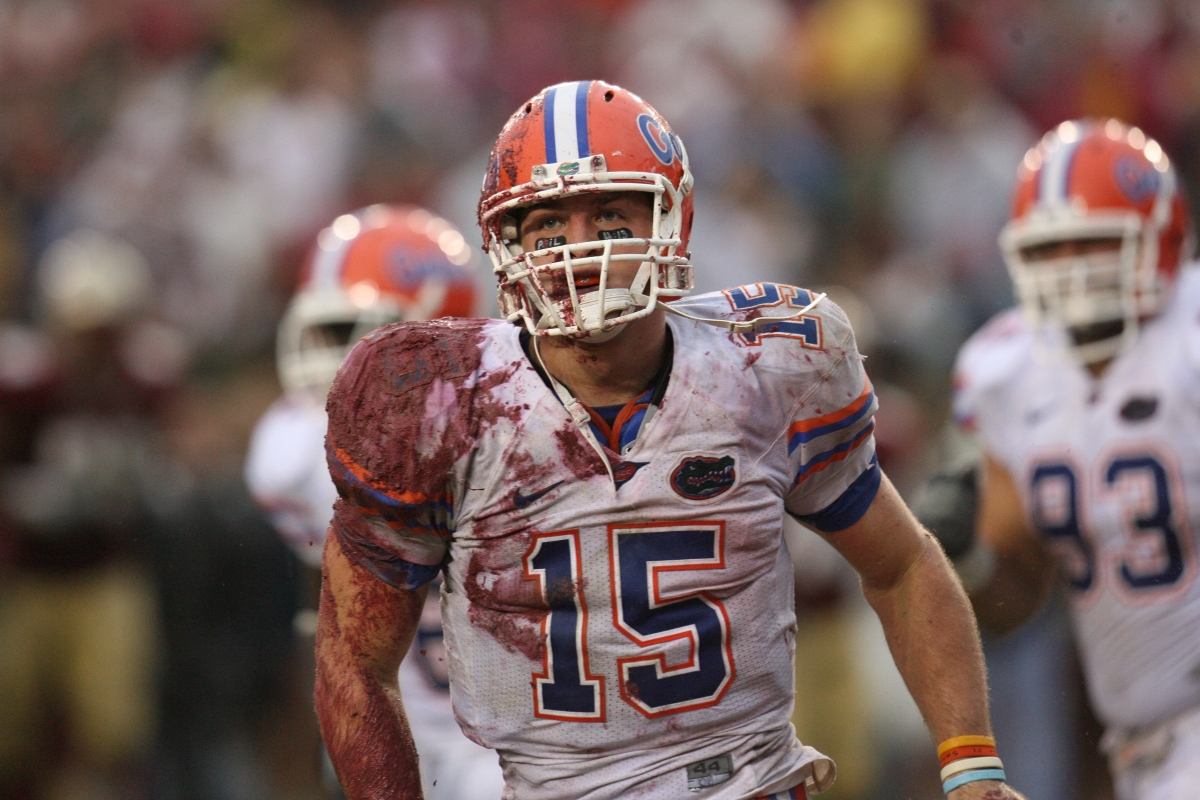 Tebow is one of the most highly-decorated college football players of all time. A list of his accomplishments at Florida looks like this, according to Sports-Reference.com:
2007 AP Player of the Year
2007 Consensus All-America
2007 Davey O'Brien Award winner as the nation's best quarterback
2007 Heisman Trophy winner
National Champion in 2006 and 2008
2007 and 2008 Maxwell Award winner as the best player in college football
2008 SEC Offensive Player of the Year
Fourth all time in SEC pass completion percentage, fifth all time in passing touchdowns, sixth all-time in yards per attempt, fourth all time in rushing yards per attempt, first all time in touchdowns and third all time in total yards
Tebow's accomplishments have gotten buried since he was drafted with the 25th overall pick in 2010 by the Denver Broncos. Everyone knew Tebow wasn't worthy of a first-round pick. But his career in Gainsville and his drive to succeed made a believer out of then-Denver head coach Josh McDaniels.
Tebow only started 16 games in the NFL. His best season came in 2011 when he started 11 games for the Broncos, throwing for 1,729 yards and 12 touchdowns while rushing for 660 yards and six more scores. The highlight of his pro football career was a touchdown pass to Demaryius Thomas in overtime to win an AFC Wild-Card game.
Tebow switched gears and attempted a career in professional baseball in 2016. As a left-handed hitting outfielder in the New York Mets' organization, he maxed out at the AAA level. According to Baseball-Reference, he finished his baseball career with a .223 batting average, 210 hits, 18 home runs, and 107 RBI in three seasons.
Overwhelming media attention overshadowed an accomplished athletic career
"Tebow Mania" has always been a real thing. The 34-year-old has plenty of fans and plenty of critics. His career and personal life have always been polarizing, and the takes surrounding him divisive. The noise has drowned out all of his achievements.
Tebow won two national championships and a Heisman Trophy. He was a first-round NFL Draft pick. He played professionally in two different sports. If his athletic career is finally over, it was a legitimately successful one.