Tim Tebow Is Staying Optimistic About Trevor Lawrence's Future Even After the Rookie's Nightmarish Start
In yet another reminder that Jacksonville Jaguars fans cannot be happy, they won't get to see Trevor Lawrence and Tim Tebow connect on a touchdown this fall … or next fall … or this winter.
If you've already buried the images in your head, let us remind you that Tebow played tight end for the Jaguars this past preseason. Although he's since returned to his cushy job at ESPN, the Heisman Trophy winner is speaking out in favor of his former teammate and preaching patience.
Tim Tebow hasn't given up on Trevor Lawrence and the Jaguars just yet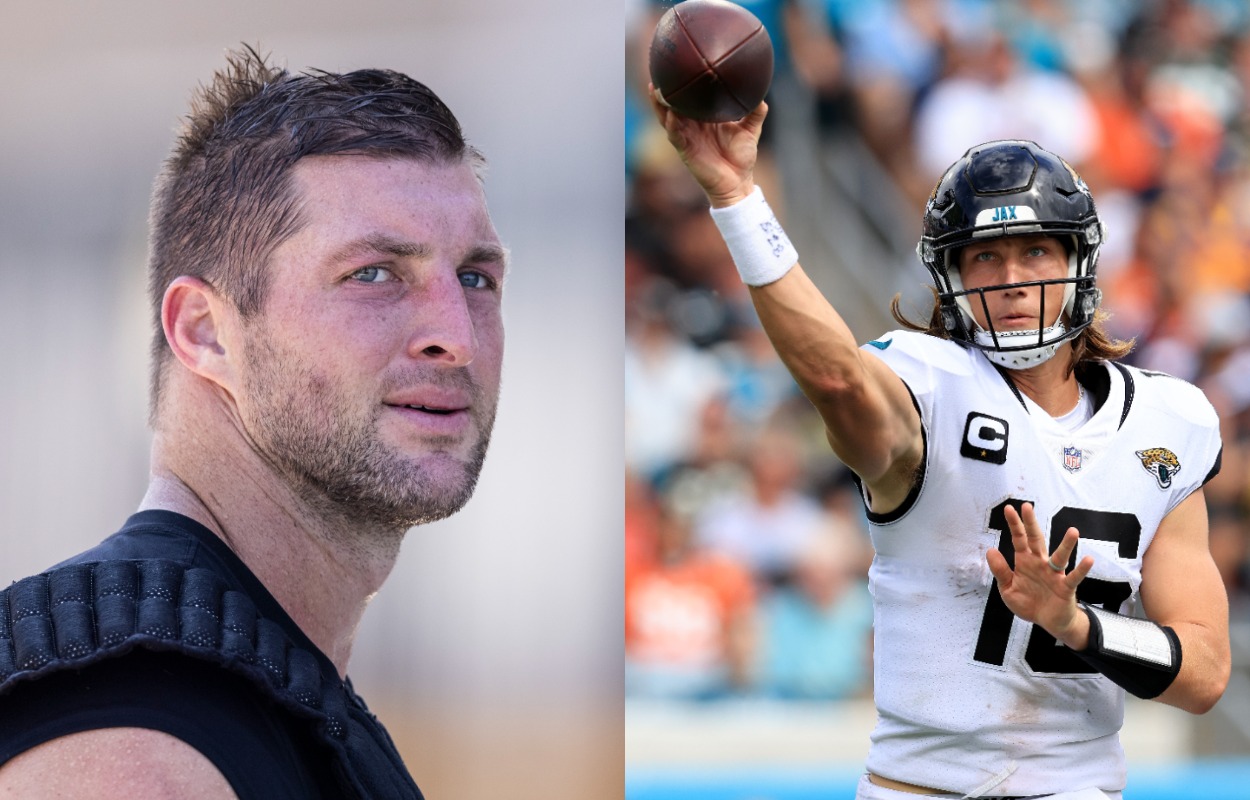 The hot-take climate of the modern sports world might have some observers already doubting Lawrence, the first overall pick this spring, after a slow start to his NFL career.
Tebow, who himself is no stranger to skepticism and critics, doesn't want anyone giving up on the Jaguars' rookie quarterback just yet. The Associated Press released comments the ESPN analyst made for an upcoming episode of the AP Pro Football Podcast.
Despite the Jaguars' 0-2 start and Lawrence's NFL-high five interceptions, his former teammate is advising fans to keep the faith and work through the growing pains.
"I think there's a lot of talent there, and they just have to continue to try to get better. And every week, I think Trevor's got so much talent and ability, and I think he's a great young man, and I think he's going to be just fine."

Tim Tebow
The Jaguars, for all of their talent, entered Week 3 of the 2021 season with a 12-38 record since the start of the 2018 campaign. Not that Tebow, with his bright smile and optimistic outlook, wants to dwell on the negative numbers.
Tebow is right to keep the faith in Lawrence after the slow start
Put simply, anyone who already wrote Lawrence off after two starts need to reevaluate their football knowledge. As for the Jaguars fans who may already be looking at the 2022 NFL Draft's quarterback crop, we advise them to seek help.
Is there a chance that Lawrence's rough start is a sign of things to come? Absolutely, and that applies to any young NFL player. It's still too early in the process to know how he, or any of the players selected earlier this year, are going to pan out. He certainly looked the part of an NFL quarterback when he threw a 25-yard touchdown pass to Marvin Jones in Week 2.
Think about things like this for a second. Tebow and Atlanta Falcons quarterback Matt Ryan each threw a touchdown on their first NFL pass. Both had markedly different careers, with one still playing now and the other currently on television.
Robert Griffin III, the second overall pick nine years ago, threw two touchdown passes in his NFL debut on Sept. 9, 2012. The Chicago Bears defense intercepted Andrew Luck, who went one pick before Griffin, three times that afternoon. Both played well as rookies — Griffin even won the NFL's Offensive Rookie of the Year Award — and seemed destined for stardom before injuries intervened.
Lawrence has already had plenty of throws he likely wants back, and that's perfectly normal for a rookie quarterback. No one realistically expected him to shred defenses with precision the way he did for three seasons at Clemson. However, as Tebow said, this is a situation where raw talent should prevail in the end.
Lawrence is approaching the first pivotal stretch of his NFL career
With two losses in his NFL career, Lawrence has already matched the amount of defeats he had as a college starter. That's what happens when one trades playing Wofford and Florida State for the Houston Texans and Denver Broncos.
Although no one expects the Jaguars to go from 0-2 to the AFC Playoffs, this is nonetheless a crucial stretch for Lawrence. He's facing the type of adversity that he never had to deal with in high school or college, outside of the coronavirus pandemic's impact last year. He's already thrown five interceptions on a rebuilding team with a first-year head coach — and even then, there's no guarantee Urban Meyer will be in Jacksonville beyond this season.
It's probably asking too much for the Jaguars to even win two games in an upcoming three-game stretch against the Arizona Cardinals, Cincinnati Bengals, and the rival Tennessee Titans. The goal for Lawrence should be to show a gradual improvement in those games, from cutting down on turnovers to completing more of his passes.
Lawrence flashed at times in his first two games and reminded fans of why he was arguably the draft's most hyped prospect in a decade. The opportunity has come for him to put things together across 180 minutes and re-establish the faith and optimism in Jacksonville.
Like Sportscasting on Facebook. Follow us on Twitter @sportscasting19.
RELATED: Trevor Lawrence Joins Tim Tebow in Embarrassing Territory