Tim Tebow Just Subtly Revealed He Wanted a Final Chance at Playing Quarterback: 'I Feel Like I Could Have Helped a Team'
Between Trevor Lawrence's interception-filled start, Urban Meyer's constant controversies, and the Jacksonville Jaguars' general horrible on-field performances, it feels like forever ago that Tim Tebow was a member of the team.
However, it was genuinely just a few weeks ago that Tebow's roster status was the biggest story in Jacksonville. Tebow's Jaguars jersey shot up to No. 1 on the NFL's jersey sale leaderboard. Diehard Florida Gators fans were desperate to see their former Heisman-winning QB latch onto the Jaguars' depth chart.
Tebow was released during training camp, seemingly putting an end to his dreams of returning to the NFL — just don't tell Tebow that.
Tim Tebow wanted a final chance playing QB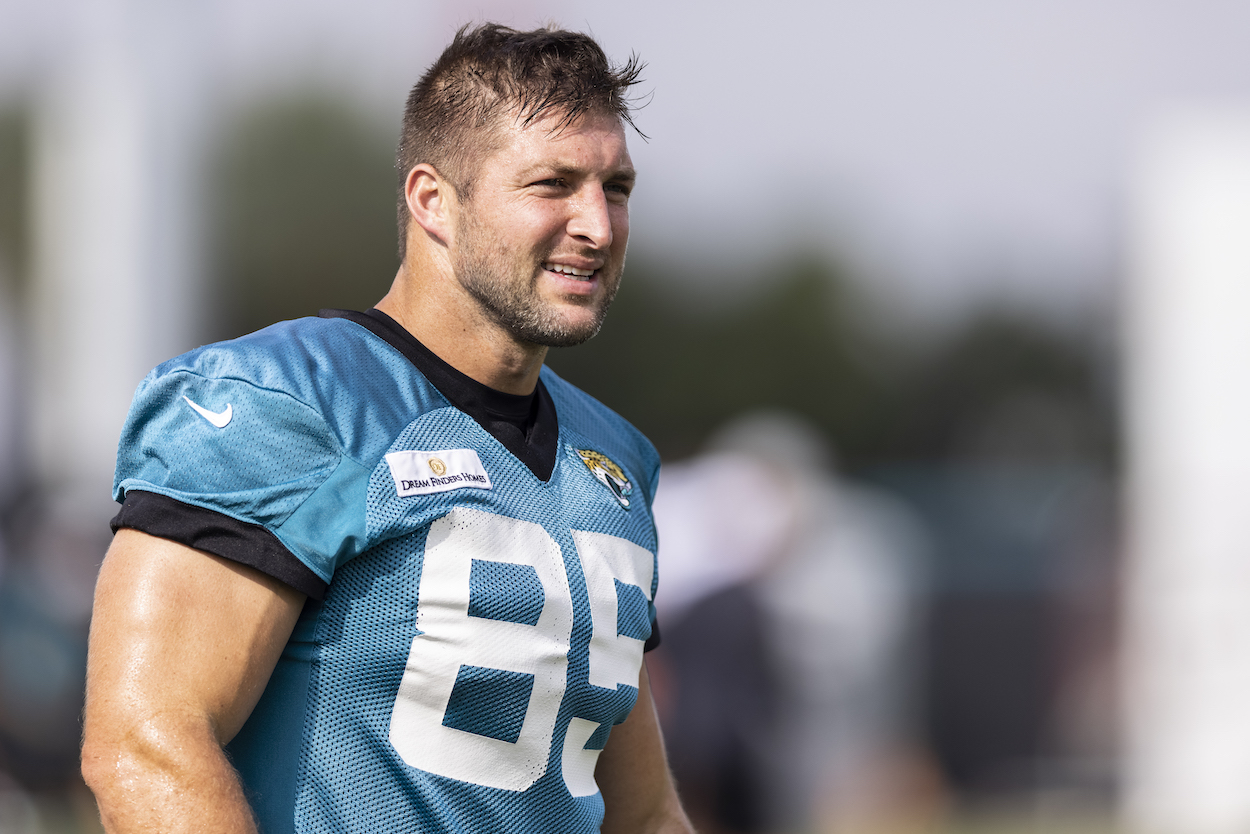 During a recent interview with FanSided's Mark Carman, Tebow reveals his thoughts on the idea of returning to the NFL to play quarterback, the position he played all through college and during the early stages of his NFL career.
The whole Jaguars/tight end experiment was a bit silly looking back on it now. Tebow appears to agree and believes he had something to offer the NFL as a true quarterback instead.
Tebow was a fish out of water. If Meyer had wanted to give Tebow a shot, it should have come at the quarterback position.

"I feel like I could have helped a team," Tebow said. "I mean I'm not throwing a lot these days but you know I still feel really good. But, that was a long time ago when I was doing that."

Mark Carman, FanSided
Carman prompts the discussion by calling Tebow "a fish out of water," playing tight end. Tebow responds by saying, "I feel like I could have helped a team" playing quarterback instead.
There are some pretty bad QB3's out there
The days of Tebow being a starting quarterback in the NFL are long gone. It's probably safe to say the days of him being a primary backup are long gone.
However, there are some pretty terrible third-string QBs in the NFL at the moment. Considering Tebow's above-average athleticism, leadership, and postseason experience, one could make a fairly convincing argument that Tebow is valuable enough to keep around as an inactive QB3.
After all, Tebow went 7-4 as the Denver Broncos' starting QB in 2011 and won a playoff game. It wasn't pretty by any stretch of the imagination. However, it's hard to argue with the results. Finding a way to win is all you can ever ask out of a backup quarterback.
Will a team entertain the idea of giving Tim Tebow one final shot?
With Tebow throwing out the idea that he still offers something at quarterback, could we see an NFL team take another shot on him?
As fun as the storyline would be, it's pretty hard to imagine such a scenario fleshing out. Playing under Urban Meyer — his old college coach — in Florida was a dream scenario for Tebow, yet he still couldn't make it work. Granted, he was playing tight end during Jaguars training camp instead of quarterback, but the overarching point remains the same.
Even if there are worse backup QBs in the league, Tebow is 34 years old and hasn't thrown an actual NFL pass since 2012. It appears time for him to hang up the dream once and for all.
All stats courtesy of Pro Football Reference.
RELATED: Urban Meyer Has Followed the Tim Tebow Disaster by Continuing a Disturbing Trend