Tim Tebow and Urban Meyer's Nepotism Gets Called out on Live TV by a Retired NFL Pro Bowler: 'We Can't Win When We're Hiring Our Friends'
In maybe one of the oddest moves in NFL history, the Jacksonville Jaguars are expected to sign a player who hasn't played in an actual game in almost nine years: Tim Tebow. We all loved watching Tebow play in college. We even enjoyed watching him play for the Denver Broncos in 2010 and 2011. It's almost been a decade since he last played in an actual NFL game, though, and not many people can go just under 10 years without working in a particular field and get a job that easily. 
Of course, Tebow is only expected to sign with the Jags because his old college coach, Urban Meyer, is the team's head coach. Whether you want to admit it or not, nepotism has a lot to do with this move. So much so, in fact, that a retired NFL Pro Bowler had some things to say about it: former Pittsburgh Steelers defensive back Ryan Clark.
News of Tim Tebow's NFL signing sparked strong reaction
The last time Tim Tebow played in an NFL game was Dec. 30, 2012 for the New York Jets, but the former Heisman-winning quarterback hardly played at all that year. He then played for the Philadelphia Eagles in the 2015 preseason, but the team cut him before the regular season started.
He has since attempted to launch a professional baseball career and has worked on TV with the SEC Network, so when reports came out saying that Tebow is expected to sign with the Jaguars as a tight end, many NFL fans and experts were left confused.
"All jokes aside. Why is Tebow back in the NFL. There's no proper explanation for this. Dude hasn't seen the field in the regular season in 8 years," former NFL offensive lineman Geoff Schwartz tweeted.
Sports and political commentator Keith Olbermann added: "This effort to find SOMETHING at which Tebow is professional-caliber is going to go on until he's 90, isn't it?"
Some people, though, are excited to see what Tebow can do.
"Tim Tebow is rich and famous and on TV and the easy thing to do is to continue to do that," ESPN's Matthew Berry tweeted. "But he didn't give up his dream. So now he's going to challenge himself in a situation where success is definitely not guaranteed. Honestly, I admire the hell out of that and I'm rooting for him."
Ryan Clark blasts Urban Meyer for signing his former player
Ryan Clark, a former Super Bowl champion with the Steelers, is a notable personality who is not fond of the signing. He went on ESPN and shared some strong thoughts about Meyer.
"This is about Urban Meyer and his friendships, and his relationships, and the way that that relates to him doing his job. Think about his hiring of Chris Doyle early on in his tenure, a guy that had been fired from Iowa for harassment, for mistreatment, for racist accusations against some of the players there at that school," Clark said on the May 10 episode of NFL Live, referring to Meyer's hiring of Doyle, who he made director of sports performance with the Jags on Feb. 11 before Doyle later resigned the next day. "Urban Meyer hires him not because he thinks he's necessarily best for the job or he thinks he's overcome some of those things that got him released from Iowa, but because he knew him."
He continued: "Urban Meyer knowing him was enough just like Urban Meyer knowing Tim Tebow is enough. … Urban Meyer says, 'You know what, I know him. We have a relationship; that's my friend; I'm in a position of power, and that's enough.'"
Clark added that Meyer doesn't appear to be doing what's best for his team.
"We can't win when we're hiring our friends," he said, referring to what he would be thinking if he were a player. "… So, if I'm sitting in that locker room and I say, 'The best thing for me is for the Jacksonville Jaguars to be great, to have a head coach that puts the team above himself,' this head coach ain't doing that."
Can Tim Tebow and Urban Meyer rekindle their Florida magic?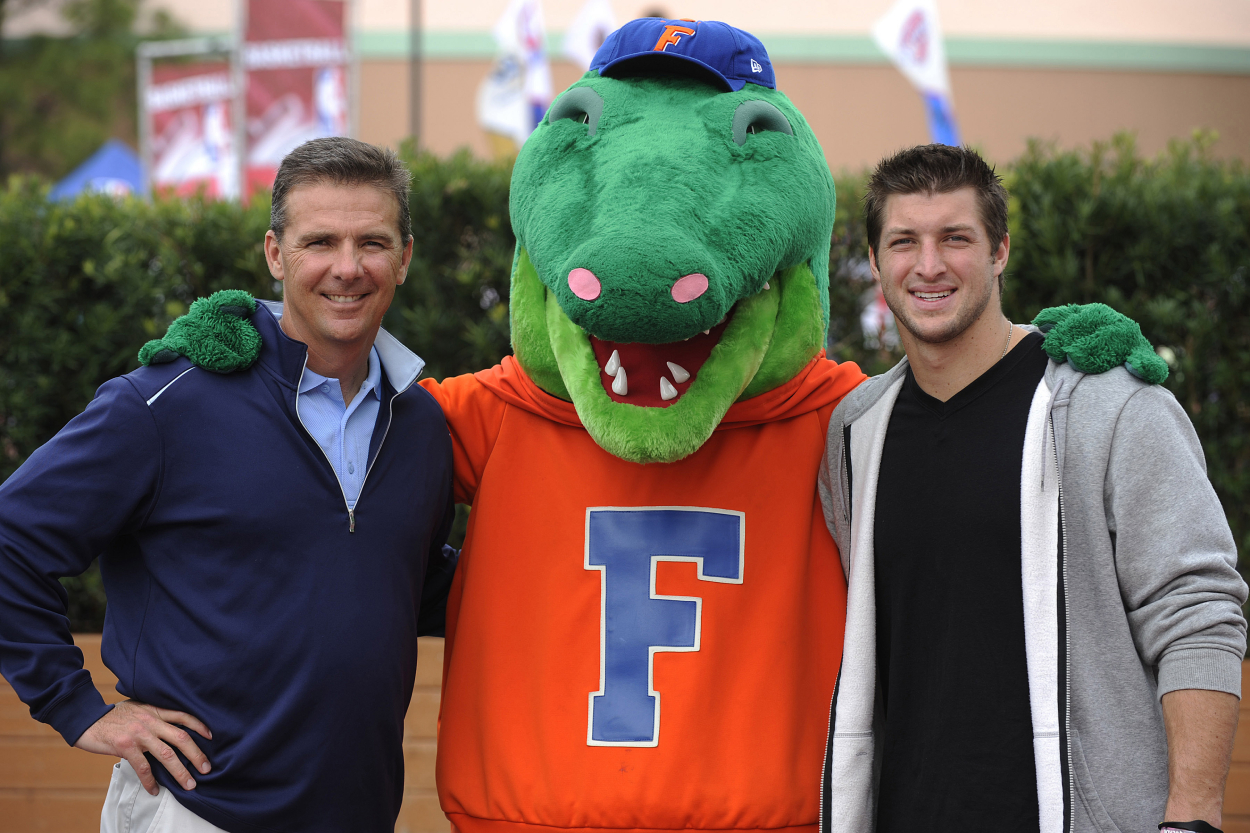 The Jaguars have a hole at the tight end position, so there's a chance Tebow could get some playing time. But will it work?
Tebow proved to be an elite athlete and relentless competitor with Meyer and the Florida Gators. He won two national championships and the Heisman Trophy.
Tebow's athleticism should ultimately be able to translate from quarterback to tight end, but he is much older in football years now (almost 34). He has also never played tight end at a high level. Having to block and hold on to passes while getting hit by linebackers could be difficult for him.
If Tebow actually finds success with Meyer, this could be a great story. If he doesn't, though, fans could be calling for Meyer's job rather quickly.
Like Sportscasting on Facebook. Follow us on Twitter @sportscasting19.