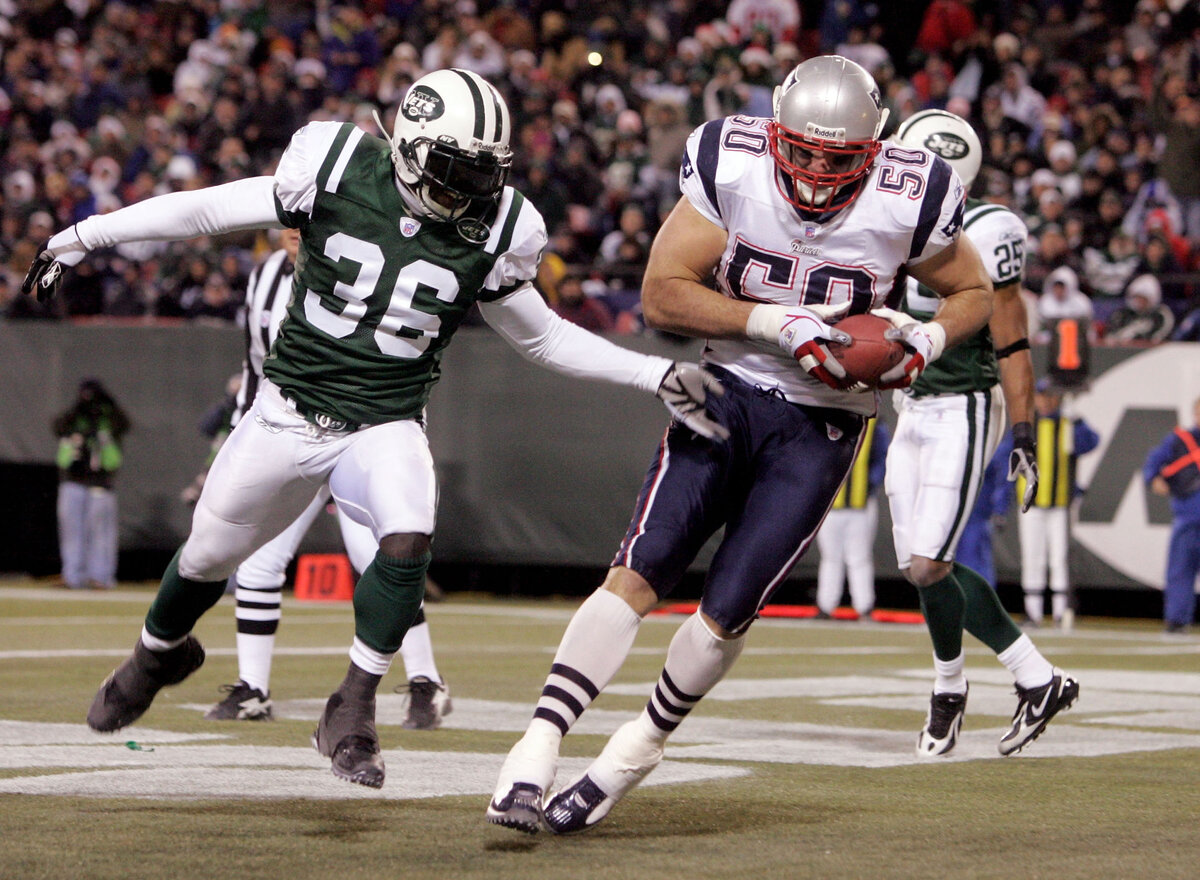 Titans Coach Mike Vrabel Excelled as a Touchdown-Catching Linebacker When He Played
Titans head coach Mike Vrabel fit exactly what Bill Belichick needed on the Patriots. That's why Vrabel, a linebacker, caught 12 touchdowns.
Long before he became the Tennessee Titans' head coach, Mike Vrabel fit exactly what Bill Belichick needed on the New England Patriots.
Now succeeding as a member of Belichick's coaching tree, Vrabel was a standout linebacker for New England in the 2000s. Vrabel brought intensity and leadership to the New England Patriots' first dynasty.
Vrabel also brought a willingness to line up wherever Belichick needed him. That allowed Vrabel to excel as a touchdown-catching linebacker — and we're not talking about returning interceptions for touchdowns.
Mike Vrabel had a long NFL career
A third-round pick from Ohio State in 1997, it is easy to forget Vrabel played his first four seasons with the Steelers.
Exclusively playing as a reserve linebacker, Vrabel had seven sacks, four tackles for loss, three forced fumbles, and recovered three fumbles in Pittsburgh.
Vrabel joined Bill Belichick and the New England Patriots in 2001, bringing leadership and experience to a team coming off a 5-11 season. Starting 12 games, Vrabel had three sacks and two interceptions for the Super Bowl champions that year.
From 2002-08, Vrabel had 45 sacks, nine interceptions, forced 13 fumbles, and recorded 51 tackles for loss. Nearly a third of those sacks, 12.5, came in 2007 when Vrabel earned Pro Bowl and first-team All-Pro honors.
Mike Vrabel added another eight sacks and three forced fumbles in the postseason, winning two more Super Bowl rings along the way.
The veteran linebacker played his final two seasons with the Kansas City Chiefs. Vrabel had two sacks and three forced fumbles across 30 games with the Chiefs.
Vrabel now coaches the Titans
When Mike Vrabel's playing days ended, he channeled his inner Bill Belichick and pursued a coaching career.
Vrabel spent three years as an assistant at Ohio State from 2011-13. Starting in 2014, Vrabel joined former Patriots coach Bill O'Brien's staff in Houston as the Texans' linebackers coach.
Vrabel also spent a year as the Texans' defensive coordinator in 2017. His success there earned him a chance to interview for the Titans' head coaching job, a position he earned in January 2018.
Mike Vrabel won 22 of his first 36 games as the Titans' head coach. Last year, Tennessee reached the AFC championship game before falling short to Patrick Mahomes and the Kansas City Chiefs.
Despite a massive COVID-19 outbreak in Week 4, Tennessee entered Week 6 with a 4-0 record and in a prime position to win the AFC South Division for the first time since 2008.
Mike Vrabel excelled as a touchdown-catching linebacker
Part of what has made Bill Belichick and the New England Patriots so successful for 20 years is that players buy in and do their job.
Mike Vrabel was no different during his playing days. New England often lined Vrabel, a linebacker, up as a tight end at the goal line. Vrabel didn't disappoint, turning all 10 of his regular-season catches into touchdowns.
Vrabel added receiving touchdowns in Super Bowl 38 and Super Bowl 39, respective victories over the Carolina Panthers and Philadelphia Eagles.
If the Tennessee Titans line Harold Landry or Jadeveon Clowney up to catch a touchdown soon, don't be surprised. Mike Vrabel cracked the code to succeeding as a former Bill Belichick disciple and stealing — er, borrowing — lining a linebacker up at the tight end spot in a crucial game is straight out of Belichick's book.
Like Sportscasting on Facebook. Follow us on Twitter @sportscasting19.