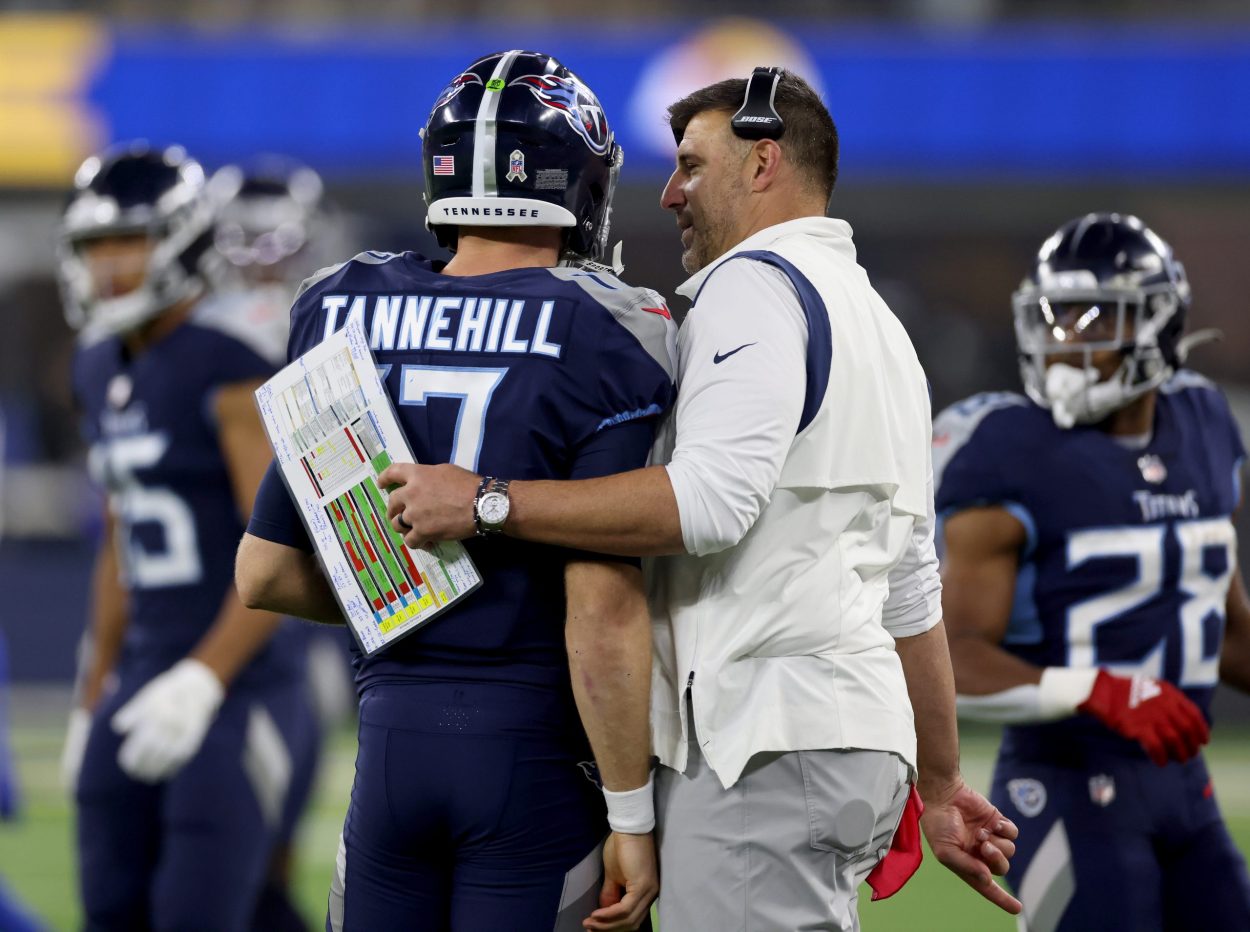 Titans Mike Vrabel Defends Ryan Tannehill in Display of What Leadership is All About
Tennessee Titans head coach Mike Vrabel defended Ryan Tannehill after Saturday's loss to the Bengals.
Saturday was not a good day for quarterbacks on social media.
Aaron Rodgers, shall we say, got needled pretty savagely on Twitter after the NFC's top seed in the NFL Playoffs, the Green Bay Packers, were upset by the San Francisco 49ers on Saturday night
But it wasn't a whole lot better for the winning quarterback, as Jimmy Garoppolo was positively fileted across the Twitterverse after his brutal interception right before the half.
But those two have been social media punching bags for a while, for different reasons of course. Rodgers has won few friends with his Covid-related actions and words this season, so the schadenfreude was overflowing Saturday night. And piling on Jimmy G after an interception or otherwise questionable decision has become part of the fabric of NFL Twitter.
And then there was Tennessee Titans quarterback Ryan Tannehill. The shade thrown his way Saturday was purely performance-based after the AFC top seed was also bounced, 19-16 by the Cincinnati Bengals.
But social media also perked up when Tannehill's coach Mike Vrabel went out of his in his postgame comments to protect Tannehill from the wheels of the oncoming bus.
Vrabel: "It's never gonna be about one person"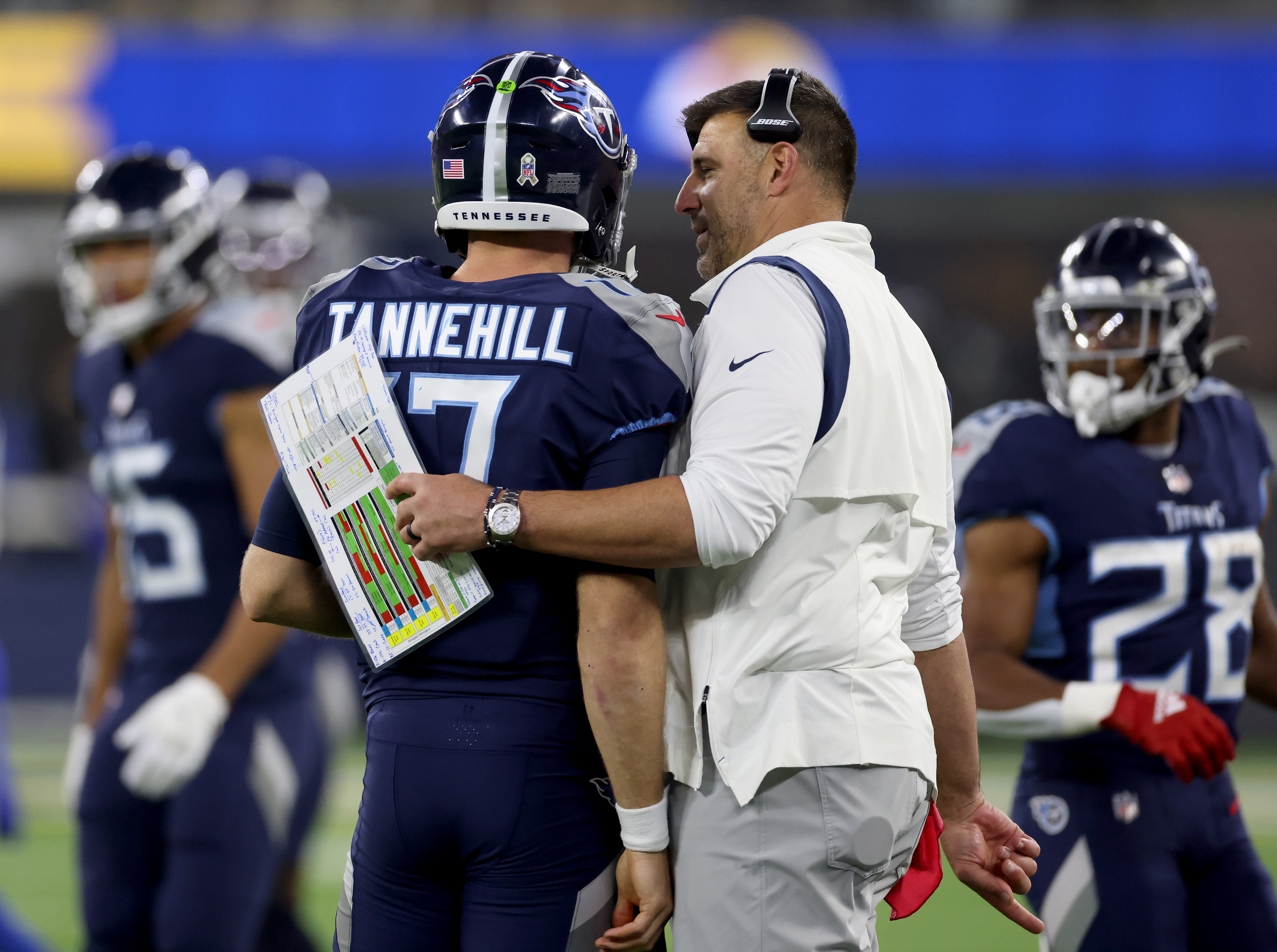 Mike Vrabel learned from the master. Ask yourself how many times you can remember Bill Belichick explicitly and specifically calling out of his players after a loss.
People may not like the gruff, cliched responses that come out of Belichick's mouth after a loss, but the theme is always the same. "We didn't play well enough as a team. We didn't coach well enough as a staff."
And after Tannehill threw three interceptions against the Bengals on Saturday, including a devastating pick late in the game that set up Cincinnati's walk-off field goal, Vrabel wasn't about to let Tannehill take all the heat.
"Well, I don't think Ryan or myself of anybody did enough to win the game," Vrabel told reporters after the 19-16 loss. "That's how it goes. It's never gonna be about one person, not as long as I'm the head coach. Which will be a while."
Vrabel's defense of Tannehill is certain to reverberate inside the Titans' locker room
You don't have to be Ted Lasso to know that a pretty good way to lose the respect of your players is to chuck them under the bus in moments of adversity. Quite the opposite, even as the outside world was howling at Tannehill's poor performance on Saturday, in the insular world of that locker room, knowing the head coach was standing up for the team leader is something that can only boost the level of respect between Titans players and Vrabel.
Just as "We're on to Cincinnati," was Belichick's way of protecting his players back in 2014, a rallying cry that carried that team all the way to a Super Bowl title, what happens in the aftermath of Cincinnati is crucial for Vrabel and the Titans to put behind them and move forward.
Vrabel, in one quote, put down that marker. It's on to 2022.
In fairness, if it was about one person, it would have been Ryan Tannehill
Whether Titans fans and media is willing to be as forgiving, in terms of Tannehill and Vrabel's in-game performance Saturday, is still up for debate. Tannehill's three interceptions, starting with the first snap of the game, then the second after a huge run in the third quarter had given the Titans the ball at the Cincinnati 9-yard line, then the final, fatal blow with 28 seconds left in 16-16 game.
And Vrabel was not immune from criticism, especially after going for a two-point conversion in the second quarter after a touchdown had tied that score at 6-6. The conversion failed, and the decision was pointed to as unnecessarily aggressive.
"We tried to score from a yard," Vrabel said.
A response only Belichick could love.
Stats courtesy of Pro Football Reference