Titans TE Jonnu Smith's Tough Childhood Couldn't Kill His NFL Dream
The Tennessee Titans are among the top teams in their division. Numerous players have stepped up in a big way this season for the Titans, and that's been a big reason why they've had success. Tight end Jonnu Smith has had a strong start to the 2020 season. He and Travis Kelce are tied for the most touchdowns by a tight end with six through nine games.
Smith has an inspiring story, and he went through a lot growing up. But he didn't let his childhood stop him from making it to the NFL.
Jonnu Smith moved from Philadelphia to Florida in high school
Smith is a native of Philadelphia, Pennsylvania. He is one of six children, and he suffered a tragedy at a young age. His father passed away in a tow truck accident when Smith was four years old. The Tennessee Titans created something called 'Player Takeover' where members of the team take over the social media content for the team during the bye week. In 2019, Smith decided to tell his story on the Titans' website.
Faith has been a big part of Smith's life. "My entire family was raised on faith, and it's the way I am going to raise my children," he wrote in the article. "As I get older, I learn even more things on my own, and try to become as close to Christ as I can because I've learned that's how you get through the tough times." In Philadelphia, Smith grew up surrounded by violence, and his mother decided to send him to Florida to live with her sister.
"We weren't financially fortunate, and she was afraid I would get lured into some things that could mess up my life and send me down the wrong path," Smith wrote. He made the most of his opportunity living in Florida and earned a scholarship to play football at Florida International University. Smith played football at FIU from 2013 to 2016 and finished with 2,001 receiving yards and 18 touchdowns.
Jonnu Smith making it to the NFL
After moving to Florida as a teenager and playing football in one of the top states for football, Smith got the opportunity to play on football's biggest stage. Going into the draft, NFLDraftScout.com rated him the 10th best tight end. The Titans selected him in the third round of the 2017 NFL draft. Since his rookie season, he has started at the tight end position for the Titans.
In his fourth season, he is developing into a productive player. Through nine games, he ranks third on the team in receiving yards (318) and is tied for first in touchdowns (6). Smith has played an important role in the Titans offense, and he'll continue to play an important role as the season and his career progress.
Jonnu Smith still reminisces on his childhood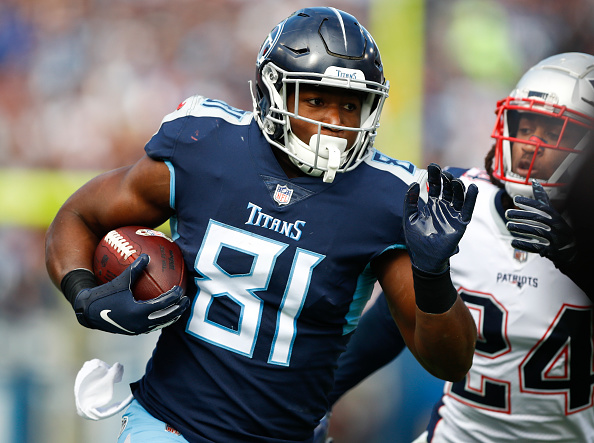 Even though he's been in the league for a few years, Smith still thinks about his childhood. "I think about what would have happened to me if I'd stayed back home and not moved. I still think one way or the other I would have made it, I really do," he wrote. "Like I said, I am a man of faith, and I am a man of God and I truly believe that everything is ordained for a purpose. I still think I would have made it, it just would have been a different path."
Smith credits his faith and his mother for much of the success throughout his career. "When I look back at my path, and where I came from, I know I am fortunate to be here, playing in the NFL, playing a game I love," Smith wrote. One thing about Smith is that no matter how much success he has, he'll never forget where he came from and he's grateful to be in the position he is today.