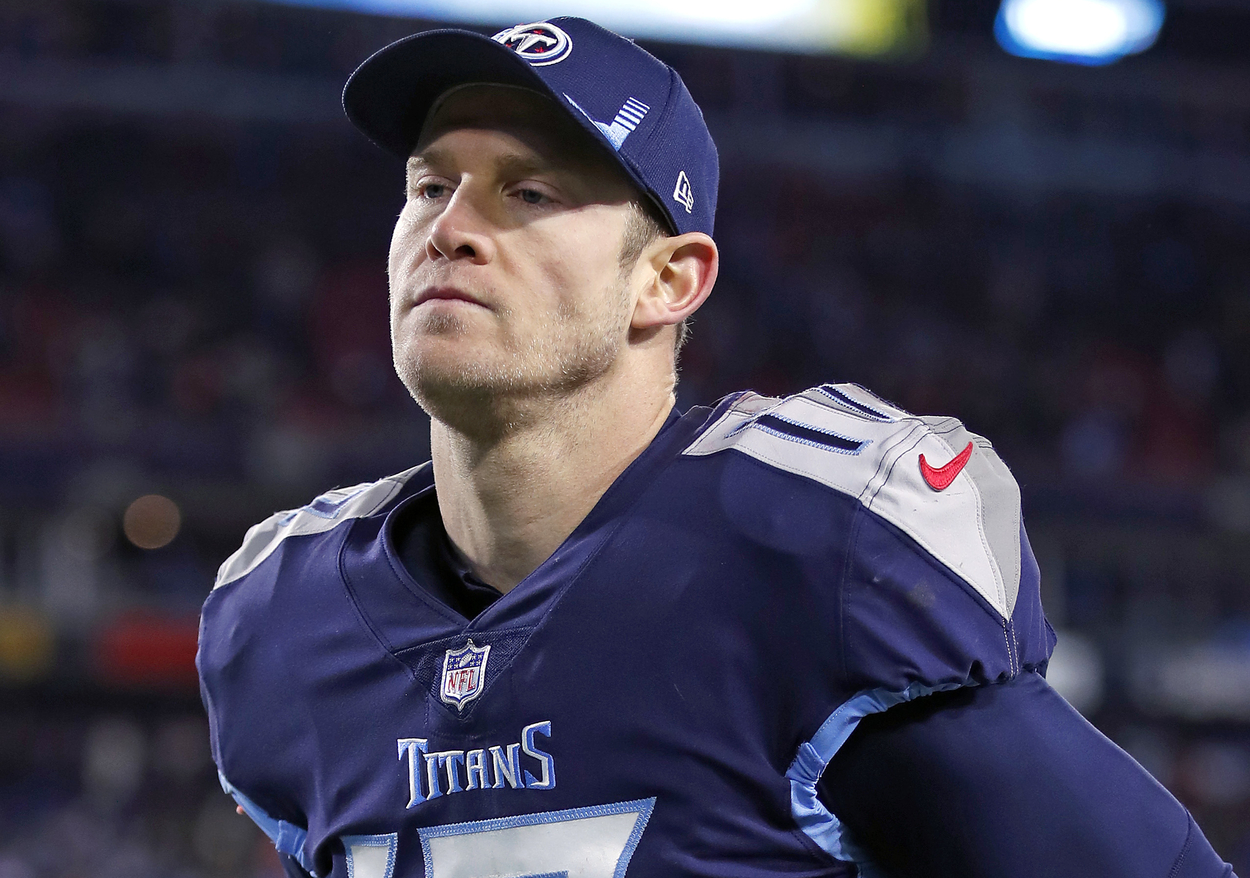 Should the Titans Trade Ryan Tannehill During the 2022 NFL Offseason?
Should the Tennessee Titans trade veteran quarterback Ryan Tannehill during the 2022 offseason, or are they better off sticking with him for another year?
Article Highlights:
The Tennessee Titans need to strongly consider trading veteran quarterback Ryan Tannehill this offseason
The Texas A&M product threw three interceptions in a crushing AFC Divisional Round loss to the Cincinnati Bengals
Several contending teams, including the Las Vegas Raiders, should strongly consider acquiring Tannehill
The good news for Tennessee Titans fans is Ryan Tannehill has quarterbacked the team to three straight playoff appearances. The bad news is that he hasn't done much more than that thus far.
Tannehill is understandably on the hot seat after throwing three interceptions in a crushing home loss in the AFC Divisional Round. His last pick came in the final minute of a tie game and gave the Bengals enough momentum — or, if you don't believe in momentum, gave them the field position — to quickly get close enough for a game-winning 52-yard field goal.
With the Titans' offseason officially underway, the franchise must decide if Tannehill deserves to return as the starting quarterback or if the time has arrived for a divorce.
The Tennessee Titans must decide if it's worth sticking with Ryan Tannehill for another season
At this stage in his career, Tannehill is good enough to get a team to the postseason. He's a capable regular-season quarterback who totaled a 67.3 completion percentage, 10,295 yards, 76 touchdowns, and 27 interceptions in 45 games over the last three years. Suffering franchises like the New York Giants and Jacksonville Jaguars would dream of their quarterback putting up numbers like those.
The problem is Tannehill either isn't good enough or lacks that "it" factor to bring his team to a Super Bowl, much less win one. He's the one who threw three interceptions against the Bengals in the Divisional Round and wasted an excellent effort from his defense. Cincinnati should not have been in a position where it could win the game after allowing quarterback Joe Burrow to be sacked nine times.
If the Titans part ways with Tannehill, it'd almost certainly need to be via trade. Although teams can verbally agree on a trade in the coming weeks, it cannot be finalized until the new league year begins on Wednesday, March 16. Tannehill's 2022 salary, a whopping $29 million, is already guaranteed, making a cut — even one post-June 1 — extremely difficult. According to CBS Sports, any team that acquires Tannehill would need to absorb the final two years of his contract; this would not be a one-year rental situation.
Tannehill turns 34 in July, which, in the era of Aaron Rodgers and Tom Brady, isn't exactly old for quarterbacks. However, do we really want to compare Tannehill to Brady and Rodgers? 
The Titans should considering adding a developmental quarterback prospect either way
If the Titans do move on from Tannehill, they'll need to find his replacement in some form. Although Logan Woodside has been with the organization since 2019, he turns 27 on Jan. 27 and has only three career pass attempts.
Respectfully, Woodside presumably isn't at the point where he can step in and start on a team that currently expects to compete for a third straight AFC South title. Unless the Titans acquire a durable quarterback who is in his prime, like Las Vegas Raiders star Derek Carr, the team should strongly consider adding a young quarterback in the upcoming draft.
Barring a trade-up, the Titans will pick 26th in the 2022 NFL Draft, which will likely be too low for Ole Miss star quarterback Matt Corral or Pittsburgh standout Kenny Pickett. North Carolina's Sam Howell and Liberty's Malik Willis are widely projected to go anywhere from late in the first round to anywhere on the draft's second day, which spans the second and third rounds.
If the Titans trade Tannehill and acquire a starting quarterback via trade or free agency, the team might not need to invest the 26th pick on a young quarterback. However, the team should nonetheless consider drafting a developmental prospect, especially if Tannehill does return in 2022.
Western Kentucky's Bailey Zappe, who threw for an NCAA-record 5.967 yards and 62 touchdowns last season, is considered a Day 2 or early-Day 3 pick. The Titans can prioritize the front-seven and wide receiver with their first few picks before pivoting to either Zappe or South Dakota State's Chris Oladokun, a top FCS prospect who completed 62% of his passes for 3,164 yards, 25 touchdowns, and seven interceptions in 2021.
Which teams should consider trading for Tannehill?
If the Titans trade Tannehill, we can likely cross the Indianapolis Colts and Miami Dolphins off the list of potential suitors. Tennessee almost certainly isn't trading their quarterback within the AFC South, and the Dolphins already gave up on Tannehill once. 
Elsewhere in the NFL, the Carolina Panthers are perhaps better off drafting a quarterback, especially after the team foolishly guaranteed Sam Darnold's 2022 salary before he even played a single down. The Pittsburgh Steelers are expected to give either Dwayne Haskins or Mason Rudolph a chance at winning the starting role next year.
So, who could trade for Tannehill? The Denver Broncos have the cap space to make a Tannehill trade work, and they've been in desperate search of a franchise quarterback since Peyton Manning retired nearly six years ago. Although the Washington Football Team seemingly thinks highly of Taylor Heinicke, they've historically gambled on older quarterbacks during the Snyder family's tenure as owners.
As for the Raiders, a Carr-Tannehill swap sounds heavily skewed in Tennessee's favor. However, the next Raiders' general manager should want as many assets as possible, and a deal involving Tannehill and multiple draft picks could pave the way for Tannehill to throw touchdowns in Sin City. Unfortunately for Raiders fans, their team will still probably lose in the first round, but at least they'd be in the playoff picture each year.
Like Sportscasting on Facebook. Follow us on Twitter @sportscasting19.