Tobias Harris Responds to Trade Rumors by Playing His Best Basketball of the Season
For months, the central question surrounding the Philadelphia 76ers involved Ben Simmons and whether the team resolved to trade him before the Feb. 10 NBA trade deadline. The answer to that question has been indecipherable. As far as Tobias Harris is concerned, though, he's almost certainly staying in Philly.
Rumors surfaced earlier this month about the 76ers' alleged desire to include Harris in Simmons trade packages. Since then, Harris has played some of his best basketball of the season. He's been instrumental in Philly's run to the top of the Eastern Conference.
Tobias Harris got tossed into Ben Simmons trade discussions because of his contract
When the 76ers signed Tobias Harris to a five-year, $180 million contract in 2019, they believed he could play the role of a third star. But his inconsistent performances and untimely playoff shortcomings have resulted in frustration over the past couple of seasons.
To make matters worse, Harris struggled immensely at the start of the season.
The 29-year-old shot 45% from the field and just 28.7% from beyond the arc through his first 27 games. That inefficiency made his already bleak individual defense look even worse. Not to mention, Harris appeared to incite the notoriously ruthless fans in the City of Brotherly Love.
Harris' struggles also shed further light on his massive contract.
Philadelphia will make no bones about building around Joel Embiid, whom they just signed to a big contract extension in the offseason. If the 76ers traded Ben Simmons, they'd likely go to great lengths to get off Harris' contract to create space for a max-level star such as team president Daryl Morey's favorite son, James Harden.
However, in a curious turn, Harris has played his best basketball of the season since hearing his name tossed about in the rumor mill.
Harris is suddenly playing at a very high level
Tobias Harris hasn't let trade rumors impact his performance. He's only elevated his play.
Reports of the 76ers' apparent desire to package Harris with Ben Simmons in trade talks surfaced on Jan. 11. In 11 games since then, Harris is averaging 20.5 points on 53.3% shooting from the field and, more importantly, a vastly improved 48.6% from beyond the arc.
The University of Tennessee product also averaged 7.0 rebounds and 3.4 assists, giving Philly some added playmaking. Meanwhile, the 76ers are 8-3 in this stretch and have now won five straight after Monday's win over the Memphis Grizzles.
Joel Embiid's spectacular two-month stretch gave the Sixers' season new life and led to MVP praise from the likes of Shaquille O'Neal. But the All-NBA big man missed Monday's contest, and Philly needed contributions from the rest of the roster. Harris stepped up in a big way.
Tobi scored 31 points in a marquee overtime win. He added five rebounds and five assists to go along with two blocks, helping to spark the 76ers to a win over one of the top teams in the Western Conference.
On the one hand, a solid 11-game stretch does not validate a $180 million contract. Still, Harris' resolve is quite impressive. If the 76ers elect not to trade Simmons, can he give Embiid a true co-star?
Do the 76ers have enough without Simmons?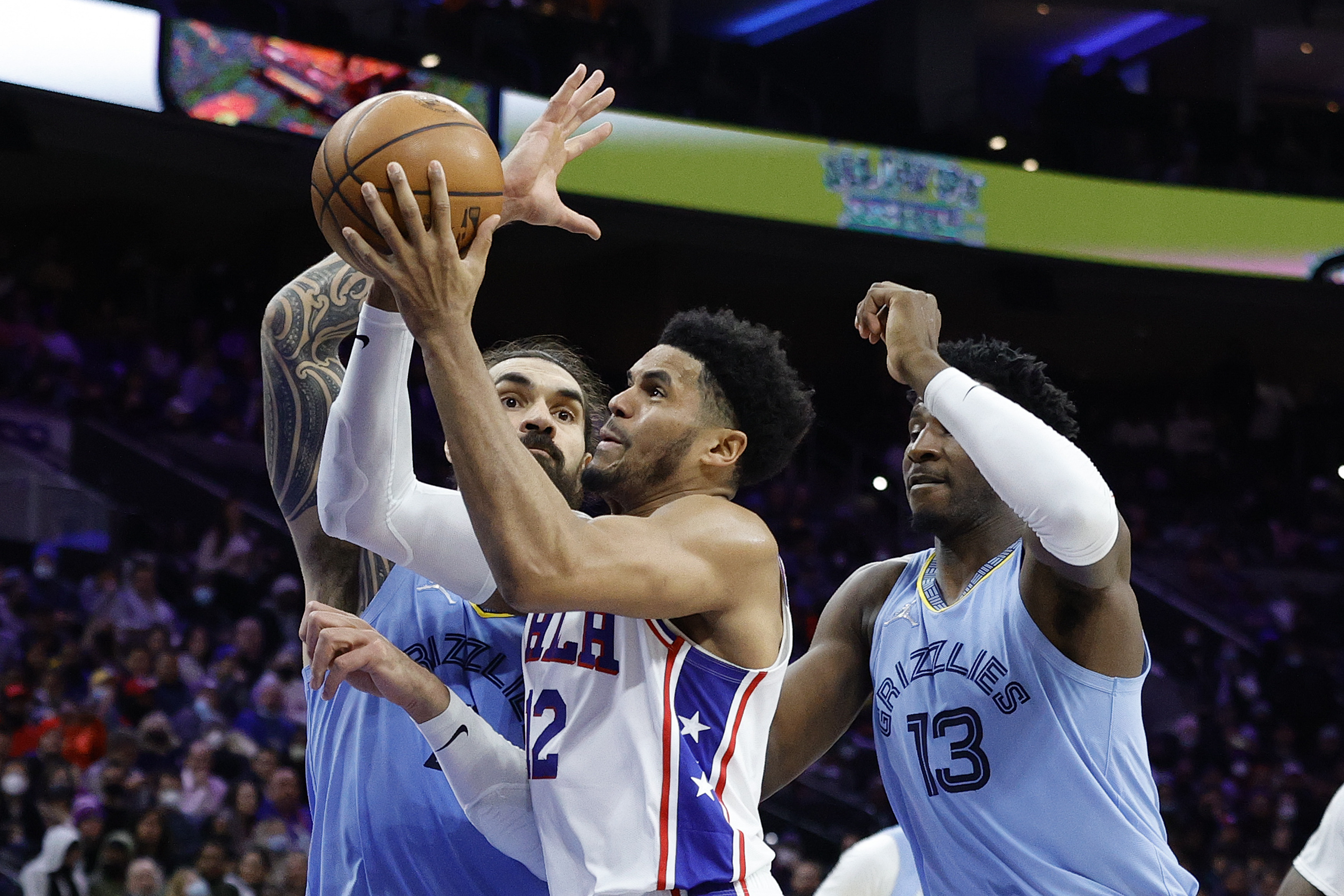 Don't look now, but the Philadelphia 76ers are merely 0.5 games back of the top seed in the Eastern Conference. Can they really contend for an NBA title with this roster?
Philly could use added size and help on the boards. Another versatile 3-and-D type could help team defense. However, Harris playing at peak performance changes the complexion of the roster.
Harris' ability to play either forward position and score off the bounce is critical for the Sixers. He provides head coach Doc Rivers with some rotational flexibility as a guy who acts as a secondary ball-handler and, when he's got it going right, spaces the floor for Embiid.
It's entirely possible Morey and the 76ers stand pat at the NBA trade deadline and retain Ben Simmons. If that's the decided path, Harris will have to raise his level that much higher come playoff time.
Stats courtesy of Basketball Reference.