Today's Most Underrated NFL Running Backs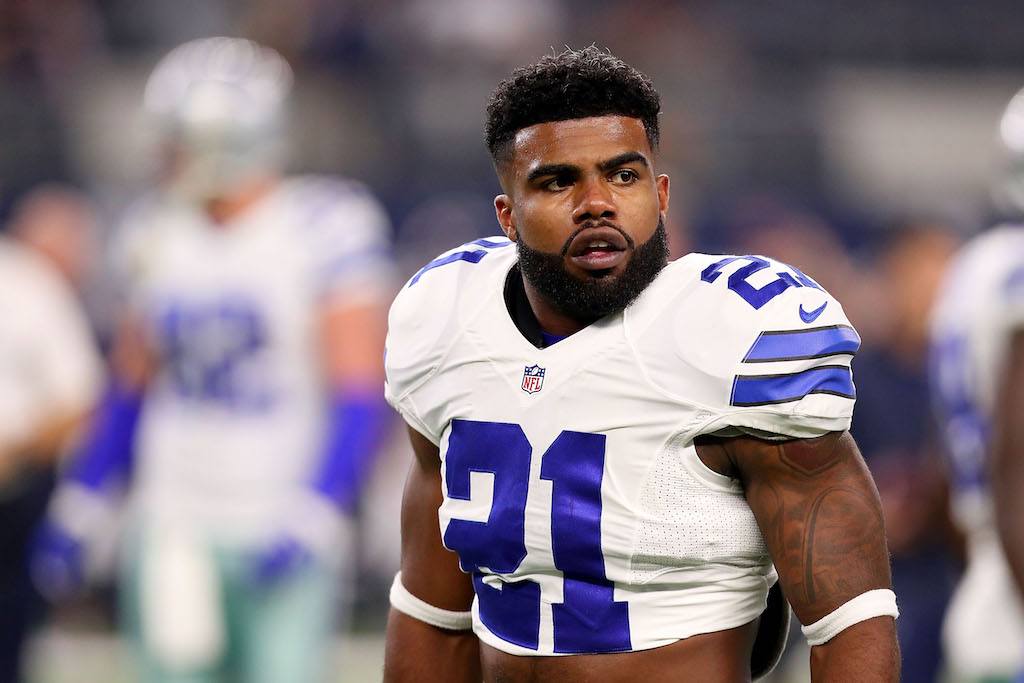 In a world driven by fantasy sports, stats are easy to come by. Who has the most tackles so far in the 2016 season? That would be fifth-year inside linebacker for the Buffalo Bills, Zach Brown, with 74. Who has the most touchbacks by a kicker in the first seven games? Right, Josh Lambo of the San Diego Chargers with 37 — and so on. Stats are but one element in deciding a player's worth; not in a fantasy sort of way, but in rating or ranking a player by combining objective, subjective, and situational information.
Most fans agree that rookie Ezekiel Elliott, as well as David Johnson and DeMarco Murray are the elite NFL running backs this season. But ranking the most underrated running backs takes more than just tallying total rushing yards and yards per carry. Other factors include taking off for fumbles and fumbles lost. There are three types of underrated NFL running backs to consider: the running back who is as dangerous as a wide receiver as he is rushing; the back who is a third-down specialist; and the back who can block both for the quarterback as well as his partner in the backfield.
Best third-down backs
Charles Sims, Tampa Bay Buccaneers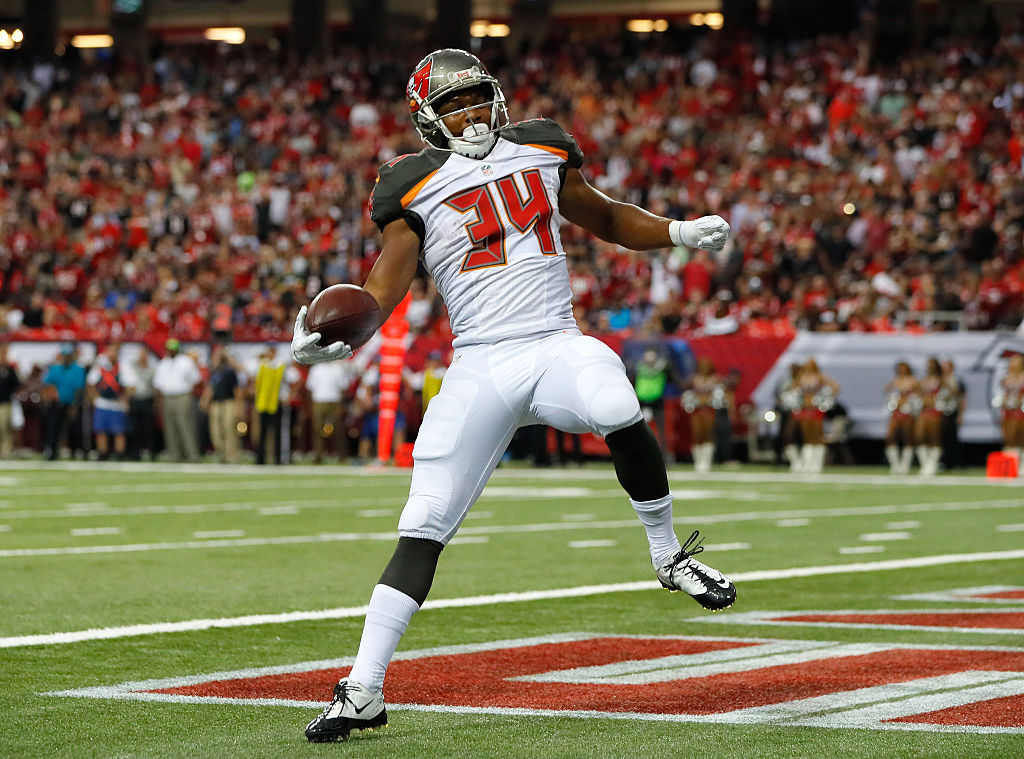 The Tampa Bay Buccaneers chose West Virginia's Charles Sims, dubbed the quintessential third-down back, in the third round of the 2014 draft. In his rookie year, he played in just eight games but demonstrated that he could be a key ingredient to a successful offense. As a third-down back, Sims's stats for rushing and receiving totals are nearly identical, which shows that he offers his team the option of running for the first down in short-yardage situations or catching the ball out of the backfield as a change of pace.
In 2014, Sims experienced 185 yards rushing and 190 yards receiving. In 66 carries he lost one fumble and scored one touchdown. Getting more comfortable in his role, 2015 saw Sims's number jump to 529 yards rushing and 561 yards receiving. So far, in a season that finds Sims on the sidelines with a knee injury and an unknown return date to the field, this third-down regular has 112 yards rushing and 190 yards receiving. As many people note, Sims is not an adequate every-down replacement for starter Doug Martin, but he is an underrated contributor to come off the bench and get needed yards on third down.
Giovani Bernard, Cincinnati Bengals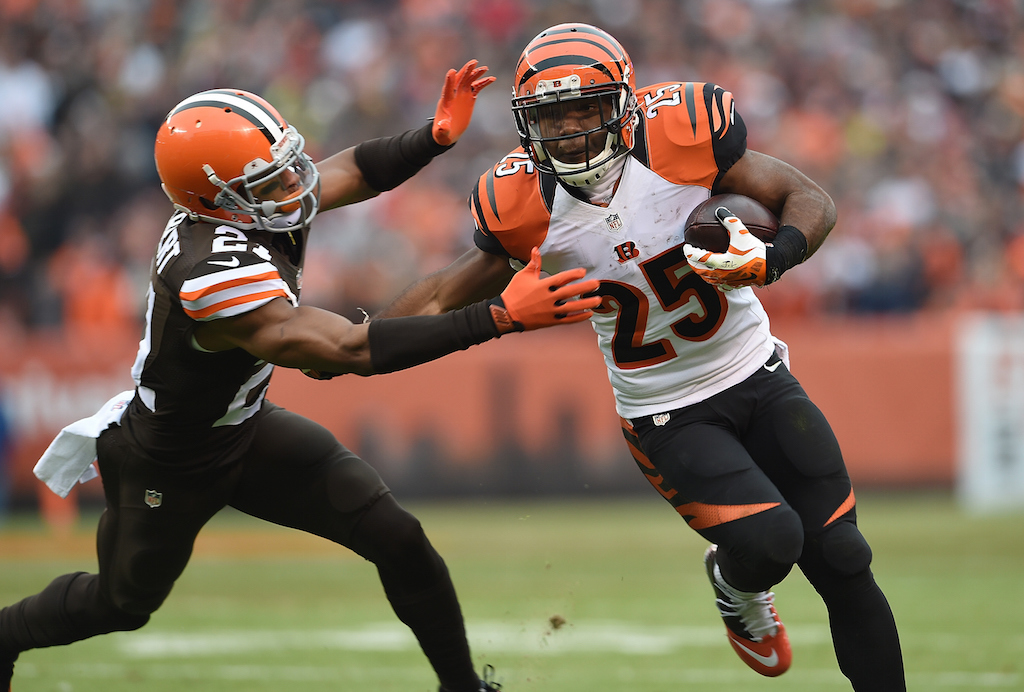 With Sims on the shelf, we go to the next man up: Giovani Bernard, a second-round pick in the 2013 draft. In the shadow of Jeremy Hill, Bernard is on his way to putting up numbers that show his third-down versatility. In seven games, Bernard has 66 carries for 247 yards and 30 catches for 263 yards. According to Sporting Charts, 16% of Bernard's carries are for a first down, but 40% of his receptions are for first downs, putting him among the league-leaders. From a purely data-driven perspective, James White of New England leads running backs with 48% of his catches going for first downs and Jay Ajayi of Miami leads NFL running backs with first downs with 32% of his carries moving the chains.
Best blocking backs
Mike Tolbert, Carolina Panthers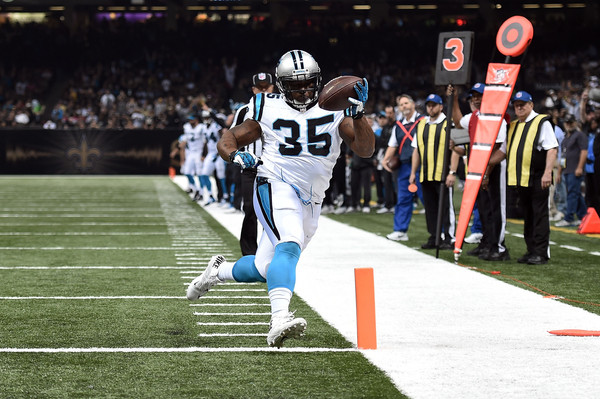 While well-known and slightly less-unheralded than other blocking backs, Mike Tolbert earns his salary by "helping" protect Cam Newton and opening holes for running back Jonathan Stewart. The Panthers have not experienced a great year so far, but the 5-foot–9, 250-pound fullback is doing his fair share of parting the defense sea for Stewart, who recently returned from a hamstring injury. In 2015, when Tolbert received first-team All-Pro honors, he helped the offensive line protect Newton. It resulted in only 33 sacks, the least number in the MVP's career.
Patrick DiMarco, Atlanta Falcons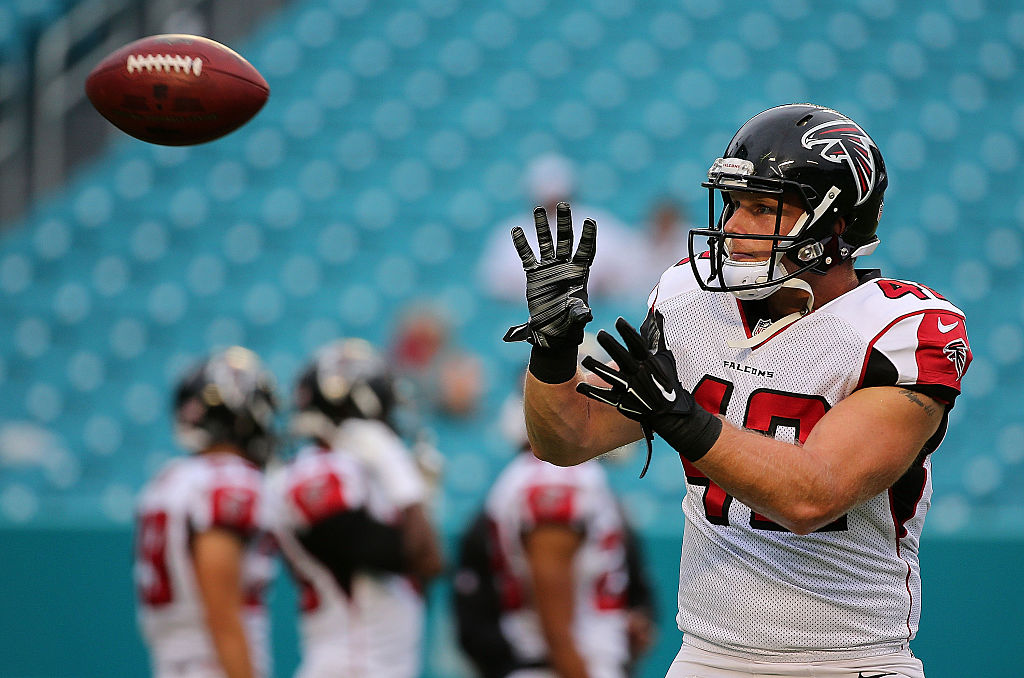 Far less heralded than Tolbert, Patrick DiMarco is in his fifth season. The undrafted free agent from the University of South Carolina originally played for the San Diego and then the Kansas City Chiefs. DiMarco signed with the Atlanta Falcons in 2013 and has steadily improved his game. Midway through the 2015 season, Pro Football Focus graded him as the best fullback.
The former Gamecock's play landed him a spot on the second-team All-Pro for the 2015 season. At 6-foot-1 and 234 pounds, the powerful fullback was instrumental in running back Devonta Freeman's 1,056-yard season in 2015. DiMarco's presence is also noted in the fact that, according to Pro Football Focus, Falcon's quarterback Matt Ryan ranks fourth in the lowest percentage of career sacks among active players.
Best pass-catchers
We must note that great combo NFL running backs — as good at catching the ball as receiving — are difficult to keep under the radar. This category differs from the third-down backs (also with good pass receiving skills), who are not judged by total yards or even yards after the catch.
Tevin Coleman, Atlanta Falcons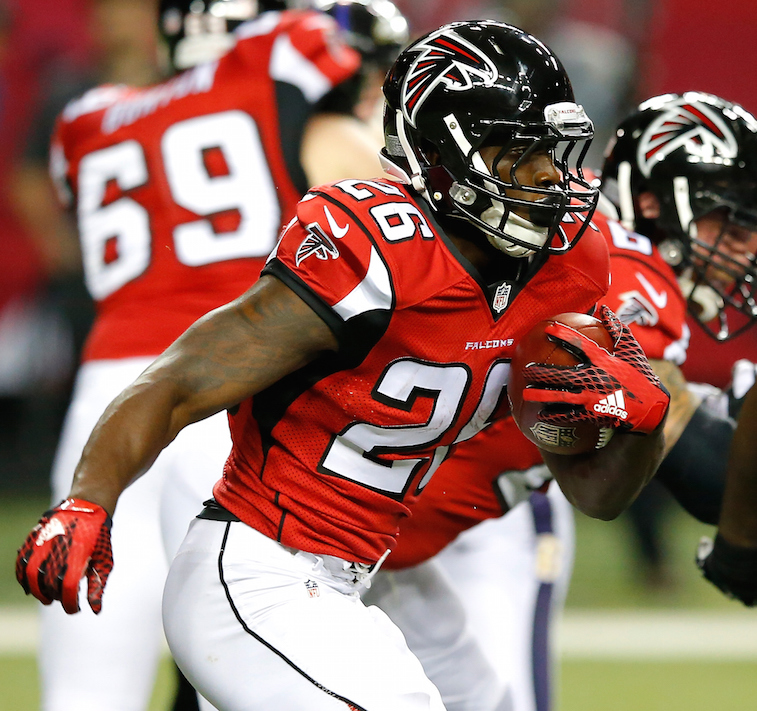 Although currently out with a hamstring injury, Tevin Coleman is the lesser known back behind Devonta Freeman in the Atlanta Falcon's running game. A second-year player out of the University of Indiana, Coleman leads all NFL running backs with 330 yards receiving on 19 catches with one touchdown. Coleman also has 234 yards rushing on 59 attempts, which leads to a decent 4.5 yards-per-carry with 13 carries going for a first down. The former third-round pick also has five touchdowns rushing as well as one TD as a receiver.
David Johnson, Arizona Cardinals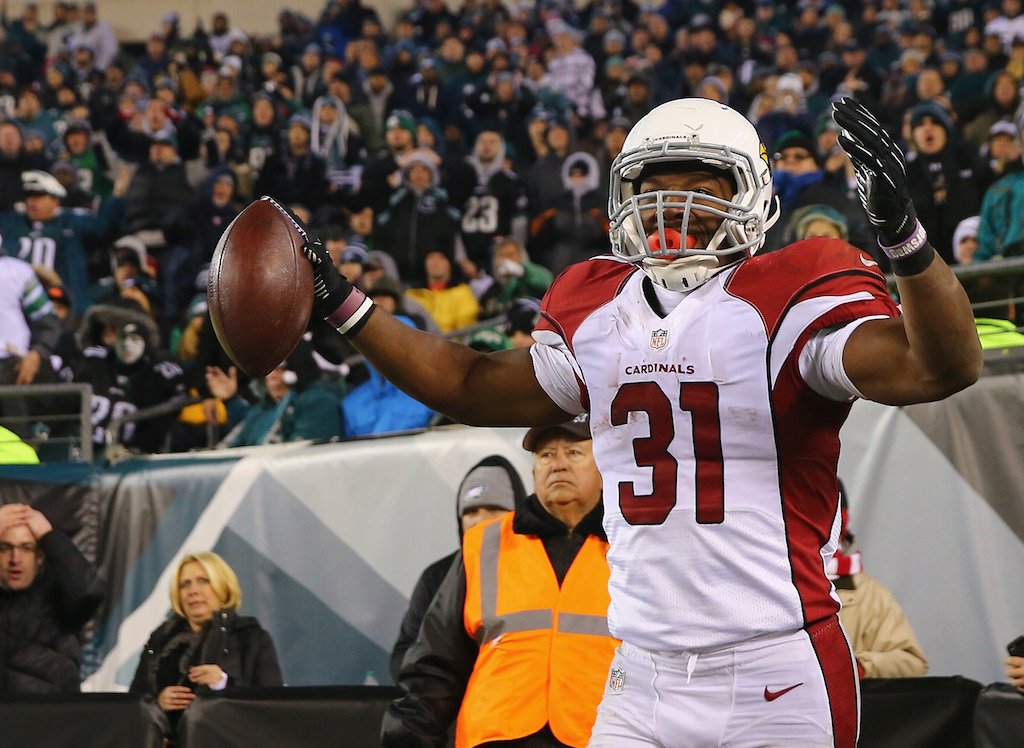 The budding Cardinal superstar is on the edge of moving from unheralded to near-MVP status based on his 23 pro games. The former Northern Iowa star, drafted in the third round, is a dual threat. And if you consider his emerging pass-blocking skills, we may consider him a triple threat. Coming on late in the 2015 season, Johnson made his mark in the 2015 playoffs, ending his rookie season with 581 yards rushing (4.6 YPG average) and 457 yards as a receiver on 57 catches.
This year, Johnson, who is gaining some national notoriety as more Cardinals games are in prime-time, has 681 yards rushing and 323 yards receiving. His pass catching as a running back is currently second to Coleman, and his rushing numbers are 22 yards behind the Cowboys rookie Ezekiel Elliott. Will Johnson join Roger Craig and Marshall Faulk as the only NFL running backs with 1,000 yards rushing and 1,000 yards receiving in one season? At his current pace, he's 220 yards short through the air, but with his determination, we won't bet against it.
Statistics courtesy of ESPN and Pro-Football-Reference.