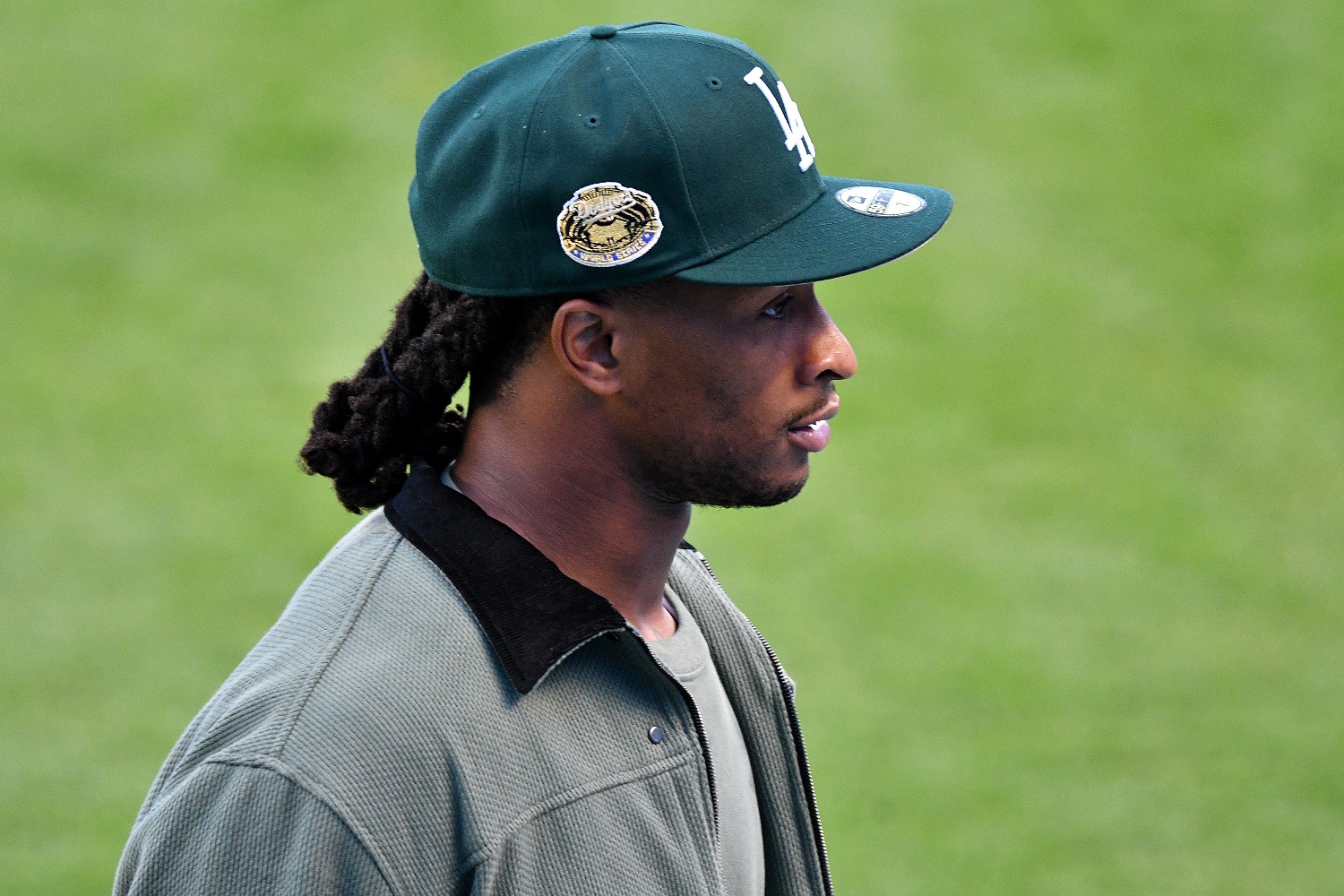 Todd Gurley's Biggest Accomplishment Since Returning To Georgia Hasn't Been on the Football Field
In his first season with the Falcons, former Georgia running back Todd Gurley is doing great things in the Peach State that have nothing to do with football.
Todd Gurley has a soft spot for the state of Georgia. While the three-time All-Pro running back was born in Maryland and went to high school in North Carolina, it was at the University of Georgia where he became a full-fledged superstar and he's now back in the Peach State as a member of the Atlanta Falcons after spending the first five years of his pro career with the Rams.
Looking to prove that he's still an elite NFL running back, Gurley is having a fantastic season with the Falcons but his greatest contributions during his homecoming campaign have been off the field. His M.A.D.E. Foundation has partnered with the University of Georgia on numerous projects and he just recently partnered with Operation Homefront and Pillsbury to welcome a military family into a new, rent-free home as part of "The Welcome Home Initiative."
Sportscasting recently spoke with Todd Gurley about these projects and he couldn't be more excited about the things he's been able to do since returning to Georgia.
Todd Gurley loves being back in the state of Georgia
As mentioned, Todd Gurley became a household name during his run at the University of Georgia. And it was certainly quite the run. In three years with the Bulldogs, he rushed for 3,285 yards and 36 touchdowns, also adding 65 receptions and six receiving scores. Gurley was a two-time All-SEC selection during his time in Athens and was taken with the 10th overall pick in the 2015 NFL draft by the then-St. Louis Rams. He won NFL Offensive Rookie of the Year and spent five seasons with the franchise before signing with the Atlanta Falcons ahead of the 2020 season.
While the Falcons struggled in the early part of the season, they've turned things around and have won three of their last four games with Gurley being one of the big reasons for the turnaround. He's rushed for 584 yards and nine touchdowns through nine games and is on pace for the fourth 1,000-yard season of his career. Gurley is loving being back in the state of Georgia but the biggest part of that has nothing to do with the things he's doing on the field.
"When I joined the Falcons, I definitely just wanted to be able to give back to the community, be around the city of Atlanta and the state of Georgia."

Todd Gurley
And Todd Gurley is certainly giving back.
His M.A.D.E. Foundation has partnered with the University of Georgia on numerous projects
While still with the Rams, Todd Gurley founded the M.A.D.E. (Make A Difference Every Day) Foundation, which was designed to support youth by focusing on their social, physical, and educational health. Upon Gurley's homecoming in 2020, the foundation partnered with the University of Georgia on numerous initiatives across athletics, social justice, and education.
As COVID-19 has obviously changed learning this school year, the "Dawgs For Pups" campaign has helped raise funds to provide internet access to kindergarten through eighth-grade students in the Athens-Clarke County School District and Todd Gurley couldn't be more proud. And he wants things like that to only be the beginning.
"With COVID-19, things have gotten a bit slowed down but just being able to start that whole process has been great. I'm super excited to do it with the University of Georgia. A lot of this is just so unreal, you put in the hard work and you come up with plans and strive for things and being able to provide internet access to people in Athens…it's just things like that. It's something I want to keep doing, keep building on, keep learning, and keep progressing."

Todd Gurley
But that's not the only way he's giving back.
Todd Gurley recently welcomed a military family to a new, rent-free home
Another big project Todd Gurley was recently a part of was "The Welcome Home" project with Pillsbury and Operation Homefront. This particular initiative helps military families transition back to civilian life by providing them with a rent-free home.
An Air Force Aircraft Mechanic, Trevor, who has served for seven years and deployed twice, his wife, Brittany, and their young son were the first family chosen in the Atlanta area and Todd Gurley was on hand to welcome the family to their new home, an experience he told us was very special for him.
"Being able to have this opportunity to partner with Pillsbury and Operation Homefront and to be able to provide military families with a new house…transition back into a civilian lifestyle…it just meant a lot to me.

"Just being able to do what I do on the field but then also being able to do these kinds of things off the field, being provided the opportunity to welcome Brittany, Trevor, and their son to a brand new home.

"I'm just happy for the family to be able to have a place that they can call home. It was great. They were excited, they were shocked. We got the chance to make some chocolate chip cookies and break in the house the right way.

"It's opening my eyes and helping me grow as a person and being able to look at families and just seeing them happy, see them at home, see them at peace, and that's what it's all about at a time like this."

Todd Gurley
Sportscasting would like to thank Todd Gurley for sharing these stories with us and we certainly applaud him for the things he's doing in the community.