Todd Gurley's Name Is Somehow Still Nowhere To Be Heard on the Free Agent Market, For Some Reason
Life in the NFL has changed very quickly for former Los Angeles Rams running back Todd Gurley.
At this time in 2019, Gurley was coming off a second consecutive All-Pro season. The Rams were hoping to avenge a loss to Tom Brady and the New England Patriots in Super Bowl 53, and they had a proven running back to help them.
Two years later, the 26-year-old Gurley may be waiting on his final chance to play in the NFL.
Todd Gurley has had a relatively underrated career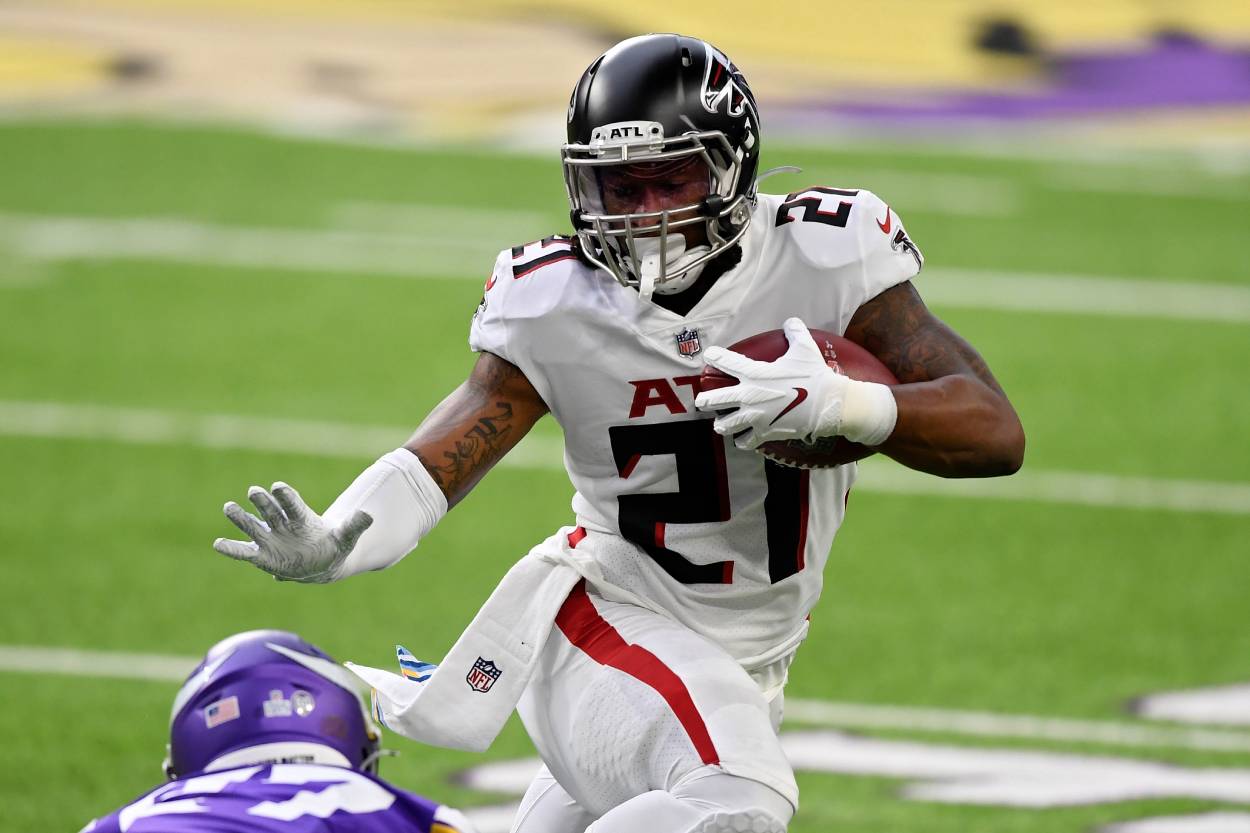 More NFL teams have shied away from selecting running backs in the NFL draft's first round, at least within the first 20 picks, over the last decade.
The Rams, entering their final season in St. Louis, broke free from that trend in 2015 when they used the 10th overall pick on Todd Gurley, a star running back from the University of Georgia.
Despite some lingering injury issues, Gurley has had a far better career than football fans seem to realize. Gurley ran for 6,082 yards and 67 touchdowns on 4.2 yards per carry in his first six NFL seasons.
Entering the 2021 season, Gurley ranks 92nd all-time in rushing yards and 39th in touchdowns. Gurley won the NFL Offensive Rookie of the Year in 2015 and Offensive Player of the Year two seasons later. Considering his current presence on the free agent market, it is easy to forget just how dynamic Gurley was in his prime.
Gurley had an inconsistent 2020 season with the Falcons
After five years with the Rams, Gurley returned to the south in 2020 when he signed with Matt Ryan and the Atlanta Falcons.
At first, Gurley appeared to be a bright spot amid an ugly year for the Falcons. Through his first seven games, Gurley totaled 485 yards and seven touchdowns — including an infamous accidental one in a loss to the Detroit Lions — on 3.98 yards per carry.
But over his next nine games, Gurley averaged only 2.64 yards per carry and only scored twice. He ended the year with 678 rushing yards and nine touchdowns on 3.5 yards per carry and hauled in 25 catches for 164 yards.
Will any teams take a chance on Gurley in the near future?
At this point in Gurley's career, it appears that his days of serving as a team's lead running back are over.
If Gurley is to keep his career alive, he may have to become a short-yardage back. The Falcons listed Gurley at 6 feet 1 inch and 224 pounds last season. He will play all of the 2021 season at 27 years old and has the size to thrive as a goal-line running back in the right offense.
Atlanta did not add a running back in the 2021 NFL draft, and new head coach Arthur Smith knows the value of a bruising running back. Smith coached Derrick Henry, the reigning Offensive Player of the Year, in Tennessee.
Gurley is still young, but he has plenty of mileage on him. If a team brings Gurley in as a reserve running back on the minimum salary and finds a role that will play to his strengths, they may just add a secret weapon in the process.
Like Sportscasting on Facebook. Follow us on Twitter @sportscasting19.