Tokyo Olympics: These Are the Youngest and Oldest U.S. Athletes
Although the 2020 Olympics were postponed because of the COVID-19 pandemic, the events were finally able to kick off in Tokyo on July 23 and will conclude on Aug. 8, 2021. Participating in the Olympics is usually regarded as the pinnacle of an athlete's career, and some Olympians are good enough to compete more than once. Given the incredible age range that is represented at the Tokyo Olympics, plenty of fans have likely wondered: How old are the oldest and youngest athletes representing Team USA?
What are Team USA's youngest athletes at the Tokyo Olympics?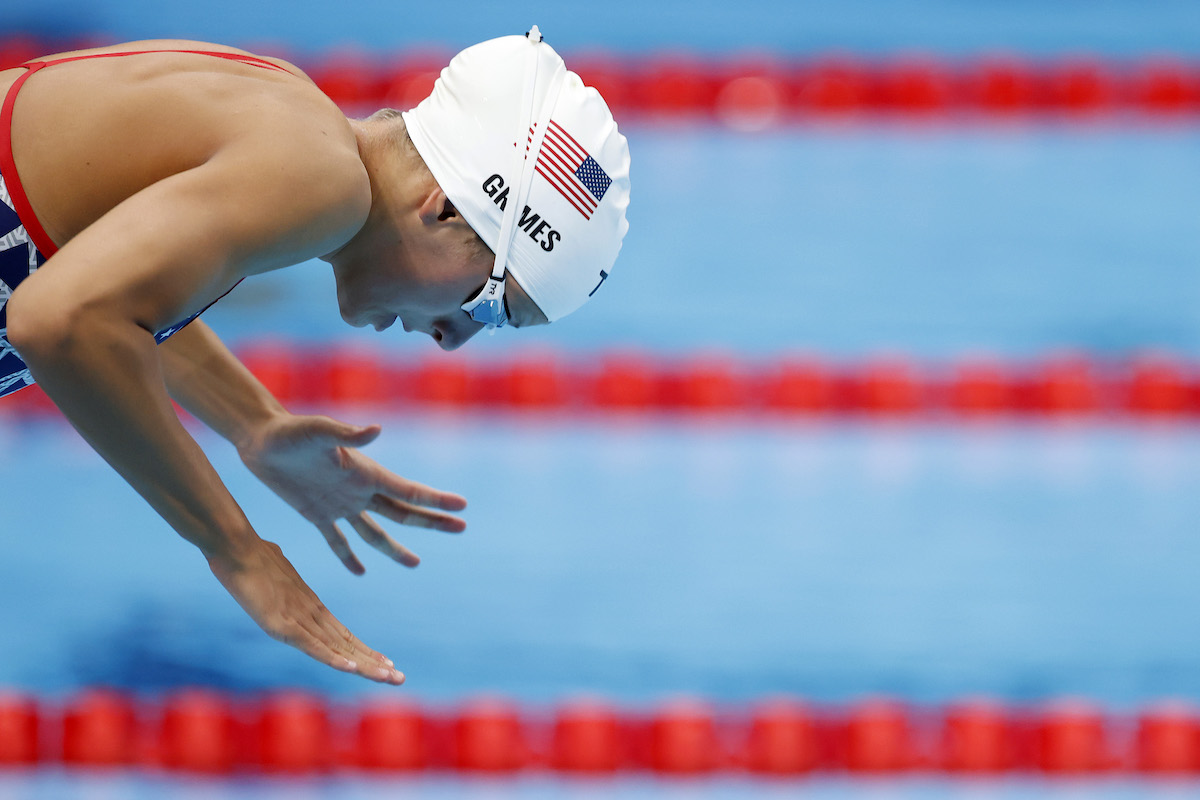 Team USA includes a diverse set of athletes, and some of the youngest and oldest in the Olympics are a part of it. Today lists some of the details — including the fact that Team USA's youngest athlete at the Tokyo Olympics is 15-year-old Katie Grimes from Las Vegas. On Team USA's swimming team, she is the youngest USA Olympian since 2012.
Brighton Zeuner, 16, is another young Team USA member who is competing at the Olympics for the first time. However, it's not the first time she's been in the public eye. At only 13, she was the youngest ever to win the X Games in 2017. Zeuner is from California. (Watch for her performance in skateboarding!)
Colin Duffy and Erriyon Knighton are both 17. Duffy is from Colorado and is competing in one of the Olympics' new events of sport climbing. Knighton is the youngest track athlete that has qualified in the last 57 years. He hails from Florida, and is impressive in his own right. He broke Usain Bolt's record time in the under-18 division once in May 2021, and then broke that new record when he qualified for the Olympics.
What are Team USA's oldest athletes?
Team USA also has some seasoned veterans. Philip Dutton is a seven-time Olympian and is 57 years old. He's an equestrian, and leads the three rider eventing team. He's the oldest U.S. Olympian since 2008, and was the oldest to medal since 1952 when he won a bronze in 2016. During his first two Olympics games, he represented Australia.
Abdi Abdirahman was born in Somalia, and at age 44, he is the oldest U.S. runner to ever make the team. This is his fifth Olympic appearance, though not consecutively; he didn't make the 2016 team.
Sue Bird is part of Team USA's women's basketball. At 40, she is the third-oldest on the team. With four gold medals under her belt already, this is her fifth Olympics appearance.
Carli Loyd will turn 39 just before the Olympics, which makes her the oldest US team soccer player ever. This is her fourth Olympics, and she has earned two gold medals.
McKayla Skinner is not only the oldest gymnast since 2008, but is also only the second member of the US gymnasts team to be married. At only 24, she still holds those records.
What are the overall oldest and youngest athletes in the Olympics?
Team USA is certainly diverse, but so are most of the teams as a whole. Hend Zaza from Syria is 12 and is competing in table tennis. Kokona Hiraki is a skateboarder from Japan and is also 12.
Oksana Chusovitina from Uzbekistan is 46, and she is the oldest woman competing in Tokyo. Meanwhile, Andrew Hoy, 62, is the overall oldest. They are a gymnast and an equestrian, respectively.
The oldest athlete of all time was 73-year-old John Copley — but his graphics and arts medals were stricken from the record when the event was phased out in the 1950s. The oldest Olympian that is still recognized is sharpshooter Oscar Swahn at 72. The oldest woman was 70-year-old Lorna Johnstone, who competed as an equestrian.
The youngest Olympians were 10 and 11. Cecilia Colledge was 11 in 1932 when she competed in figure skating for England. Luigina Giavotti was 10 when she competed in gymnastics for Italy. The youngest to ever get a medal was 13-year-old Marjorie Gestring from California; she won a gold medal for springboard diving.
Interestingly, the youngest Olympian might actually be an unknown. That's because a child who could have been as young as 8 stepped in at the last minute in the rowing competition in 1900, though no one has ever been able to verify that.
RELATED: Inside Megan Rapinhoe and Sue Bird's Humble Seattle Condo