Tom Brady's 1st Season With the Patriots Netted Him Less Than $500k; Now He's Making $25 Million a Year With the Buccaneers
Tom Brady has got it all. The Tampa Bay Buccaneers quarterback is one of the league's highest-paid players. After retiring and then unretiring, he'll return this season to again claim a massive contract. It's certainly deserved based on how much he's won in the NFL. 
But Brady's latest big payday comes after humble beginnings at the start of his career. As a young quarterback with the New England Patriots, Brady made a fraction of what he makes now in Tampa. 
Here's the story of Brady's first contract and salary with the Patriots when made much less than what he makes now. 
Tom Brady's first contract was not big by NFL standards
Famously, Brady was a sixth-round pick in the 2000 NFL Draft. The Patriots selected him as a potential backup for Drew Bledsoe. Little did they know an injury to Bledsoe in Brady's second season would lead to Brady taking control of the franchise. 
Of course, no one expected Brady to become the greatest quarterback in league history. As a rookie, Brady certainly wasn't being paid like a future Hall of Famer. 
According to Spotrac, Brady's first contract was a standard rookie deal for a late-round pick. It was for three years at $866,500. It had an average annual value of $288,833, with $38,500 in guaranteed money at signing. 
To a normal person, those figures may seem large. But the totals pale in comparison to what Brady makes now. 
Tom Brady's most recent contract is quite large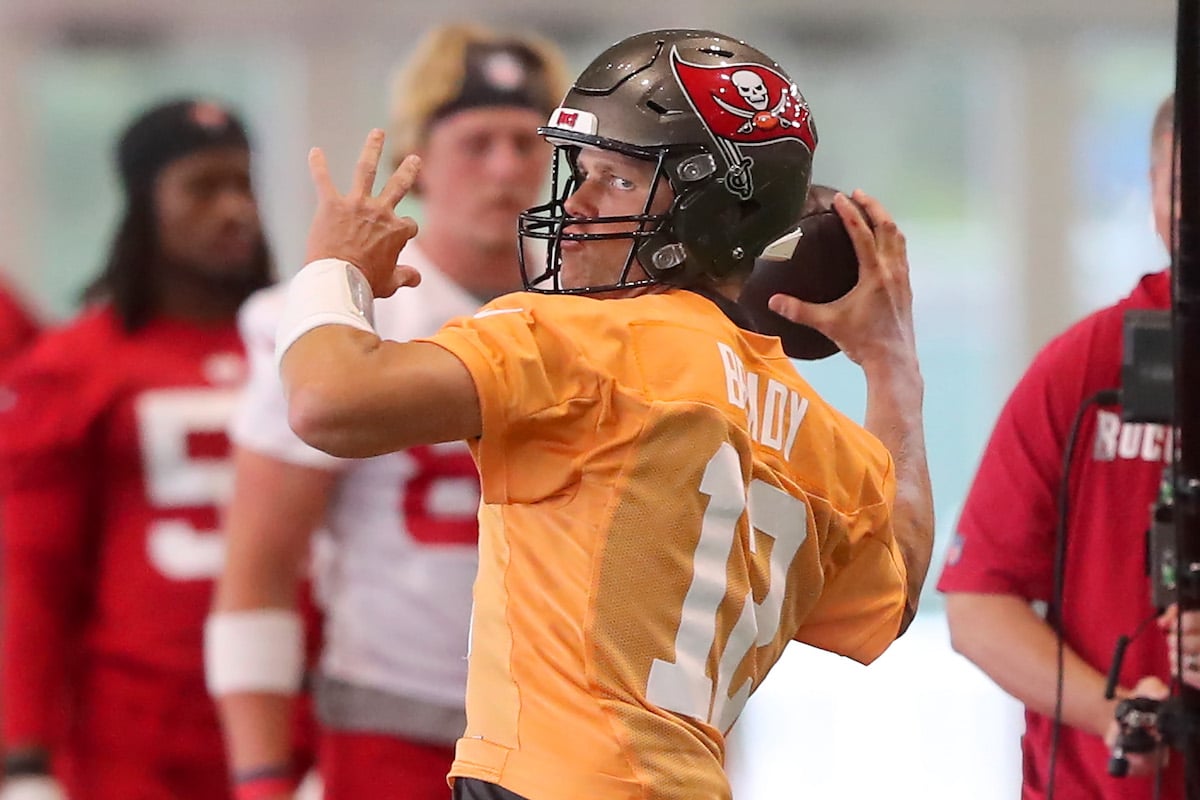 It's unclear how long Brady will keep playing, but one thing's for sure: As long as he does, he'll continue to break the bank. Brady's latest contract with the Bucs, according to SportsKeeda, was signed in March 2020. It was for two years, $50 million. A one-year extension was eventually tacked onto the deal.
For years, Brady took less than market value to help the Patriots stay competitive within the constraints of the salary cap. Now? He's seen just how much he can make as a free agent. Brady's 2020 free agency saw him looking to score at least one last big deal, and he certainly was able to do that.
This season, Brady's actual salary is only about $1.2 million. He'll make well over $10 million from a signing bonus. Much of Brady's money is deferred to years in the future, meaning he'll benefit from this massive deal for quite some time. 
But how long can Tampa fans expect him to stay in pewter and red?
Tom Brady's 'retirement' didn't last long
Brady almost didn't make a dime from the Bucs this season. Initially, he called it quits, hanging up his cleats after a decorated career that featured him winning seven Super Bowls with two teams. 
Will Brady have yet another massive payday in his future? Only time will tell. Right now all signs point to yes. He's playing at a high level and seems to be defying the odds by being in the best shape of his career. 
Brady will hit free agency in 2023, after this season. Let's say he plays. If he hits the open market, one would think he'd be looking for a short-term deal. But despite the fact that he wouldn't get the length some other younger superstars get, he'd likely get more than the last quarterback to sign a big deal.
As long as Brady plays, he'll be one of the highest-paid players in the league. It's a far cry from making relative pocket change his first season in New England.
RELATED: Greg Olsen Finally Comments on Tom Brady Taking His Job at Fox, a Job Olsen Actually Doesn't Even Officially Have Yet