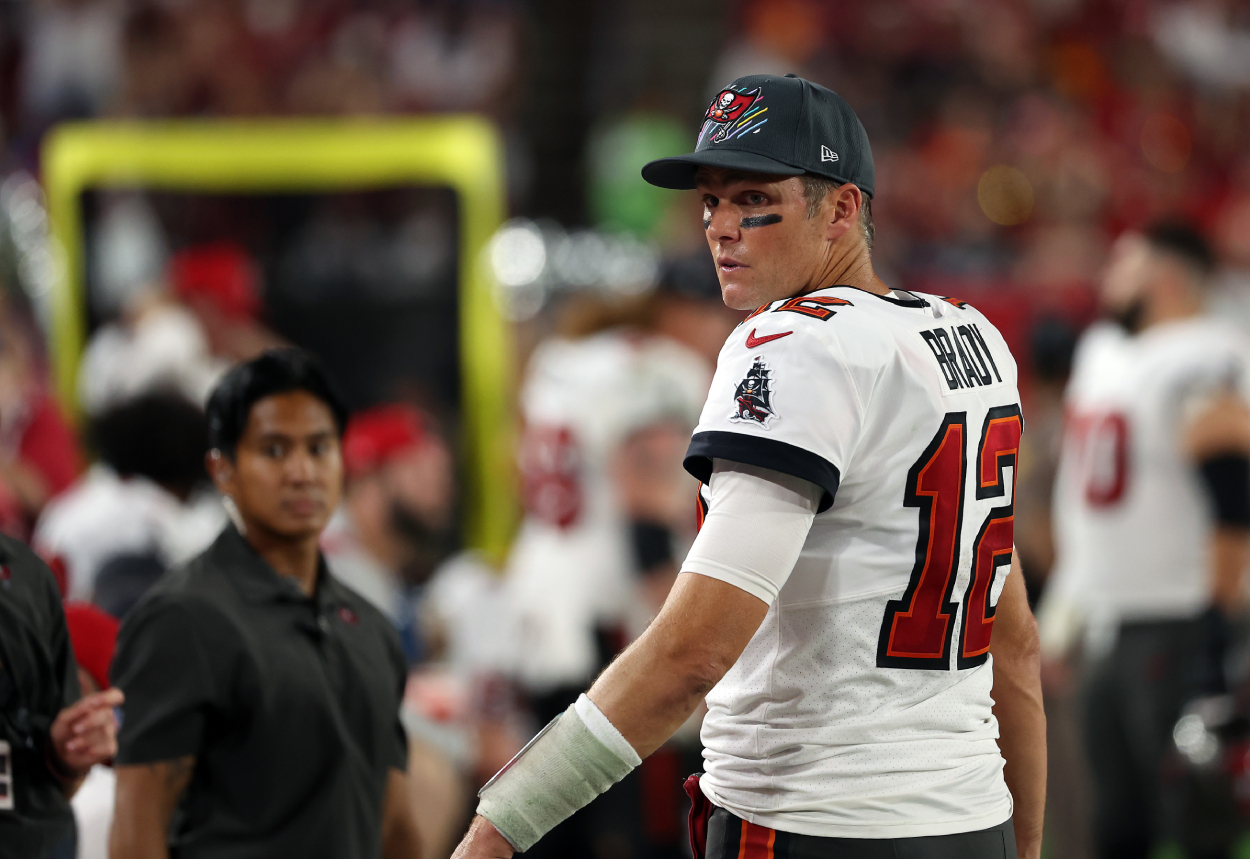 Tom Brady Feels Like a Hyped-Up Rookie After Grueling 17-Game Slate: 'You Feel the Urgency'
The NFL's second season begins this weekend and Tom Brady feels the urgency after grinding out a 17-game schedule.
If anyone knows what it's like to prepare for the NFL postseason, it's Tom Brady. The Tampa Bay Buccaneers quarterback is on a quest for his eighth Super Bowl and has his team as the No. 2 seed in the NFC.
At 44, Brady knows the grind of an NFL season, one that was beefed up this year with a 17th game. Now that the second season has rolled around and his focus is on the Philadelphia Eagles, Brady still feels the urgency when it comes to life or death in the playoffs.
Tom Brady continues to work his magic in his 22nd NFL season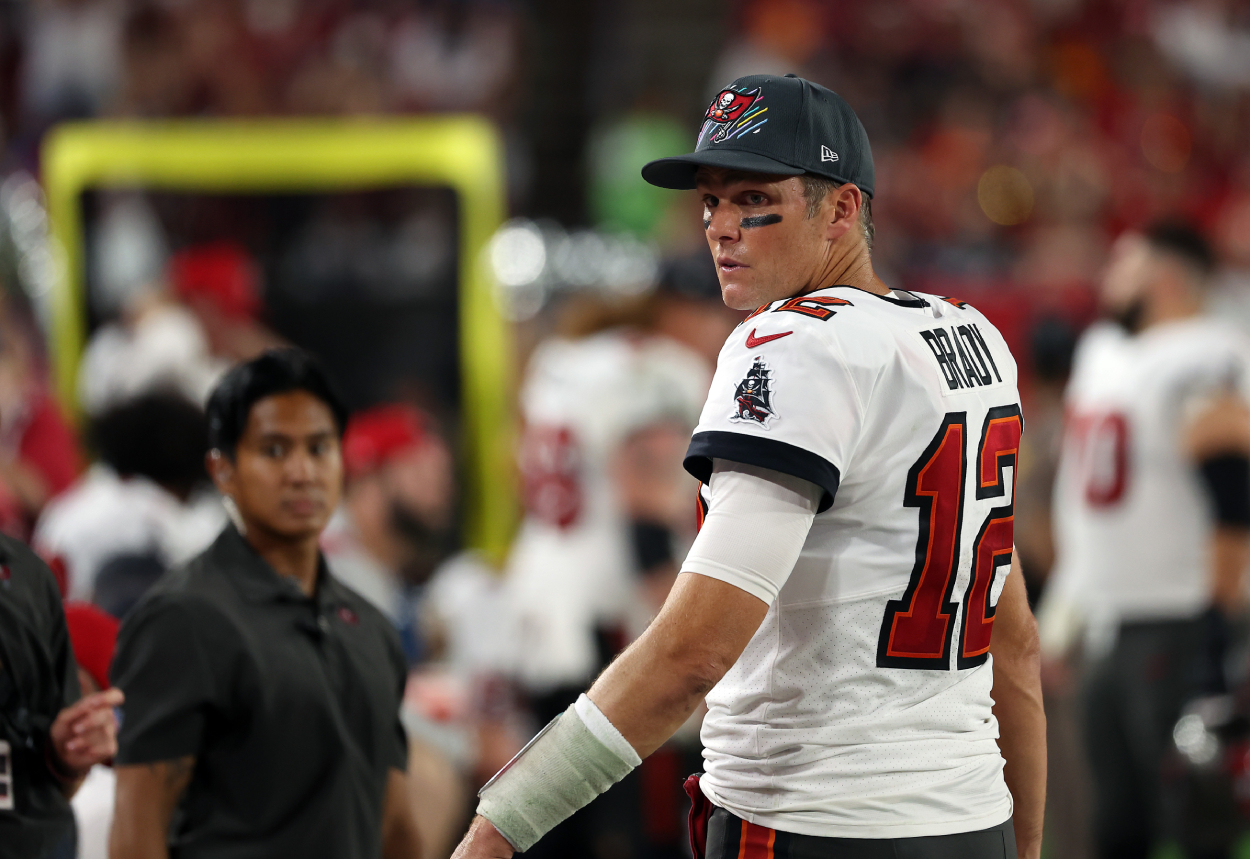 Just when you think this might be the year Brady becomes human, he puts up another MVP-type season. In his second season with the Bucs, Brady finds himself in the thick of the MVP race. More importantly to him, he finds himself vying for yet another Super Bowl ring.
Brady racked up a league-leading 5,316 passing yards and an NFL-best 43 touchdown passes. He was tops in the league with 312.7 yards per game. Brady guided Tampa Bay to a 13-4 record.
Brady finds himself right there with Green Bay Packers quarterback Aaron Rodgers for the league's top player. The quarterback certainly has the backing of Bucs coach Bruce Arians, who said it would be a "travesty" if Brady didn't win the MVP.
"I think if he doesn't get it, it's a travesty," Arians said earlier this week, per ESPN. "Most completions ever, 5,000 yards, touchdowns — the whole nine yards. To me, it's not even a close race."
After a 17-game grind, Tom Brady is refocused for the playoffs
The NFL added one extra game this year, making a grueling season even longer. Brady, however, has been there. He knows there is a different mindset when the playoffs begin. For him, it's time to recharge and refocus.
"You're playing for something different now," Brady told Jim Gray on this week's episode of the Let's Go podcast. "In the regular season, you're playing for a record, a seeding. Once you get to that point when the regular season is over, everyone is back to zero and zero. It really doesn't matter what you've done. It matters what you do from this point forward."
It's now do-or-die. Brady knows he can't have a clunker as he did in Week 15 when he was held without a point in a 9-0 loss to the New Orleans Saints.
"If you play a bad game, you're out," he said. "That's the reality. It doesn't matter if a free-throw shooter was 100% for 100 free throws. If he misses that one, that's how it feels when you lose an NFL playoff game. It doesn't matter. Game's over. Season's over, and you move on.
"So that's what you feel. You feel the urgency, and you leave no stone unturned. You feel like everything we've done to this point doesn't matter. How are we going to win this game?"
Brady and the Bucs open this weekend at home against the Philadelphia Eagles
Brady won the Super Bowl last year in his first season with the Bucs. Should he repeat, it likely won't have to be as difficult.
A year ago, the Buccaneers were the fifth seed and had to win three straight road games to reach the Super Bowl. This year, they will be at home for at least two games should they get past the Eagles.
Brady is making his 46th playoff start Sunday. Eagles quarterback Jalen Hurts is making his playoff debut. Tampa Bay enters the game as an 8.5-point favorite, but none of that matters to Brady.
The Tampa Bay quarterback said he doesn't automatically flip a switch when the playoffs roll around. He said it's a natural process to kick it into another mode because those stakes are much higher, and the adrenaline is flowing.
"Naturally, you can feel the urgency," he told Gray. "There's more excitement around the game. More people are coming into town. There's more tickets, more things to do. There's more hype surrounding each of these games. You may not be conscious of it it, but it's happening."
Even at 44, Brady still feels like a hyped-up rookie.