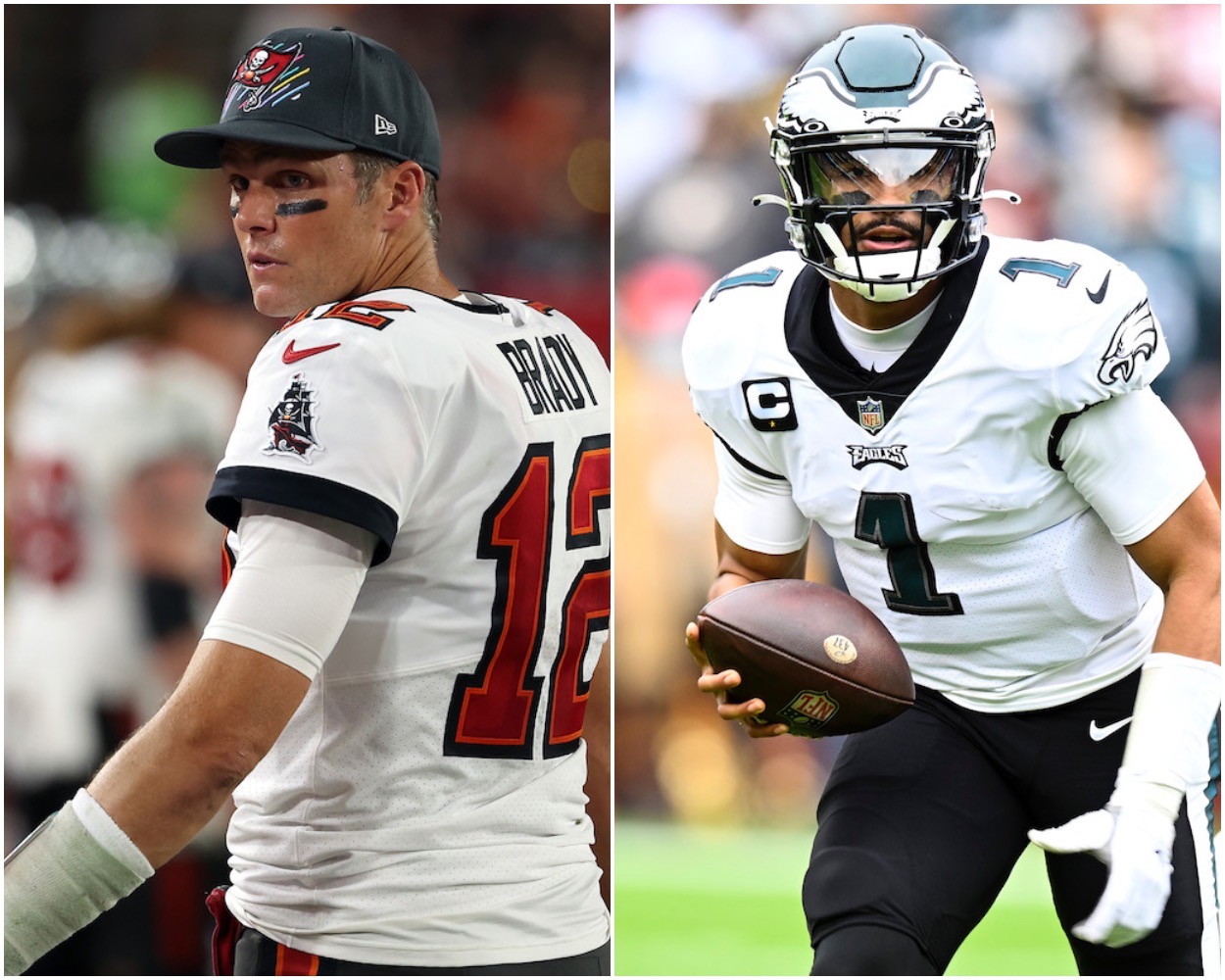 Tom Brady and Jalen Hurts Are Separated by a Historic 21-Year Difference
With their playoff game matchup on the horizon, Tom Brady and Jalen Hurts have a historic 21-year difference that needs pointing out.
The Tampa Bay Buccaneers and Philadelphia Eagles are taking part in a historic playoff game this Sunday. Not for anything related to the two teams. Instead, it has everything to do with the team's two starting quarterbacks, Tom Brady and Jalen Hurts.
According to Pro Football Talk, this is the largest age gap between two starting quarterbacks during an NFL playoff game.
Tom Brady and Jalen Hurts are making history this weekend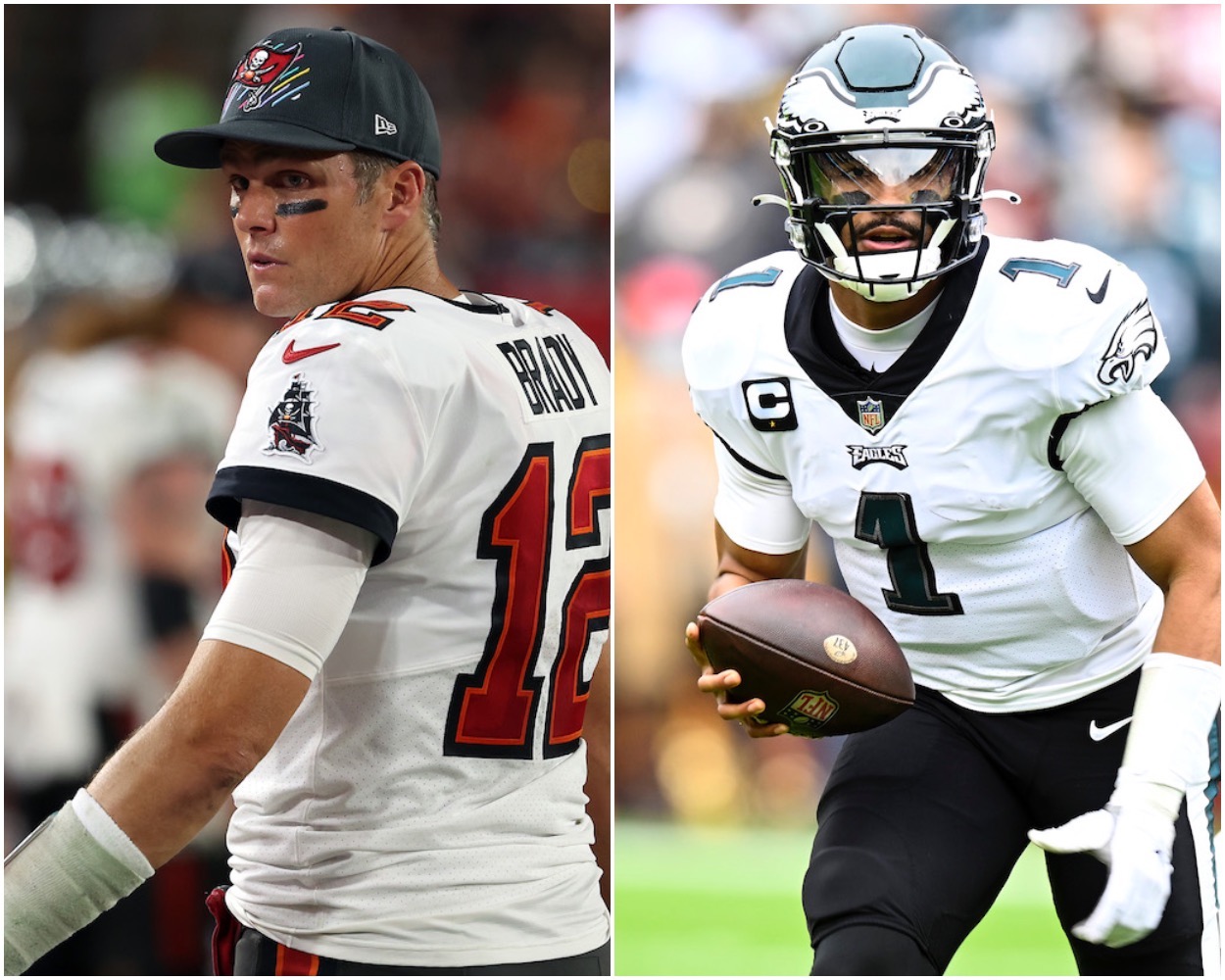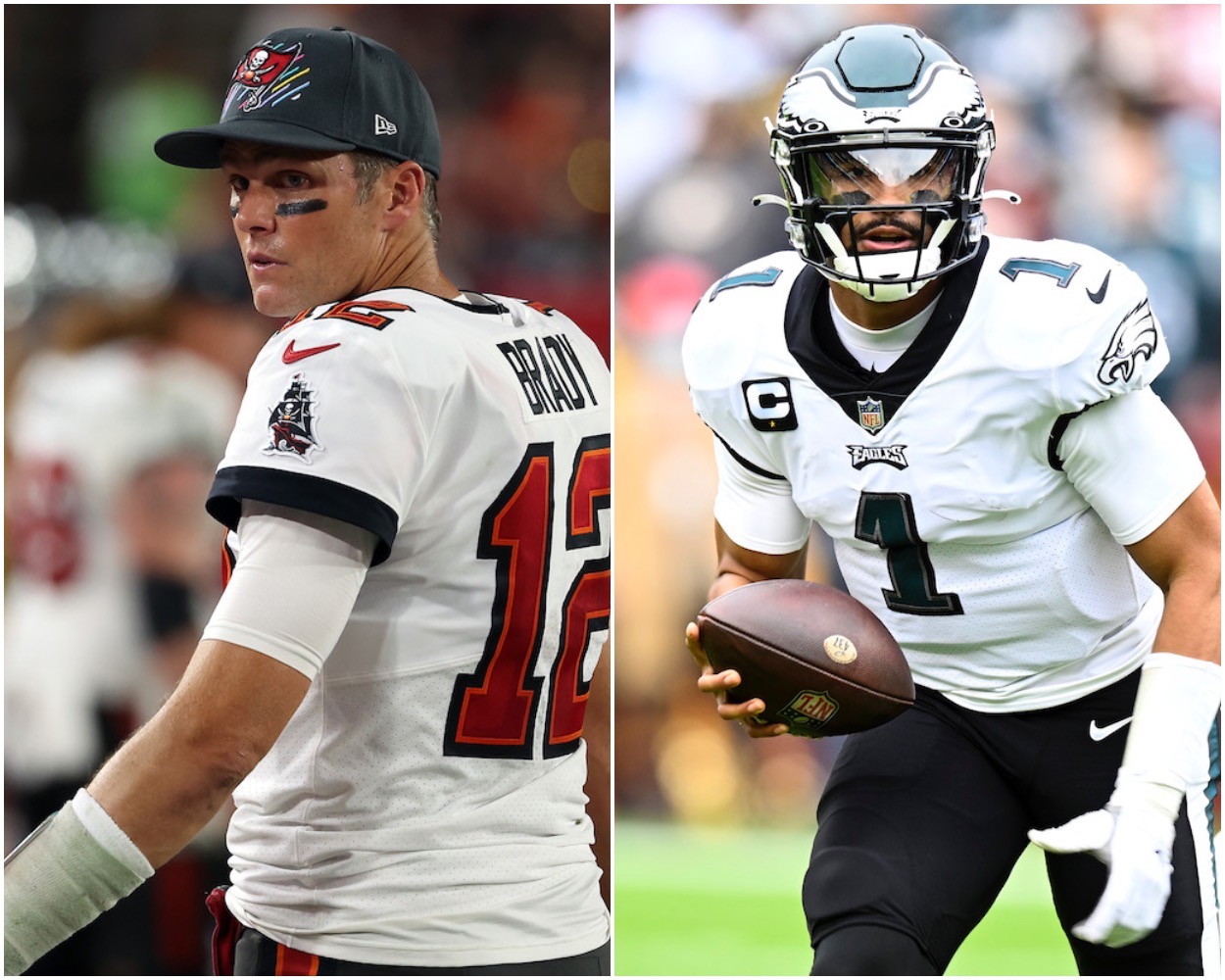 With Brady 44 years of age and Hurts 23, the 21 year age difference is the largest gap between two playoff starters.
When Buccaneers quarterback Tom Brady and Eagles quarterback Jalen Hurts take the field on Sunday, they will have the largest age difference ever between starting quarterbacks in an NFL postseason game.

Brady turned 44 on August 3 and Hurts turned 23 on August 7, so the age difference between them is almost exactly 21 years. That's by far the biggest age difference ever between playoff quarterbacks.

The previous record was set by Brady and Patrick Mahomes, who is 18 years younger than Brady. The Brady-Mahomes matchup has happened twice in the postseason, in the Super Bowl last year and the AFC Championship Game three years ago.

Michael David Smith, Pro Football Talk
Who has the advantage?
The current oddsmakers heavily favor Tom Brady and the Buccaneers (-8.5 favorites according to CBS Sports), and why shouldn't they? The Buccaneers are the reigning Super Bowl champions, and Brady is coming off an MVP-caliber regular season. If it weren't for Aaron Rodgers, Brady would be the clear-and-cut favorite to win the award.
Even with Chris Godwin injured and Antonio Brown no longer on the roster, the Bucs are still in a favorable spot this weekend. Mike Evans and Ron Gronkowski are matchup nightmares for Philly, and the Bucs' defense is good against the run.
However, that doesn't mean one should completely write off Hurts and the Eagles. What they lack in experience, they make up for in hard-nosed football. The Eagles have built a super successful run-first scheme around Hurts and the offensive line, making them a tiring opponent come gameday.
The heavy rain and wind that is being forecasted play into the Eagles' favor as well. Those are run-first conditions.
Tom Brady should still be able to walk away with the win
Almost every year we hear about *insert quarterback name* is primed to finally knock Brady off his pedestal. First, it was Jared Goff in 2018; then it was Patrick Mahomes in 2020. Outside of the one blip to Nick Foles (who is no longer a starting QB), Brady has largely been untouchable these past several years.
Even at 44 years old, it's hard to imagine Brady losing to Jalen Hurts during the Eagles QB's first career playoff game.
Stranger things have undoubtedly happened in the NFL. However, this is still Tom Brady we're talking about. As long as he's under center, throwing the ball with confidence, his team should always be the favorite. Hurts and the Eagles beating Brady and the Bucs would be a significant upset, no matter how you slice it.
Like Sportscasting on Facebook. Follow us on Twitter @sportscasting19.