Tom Brady and Antonio Brown Share a Special Bond That Revived the Buccaneers Wide Receiver's Hall of Fame Career
Article Highlights:
Tampa Bay Buccaneers teammates Tom Brady and Antonio Brown developed a strong connection
Brady said Brown is like a "brother" to him
Brown has revived his career catching passes from Brady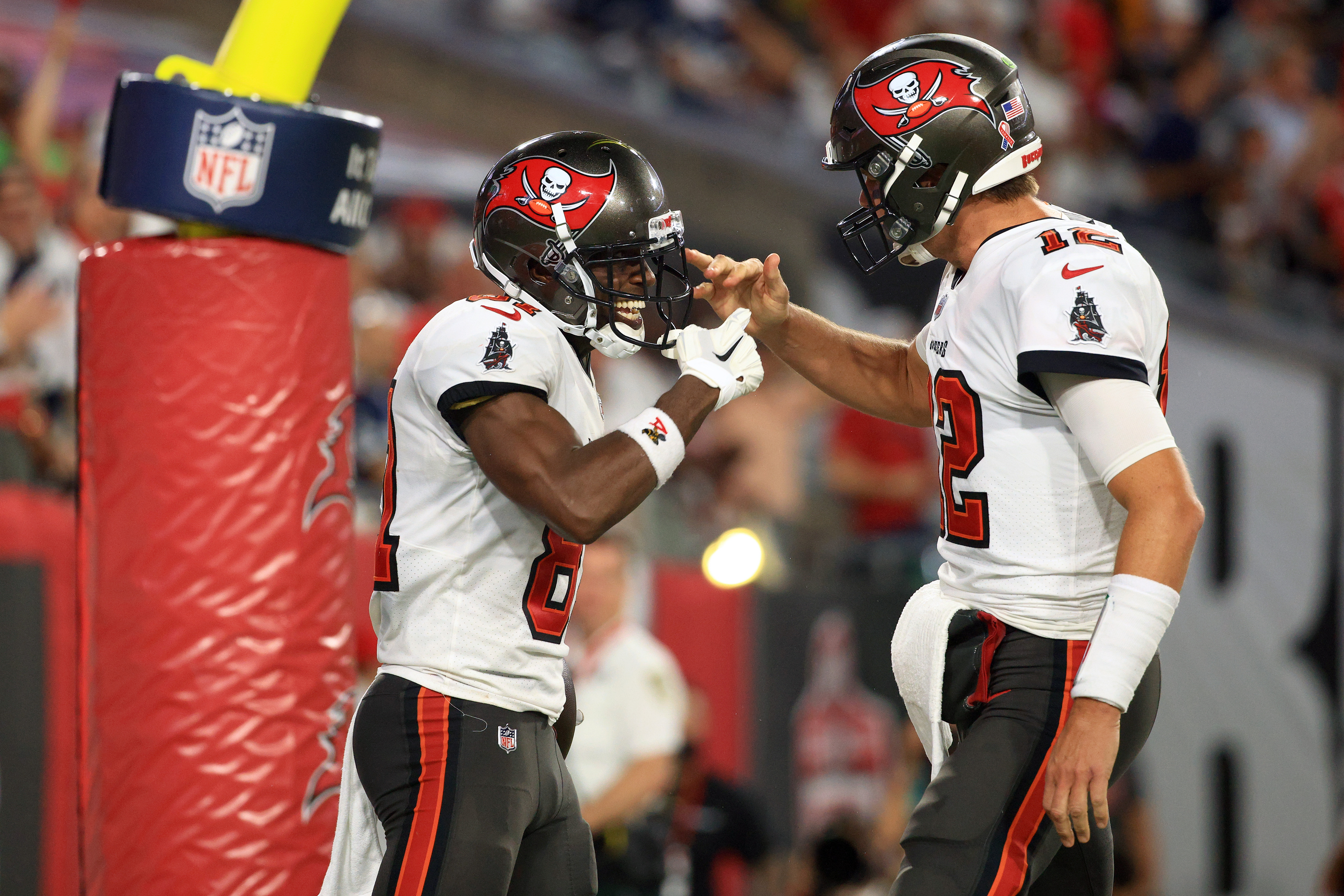 The Tampa Bay Buccaneers have a legitimate chance to repeat as Super Bowl champions at the end of the 2021 NFL season. Despite the injuries, there's enough talent to get the job done. When Tom Brady is leading the charge, it's hard to bet against that team. TB12 and Antonio Brown have built a strong bond, and their connection has translated to the field.
Antonio Brown is back
If Antonio Brown retired from football today, he'd be a surefire Pro Football Hall of Fame selection.
Brown spent nine seasons with the Pittsburgh Steelers and established himself as one of the NFL's elite pass-catchers. He recorded 837 receptions for 11,207 yards and 74 touchdowns during his tenure in the Steel City.
Similar to Le'Veon Bell, Brown fell out with the Steelers organization. His relationship with Ben Roethlisberger fractured, the two sides parted ways.
AB also battled off-the-field issues, and it was unclear if he'd ever play in the NFL again. Tom Brady recruited the Miami, Florida native to the New England Patriots. However, the stint was short-lived. The team released Brown after allegations of sexual misconduct surfaced.
Brown appeared in just one game with the Patriots and didn't play another snap in the 2019 season. He ultimately linked up with Brady again, but this time in Tampa Bay.
The four-time All-Pro appeared in eight games during the 2020 season, catching four touchdown passes. He also recorded two scores in the postseason, including one in the Bucs' Super Bowl victory.
Brown has re-established himself as a big-play threat in his first full season with the Buccaneers. He's caught 20 passes for 325 yards and three touchdowns in four games.
Buccaneers QB Tom Brady says Brown is a 'brother' to him
Antonio Brown's talent is undeniable. He's one of the greatest wide receivers of the modern-day era. Despite his greatness, he wouldn't be in this position if it weren't for Tom Brady.
Brown was down and out. Failed experiments with the Raiders and Patriots left questions unanswered. Did AB still have it? It was the unknown. Well, he's answered that question in his short time with the Buccaneers.
Brady and Brown are two of the most dominant players of the last decade, regardless of position. The 44-year-old's recruitment of the 33-year-old wideout was relentless. With TB12 no longer in New England, Tampa Bay seemed like the perfect destination to join forces.
Bruce Arians established parameters, and Brown bought in. The Buccaneers' offense is much better off because of it, too.
Brady opened up about his relationship with the seven-time Pro Bowl receiver on his Let's Go Podcast with Jim Gray.
"AB's become like a brother to me," said the Bucs' signal-caller per NBC Sports. "Just to watch him, what's happened over the course of his life the last 18 months, and to see kind of where he was at and where he's at now, makes me so happy for him."
Brady elaborated on AB's passion for the game. "He loves playing football," he said. "He's a football genius…I know he's got a lot of great years left."
Brady and Brown's connection makes the Bucs even more dangerous
The Buccaneers are currently a banged-up football team. Injuries have decimated the defense. The once-dominant unit is missing several key players, including Carlton Davis III, Lavonte David, Sean Murphy-Bunting, and Antoine Winfield Jr.
While the defense waits for those players to return to action, the offense must continue to pick up the slack. Tom Brady and company have done a great job thus far.
Leonard Fournette is running the ball with a purpose. Mike Evans and Chris Godwin are two of the NFL's brightest young talents at wide receiver. When you factor in Antonio Brown, the passing attack is tough to slow down.
Tampa Bay needs to get healthy to repeat as Super Bowl champions. However, the offense is firing on all cylinders right now. Brady is eluding Father Time as no player has ever done before.
The Buccaneers' offense is special. Tom Brady's unwavering belief in Antonio Brown is a big reason why.
All statistics courtesy of Pro Football Reference.
RELATED: Tom Brady's Confidence Gave Kyle Van Noy 'Chills' and Memories of Michael Jordan: 'Any Man Can Talk S*** When They're Ahead'