Tom Brady Asks Rob Gronkowski a 'Tough' Question He Has a Hard Time Answering
Tom Brady is as serious as any NFL player when he's on the field during a game. Off the field, though, he tends to have some fun at times — especially when he's with longtime teammate and notorious jokester Rob Gronkowski. Between the Patriots and Buccaneers, the quarterback and tight end are in their 11th season of playing together, and they have developed a strong relationship both on and off the field. That brotherhood was evident when they starred together in a recent YouTube video during which they ribbed each other like pals do.
The 'Google It' YouTube video series featured Tom Brady and Rob Gronkowski
In the "Google It | Tommy & Gronky" video posted on the Bucs' channel, the players sit near a kiddie pool wearing ridiculously big mirrored sunglasses. They spend the 5-minute clip answering Google's biggest search questions about the pair. One question wondered if Brady can continue playing until he's 50.
The 44-year-old said, "I think I can, I think it's a yes," joking that playing in Florida now allows him to just glide into retirement there when his career is over. Brady then asked Gronk if he can dunk, and the tight end answered in the affirmative, telling the story of the first time he dunked when he was a high school freshman.
Tom Brady asked if Rob Gronkowski if he can rap
Toward the end of the video, a question came up that Brady joked was a "tough" question for Gronkowski to answer. The question was asking, simply, if Gronk can rap. Brady decided to combine that question with another, asking if Gronk can touch the Lombardi Trophy, asking Gronk to rap about the trophy that the Super Bowl champions are awarded.
Gronk said, "All right, there we go," then hesitated for a few moments before jumping into an improvised rap about going for the Lombardi. After a few seconds, Gronk began a line with, "Check it out, every year we go for the Lombardi. That's because Tom and I, we're such smarties. You better watch out because our opponents, we …" At that point, the video abruptly cut off and there was a test pattern seen, along with a beep as if an obscenity was being censored in the video.
Brady and Gronk's relationship has grown incredibly close on and off the field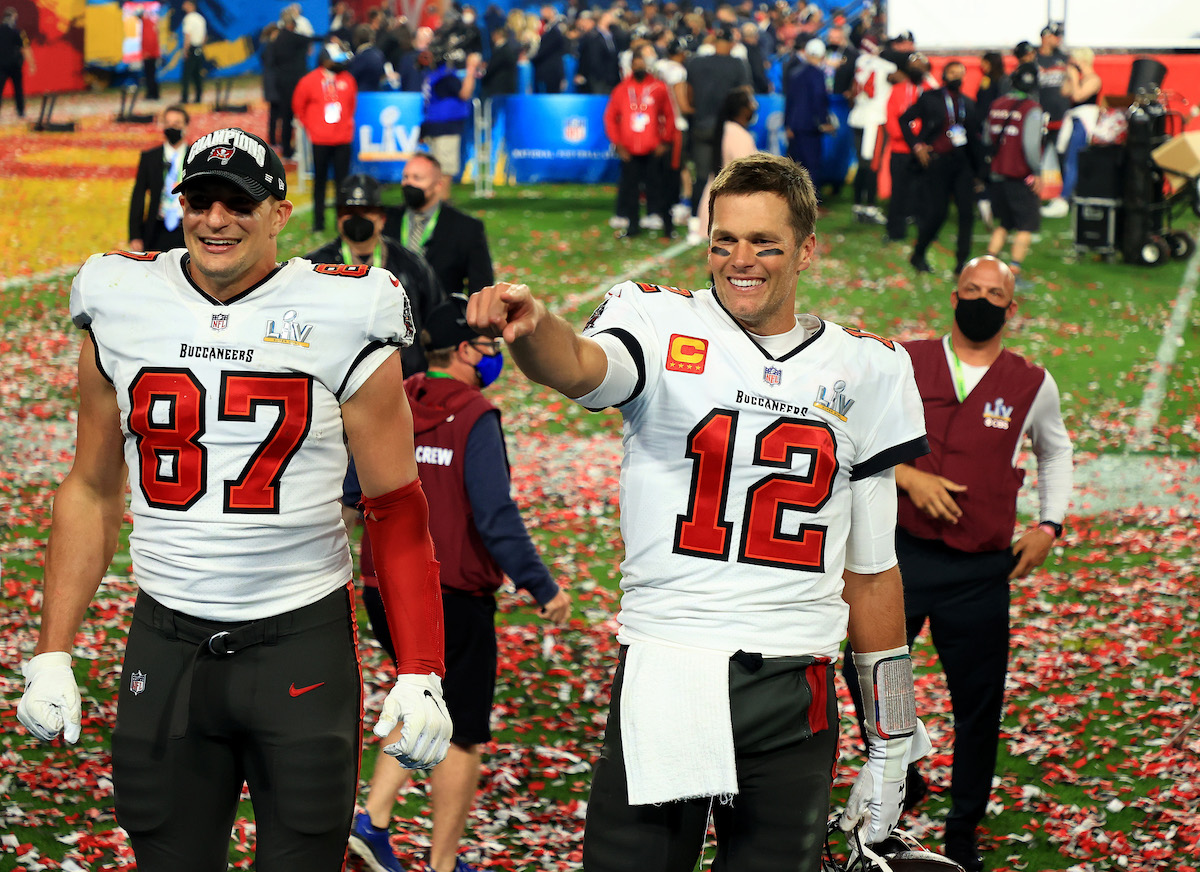 In 2010, Gronk's rookie season, he and Brady quickly became an offensive threat on the field, with Gronk catching 10 touchdown passes from Brady. In February 2015, the pair won their first Super Bowl together of four —so far. Leading up to the contest, Gronk told reporters, "It's just an honor to play with Brady," who was playing in his sixth Super Bowl at the time. Gronk called Brady "the leader" who works hard and remains humble, despite his legendary status in the NFL.
When Brady signed with the Bucs last year, he pushed for the team to sign Gronk, and the pass catcher came out of retirement to do just that and continue his career with Brady. Brady has connected with Gronk on more than 80 regular season touchdown passes, the third-most in NFL history.
With their success on the field, their bond has grown off the field as well. They attended the Kentucky Derby together in 2015, and Gronk has said seeing the face of the health-conscious Brady after taking a shot is his favorite off-field memory of the quarterback.
Other highlights of their friendship include Brady tackling Gronk on the field at Fenway Park for the Red Sox home opener in 2017 and doing their first commercial together following their latest Super Bowl title earlier this year. Then, of course, there's the celebrating they've done together at their four Super Bowl parades.
RELATED: Rob Gronkowski Has Quickly Confirmed He and Tom Brady Executed the Perfect Plan to Embarrass Bill Belichick