Tom Brady's Autographed Rookie Card Sold for $556,000: 'The Single Most Important Modern Football Card'
Despite being an age when most athletes have retired, it's a great time to be Tom Brady. The quarterback just won his seventh Super Bowl with a strong performance; he shows no signs of slowing down. So it's no wonder the memorabilia market for Brady is hot as ever. An anonymous buyer recently spent nearly $556,000 for Brady's autographed rookie card.
Let's look at the sale of that card, other football cards selling for around that same price range, and the price of a typical Tom Brady autograph. 
An autographed rookie card of Tom Brady sells for almost $556,000
RELATED: Tom Brady Gave His Dad a Priceless Gift After His First Super Bowl Win
The card market is both simple and complex. Typically, the more skilled the player, the more the card sells for. That said, the overall value of cards in general fluctuates depending on the health of the memorabilia market.
In Brady's case, the market for his signed memorabilia is very good at the moment because of his success. He's red-hot at the moment after adding to his already historic total of Super Bowl titles. 
According to Hype Beast, Brady's autographed "2000 Playoff Contenders" signed rookie card recently sold for $555,988 at auction. PWCC Marketplace referred to the mint condition item as "the single most important modern football card ever produced." It came to market in 2012 at a value of $5,000. Its value has exponentially grown by nearly 10 times that since.
What is the most expensive rookie card ever sold?
Believe it or not, Brady's rookie card isn't the most expensive. This honor belongs to Patrick Mahomes. According to Hype Beast, his autographed rookie card with a special AFC fabric patch sold for a whopping $861,000. Released in 2017 by National Treasures, it's one of only five of its kind in existence.
The bidding for the card opened at $50,000 and only rose from there. What's even more amazing is that the value of Mahomes' card may grow even more. Should he win more Super Bowls or continue becoming one of the greatest QBs, the card's value will likely increase.
It likely would have gone up even higher in value had Mahomes defeated Brady in the Super Bowl, but Mahomes has plenty of time to continue on his winning ways in the NFL. 
How much does Tom Brady memorabilia usually sell for?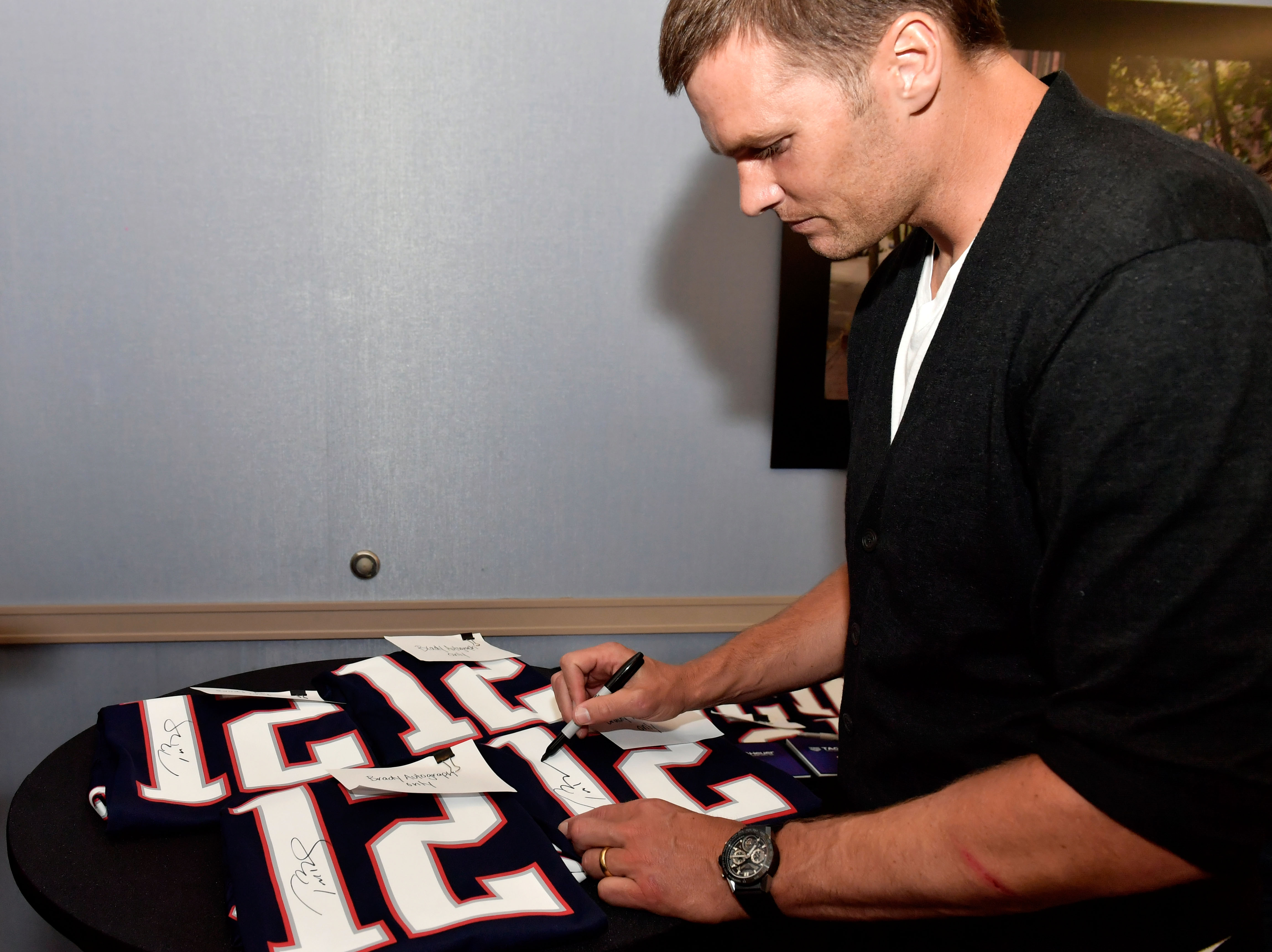 RELATED: Where Did Tom Brady Go to College? What Kind of Student Was He?
The market for Brady sports memorabilia is bigger than ever. His Super Bowl win only added to the frenzy. While his autographed rookie card is certainly a hot commodity, other items associated with the QB are also valuable.
Power Sports Memorabilia compiled the values for Brady's other memorabilia. Here are some examples:
His stolen Super Bowl jersey estimated to be worth around $250,000. 
2011 game-worn jersey: This jersey, worn in a game against the Dallas Cowboys, is valued at $63,000. 
2009 Patriots throwback jersey: An older Brady jersey fetches a tidy sum of $28,650. 
Any autographed item: One memorabilia company allows fans to send in any item they wish for an autograph. Anything larger than a 11×14 glossy picture, a football, or a mini-helmet will cost $899. 
As Brady continues to dominate on the NFL field, it doesn't look like the market for his autograph will disappear anytime soon.