Tom Brady Just Beat out Russell Wilson to Secure Another Valuable Weapon for the Buccaneers
Tom Brady proved his greatness in many different ways throughout his 2020 Super Bowl-winning season with the Tampa Bay Buccaneers. Besides just simply playing at a high level at 43 years old, Brady also helped construct Tampa's championship-winning roster. He appears to be doing the same for the 2021 roster, too. In fact, TB12 just helped the Buccaneers' offense get even stronger, and he also beat out Seahawks quarterback Russell Wilson in the process.
Tom Brady's Buccaneers offense is already stacked
RELATED: Tom Brady's Potential Patriots Replacement Has Already Been Texting Josh McDaniels — and It's Not Cam Newton
Heading into the 2020 season, we all knew that the Tampa Buccaneers' offense was potentially the most explosive offensive unit that Tom Brady had ever played on in his career.
The Buccaneers essentially had two No. 1 wide receivers, as Mike Evans gained over 1,000 receiving yards in 2020 while Chris Godwin gained 840 receiving yards in just 12 games. They also had Scott Miller, who had 501 receiving yards. In addition to those three, Brady also brought in multiple game-changers, like future Hall of Fame tight end Rob Gronkowski, who caught 45 passes for 623 yards and seven touchdowns. Antonio Brown also had 45 catches for 483 yards in just eight games.
The Buccaneers, of course, had two talented running backs in the backfield, too. Ronald Jones ran for 978 yards in 14 games. Leonard Fournette had also just run for 1,152 yards in 2019 and ultimately gained 448 rushing/receiving yards during the 2020 playoffs.
This offense was ultimately good enough to lead Tampa to a Super Bowl title last season. All of those guys but Brown (for now) will be back in 2021, too. So, Tom Brady's Buccaneers team should be a Super Bowl contender yet again.
However, Brady just got yet another valuable weapon for his offense.
Tom Brady and the Buccaneers have added Giovani Bernard
RELATED: Tom Brady Owns Up to a Risky Decision That Could Have Cost Him $50,000: 'That Was Not Smart'
No, he may not be a name like Antonio Brown, Rob Gronkowski, or Leonard Fournette, but former Bengals running back Giovani Bernard is now making his way to the Tampa Bay Buccaneers. It seems that a lot of this has to do with Tom Brady and Buccaneers coach Bruce Arians, too, as both men reportedly reached out to the 29-year-old back.
Yes, the Buccaneers already have two talented running backs. However, Giovani Bernard gives Tampa something they don't have, as he can significantly help Tom Brady in the passing game.
Bernard wasn't the Bengals' featured back in 2020. He ultimately started in 10 games, though, due to Joe Mixon only playing in six, which led to him running for 416 yards and three touchdowns. This was in addition to him catching 47 passes for 355 yards and three touchdowns.
According to ESPN, Bernard is third among running backs in the NFL since his rookie year in 2013 with 342 receptions, 445 targets, and 2,867 receiving yards. He could ultimately be huge for a guy like Brady who likes to target running backs, too. In fact, Brady targeted backs the seventh-most times in the league in 2020. The Buccaneers' backs just didn't help him out too much, as Brady's completion percentage when targeting them ranked just 26th in the NFL, per ESPN.
Bernard — who is also a different type of runner than Fournette and Jones — can certainly give Tom Brady and the Buccaneers something they didn't have last year. However, had Brady and Arians not stepped in, he could have taken his talents over to Seattle to play with Russell Wilson.
Russell Wilson also recruited Giovani Bernard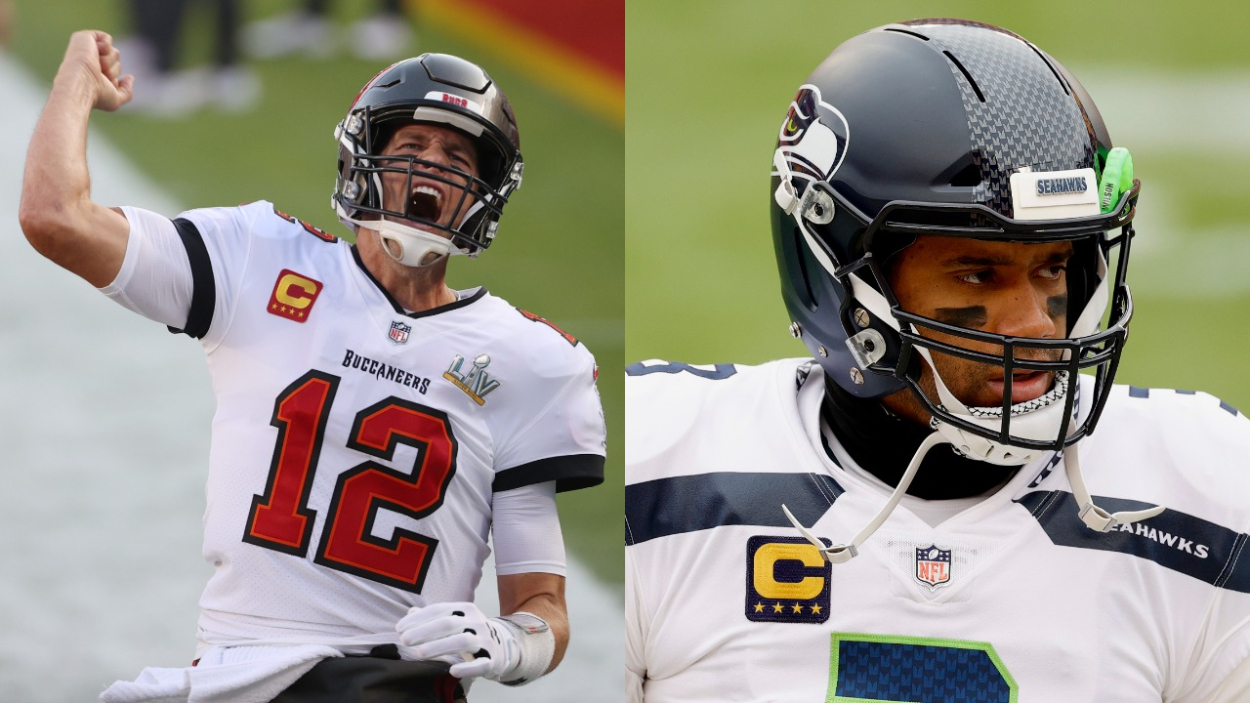 RELATED: Tom Brady Nearly Signed With the Patriots' Worst Enemy, but Another Legendary Quarterback Got in His Way
The work Tom Brady put into recruiting Giovani Bernard not only paid dividends in terms of helping his team add another weapon, but it also kept another NFC team from getting stronger. According to ESPN, the 49ers and Seahawks both reportedly recruited Bernard. Similar to the way Arians and Brady did, Pete Carroll and Russell Wilson reportedly reached out to him directly as well.
The Seahawks re-signed star running back Chris Carson this offseason, but they still could have really used Bernard. Carson missed four games in 2020, and other than him, Seattle didn't have one running back who ran for over 360 yards last season. Additionally, other than Russell Wilson, the Seahawks' second-leading rusher was Carlos Hyde. He, however, signed with the Jaguars earlier this offseason. So, the Seahawks don't have one running back not named Chris Carson on their roster who ran for over 110 yards last season. None of them — including Carson — gained over 300 receiving yards, either.
Russell Wilson and the Seahawks almost desperately needed Giovani Bernard. The Buccaneers certainly didn't, but the rich just got richer. Bernard now has a chance to win a Super Bowl with Tom Brady and the Buccaneers.
Stats courtesy of Pro Football Reference