With Tom Brady Already Banged Up, the Buccaneers Get More Bad News Ahead of Their Thursday Night Showdown With the Eagles
Tom Brady and the Tampa Bay Buccaneers are headed for a huge Thursday Night Football showdown against Jalen Hurts and the Philadelphia Eagles. The ageless wonder is fresh off an unreal five-touchdown performance against the Miami Dolphins despite suffering a thumb injury during the victory.
The defending Super Bowl champions are rolling, but Brady was limited all week, and his injury could be worth monitoring despite him being ready to go. Unfortunately, Brady isn't the only Tampa Bay player to be nursing an injury.
The Bucs will be without Lavonte David, Antoine Winfield Jr., and tight end Rob Gronkowski for Thursday's showdown.
Tampa Bay hit with some key injuries for matchup against the Eagles
Brady's injury is the most concerning, but he will be out there and should be efficient as always, especially against a suspect Eagles defense. However, the loss of Gronkowski is an unfortunate one, and this will be the third straight game the tight end has missed.
The former New England Patriots star caught fire in Week 1 against the Dallas Cowboys with a blistering eight catches for 90 yards and two scores. He followed that up with five grabs for 39 yards and another two touchdowns against the Atlanta Falcons.
Surprisingly enough, Gronkowski is tied with Mike Evans for the team lead in touchdowns with four, even with the missed games. In Gronk's absence, the Bucs will lean on Cameron Brate and OJ Howard at the tight end position, although neither option is anywhere near the threat that the veteran is, especially in the red zone.
All eyes on Brady even more with the number of injuries
Brady doesn't miss games, so it certainly is no surprise that he will be ready to roll come Thursday night. Nonetheless, all eyes will be on #12 on Thursday night to step up when it matters most.
At the age of 44, Brady has been on a massive tear yet again, and maybe he will end up playing until he is 50. The debated GOAT has tossed for 1767 yards with 15 touchdowns and just two interceptions on the season as Tampa Bay has rushed out to a 4-1 start.
Moreover, all of their success has happened with a subpar– at best– running attack. Leonard Fournette has 251 yards on 56 carries, and Ronald Jones has yet to cross the 100-yard mark for the season, totaling 98 yards on 26 carries. Besides that, Giovani Bernard has handled a few but is more an option in the passing game.
Getting Gronkowski back will be a massive step in the right direction, primarily because Brady looks his way a ton when it matters most. Unfortunately, that will have to wait at least one more week.
Good news: The Bucs should have no issues with Philadelphia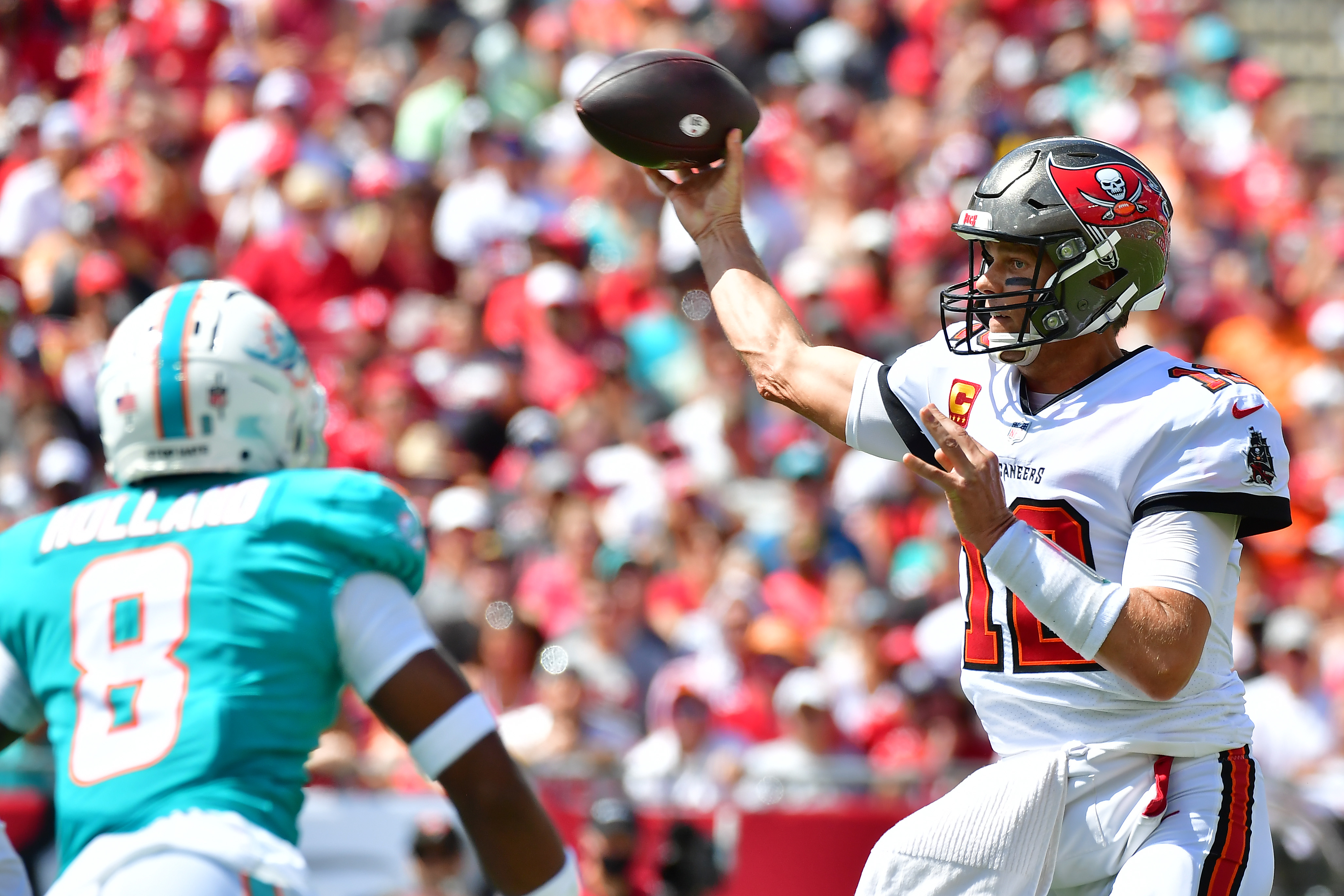 Injuries are never a good thing, and it gets even more complicated when teams are working with a short week. However, the silver lining here is that the Bucs shouldn't have a problem handling the Eagles on Thursday night.
Jalen Hurts and Philadelphia looked impressive in Week 1 with a 32-6 thrashing of the Atlanta Falcons. Since then, they have gone just 1-3 with their lone victory this past week against the Carolina Panthers. That victory was not a pretty one, and it took three Sam Darnold interceptions for the Eagles to sneak by with a score of 21-18.
The Bucs defense isn't what they once were and will be without David and Winfield, so perhaps Hurts and DeVonta Smith get on the right page once again. Regardless, Tampa Bay has Brady, and you always have a shot whenever he is out there.
Stats courtesy of Pro Football Reference
RELATED: The Buccaneers Suffered a Brutal Loss to Their Defense Which Puts Even More Pressure on Tom Brady to Play Like an MVP