Tom Brady and the Buccaneers Have a 228-Pound Cheat Code in Their Quest for a Second Straight Super Bowl
On paper, it looked like the Tampa Bay Buccaneers (5-1) barely scraped by a scrappy Philadelphia Eagles (2-4) team en route to a 28-22 win on Thursday Night Football.
The reality of Tampa Bay's Week 6 game is that it was never really all that close, though.
What the final score doesn't show was the feel of the game, and overall it was that of a sibling rivalry. The Buccaneers were clearly the better team and the "big brother" in a sense. They held the Eagles within arm's length and let them feel like they had a chance, but when push came to shove, Tampa was simply far more physically dominant on Thursday night.
Tom Brady will, of course, get much of the credit for the win. Antonio Brown also flashed his star power with a nine-catch, one-touchdown, performance.
It was running back Leonard Fournette who really set the tone for Tampa, though. He was so impressive, in fact, that it's not hard to envision him becoming an integral piece to another Buccaneers' Super Bowl run.
Tampa Bay toyed with the Eagles. Leonard Fournette was a huge reason for that physical dominance.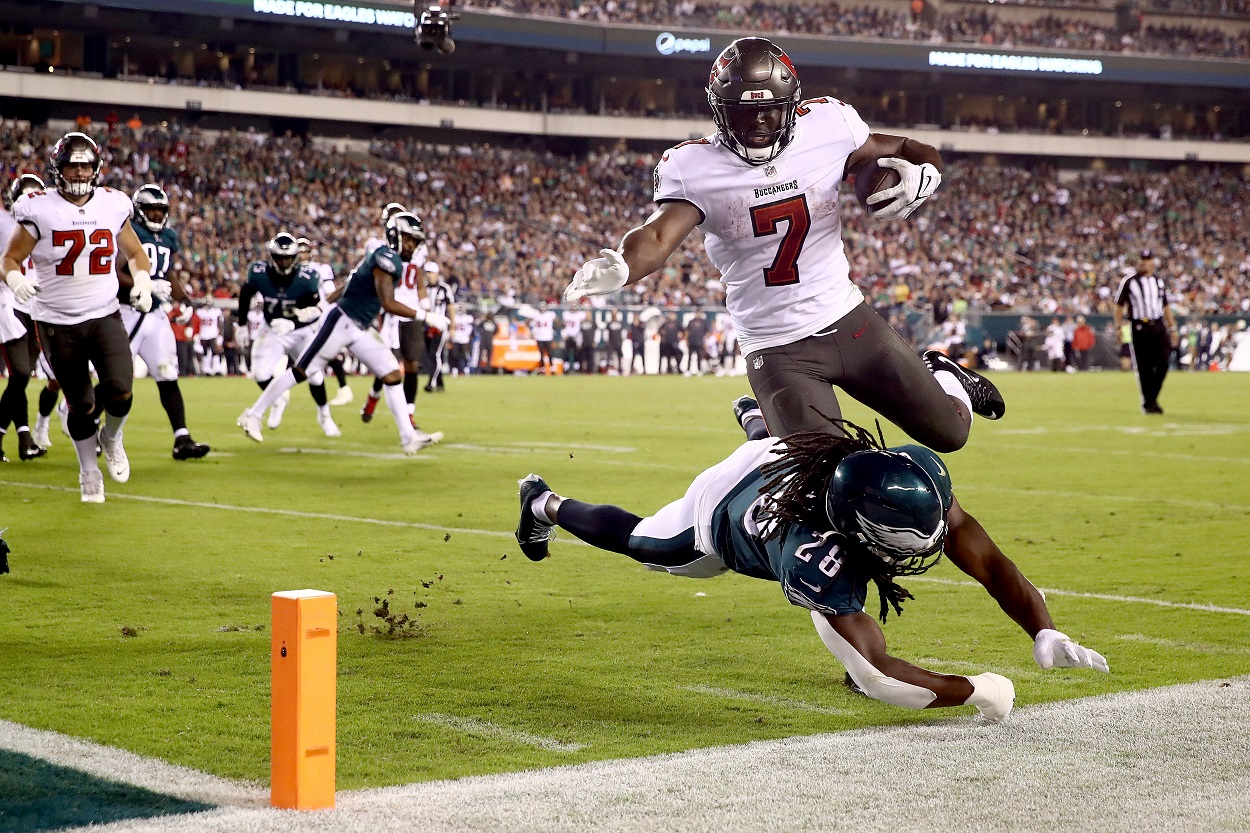 The Eagles scored a touchdown and a two-point conversion to pull within six with 5:44 left in the game.
At that point, the game may have been in limbo, but the reality is that Tampa had just been toying with the Eagles. The Bucs were the far better team and largely imposed their physical will on Philly throughout the game.
Case in point? The Eagles never got the ball back after their final score. Brady and the Buccaneers bled out the clock with a 12-play, 67-yard drive.
Much of Tampa's effectiveness on the last drive came from chunk plays through the air, but it was Fournette who ultimately allowed the Buccaneers to bleed the clock. He wasn't incredibly effective on the final drive, but he touched the ball on five of the nine actual plays of the drive (three were kneel-downs), and he forced the Eagles to burn their final two timeouts. Keep in mind, his lack of yardage on the final drive wasn't a surprise due to the fact that the Eagles knew the Bucs wanted to run the ball and burn the clock. At that point, they also knew that if they didn't swarm Fournette in the backfield he would end their hopes in a hurry.
He had set that kind of tone much earlier in the game.
Fournette was a major part of long touchdown drives for the Buccaneers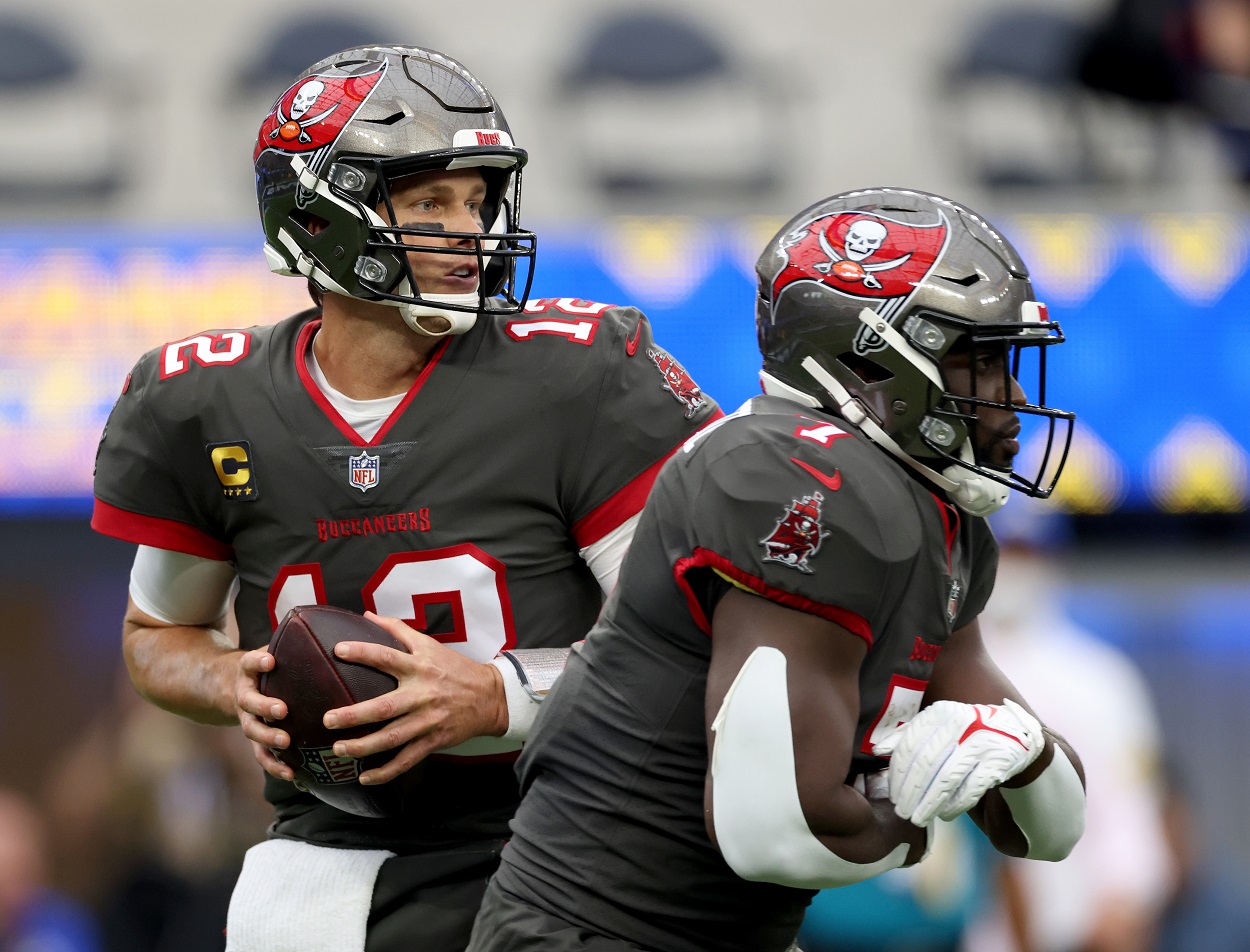 Tampa's first touchdown drive of the second half was a 12-play affair that took 7:41 off the clock, and Fournette was largely responsible for that. He touched the ball seven times on that drive for 43 total yards and ended it with a touchdown run.
Flashback to Tampa Bay's touchdown at the end of the second half and ou'd see much of the same. That drive went 11 plays for 72 yards and it took 5:36 of the clock. Fournette touched the ball four times on that drive, including an 18-yard catch and run and the two-yard touchdown scamper to end the drive.
Fournette's impact was also evident on Tampa's first drive of the game.
That drive ended in a two-yard touchdown catch by O.J. Howard, but that play-action pass was set up directly by Fournette's tough running to start the game. In fact, Brady faked a dive to his big running back before finding Howard in the end zone.
In all, Fournette left Thursday Night Football with 22 rushes for 81 yards and two touchdowns. He also caught six passes for 46 yards, which was good for 7.7 yards a catch.
Fournette can be an unstoppable force for Brady and the Buccaneers as a dual-threat running back
You hear a lot about dual-threat quarterbacks in football circles, but dual-threat running backs can be just as impactful for an explosive offense. Running backs who can make defenses pay both with their feet and through the air as pass-catchers are rare, but when they're unleashed by a creative play-caller they can tilt the field for an offense in a big way.
Luckily enough for Tampa, it has that creative play-caller in offensive coordinator Byron Leftwich. The Bucs also certainly have their dual-threat running back in Fournette.
What's scary about Fournette is that he can run, catch, and be dangerous in open space. He does that all while carrying an explosive 6-foot, 228-pound frame, which makes him incredibly tough to tackle. He's basically a cheat code for Tampa.
He's a punishing runner who's always falling forward, and he makes defenders wrap up and drive him backward. If they don't, he'll simply run them over.
Fournette also has surprisingly good hands as a pass-catcher, and that's why Tampa needs to continue to utilize him as a dynamic playmaker as they move onwards toward a second-straight Super Bowl run.
Stats courtesy of ESPN.com
RELATED: Ex-Raiders HC Jack Del Rio Rips Apart Jon Gruden After Disturbing Emails: 'I Don't Have Much Respect For Him'