Tom Brady and the Buccaneers Have a Secret Weapon in Cyril Grayson to Replace Antonio Brown's Lost Production
With Tom Brady on your team, anything is truly possible. With a 12-4 record and Brady playing some MVP-caliber football heading into the postseason, the Tampa Bay Buccaneers are in a pretty good spot at the moment.
However, that doesn't mean Tampa Bay isn't dealing with its fair share of issues. Between Chris Godwin's season-ending knee injury and Antonio Brown's impromptu exit from the team in Week 18, the once WR-heavy Buccaneers are starting to look noticeably thin in the pass-catching department.
Tom Brady and the Buccaneers are running out of weapons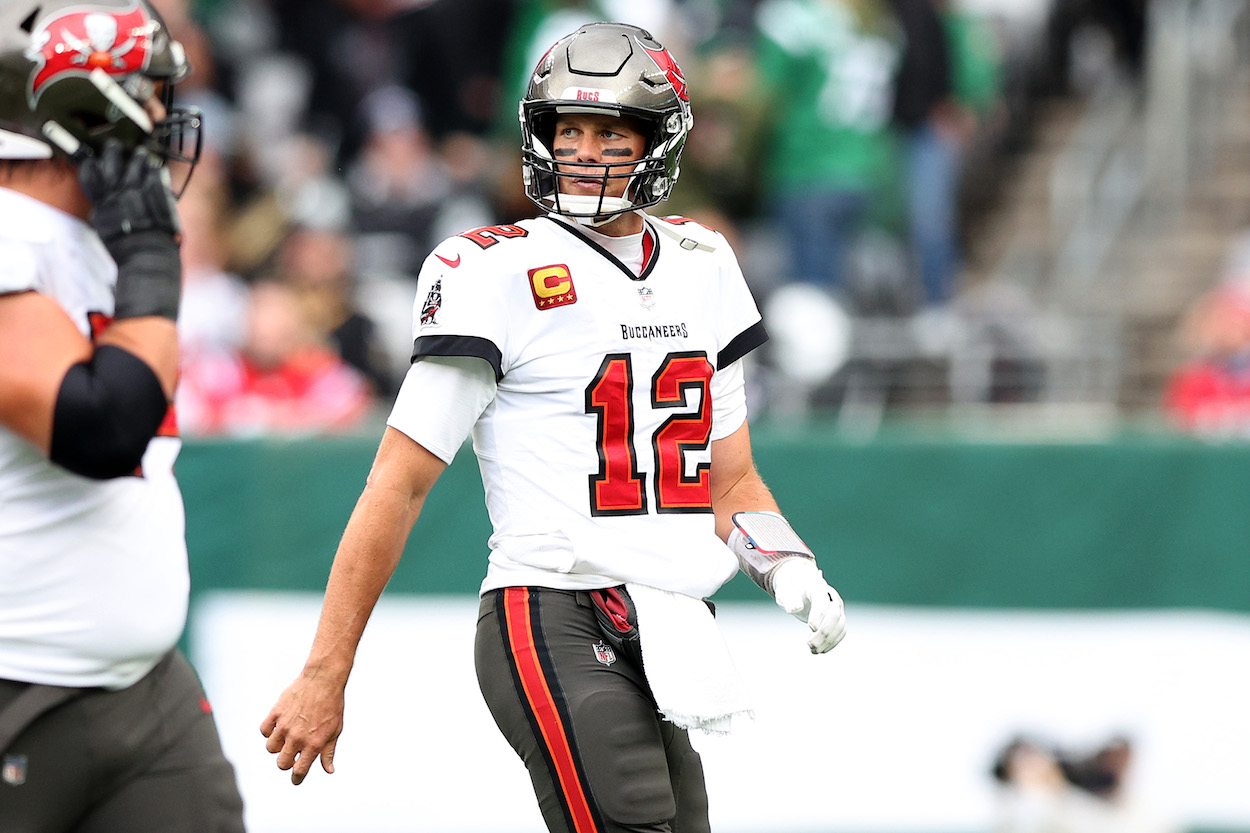 Before his season-ending injury, Godwin had blossomed into Brady's favorite target on offense. He had racked up 98 catches for 1,103 yards and five touchdowns. It's hard to understate just how valuable his presence was to the Buccaneers' offense. Not only is he an exceptional talent, but his playstyle matches up with Brady's quite beautifully.
Godwin loved to hang around the line of scrimmage with quick bursts of separation while occasionally taking the top off the defense with a vertical concept.
Godwin's loss was immense. However, the Buccaneers hoped to replace his absence with one Antonio Brown. A player Brady has vouched for on more than one occasion; the expectation was Brown would be able to slide in and fill the void left by Godwin rather seamlessly.
Following Brown's on-field temper tantrum against the New York Jets this past weekend, such an idea will obviously not be occurring. Instead, the Bucs will have to look elsewhere to fill their WR snaps.
Cyril Grayson is the next man up
Rob Gronkowski and Mike Evans will understandably do most of the heavy lifting in Godwin and Brown's absence. However, Brady and the Buccaneers will still need extra production elsewhere.
Enter Cyril Grayson.
A former All-American track sprinter who joined the NFL as an undrafted free agent back in 2017, Grayson bounced around the NFL for several years before landing with the Buccaneers. His numbers began to skyrocket upon partnering with Brady — a typical outcome for NFL wide receivers.
In 2021, Grayson recorded 10 catches for 212 yards and two touchdowns. His two most recent games for Tampa Bay have been awe-inspiring, as he recorded 81 yards in each. Upon being asked to fill in for Godwin and Brown, he rose to the occasion.
By no means is Grayson some elite game-changer who can will the Buccaneers to playoff victories. However, he's clearly capable of making big catches, and he's clearly capable of getting along with Tom Brady. Brady will do the rest as long as he's running the proper routes and catching the football.
Do Tom Brady and the Buccaneers have enough juice to win it all this season?
The loss of both Godwin and Brown to the passing attack stings. There's no way around it. Their absences place tremendous pressure on Brady, Gronk, Evans, and even Grayson to really step up down the stretch.
Does Tampa Bay have enough juice to win another Super Bowl? Only time will tell. It will likely rest on career backups like Grayson and their ability to step up this winter.
All stats courtesy of Pro Football Reference.