Tom Brady Buccaneers Jerseys Are Selling Faster Than You Think
With Tom Brady playing for the New England Patriots for 20 seasons, many fans already have a Brady Patriots jersey. However, Brady announced this week that he is leaving the Pats as he is now officially a Tampa Bay Buccaneer. With Brady changing teams, fans are now scrambling to get his new Buccaneers jersey. 
Tom Brady leaves the Patriots as the greatest of all-time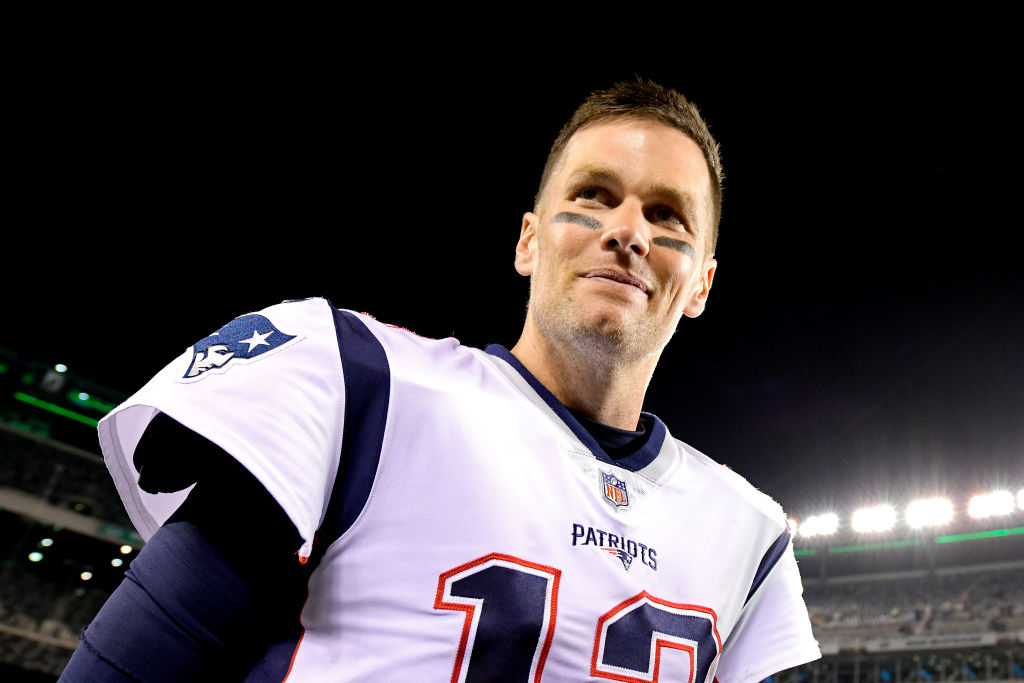 It is no question that Tom Brady is the most accomplished quarterback to ever play in the NFL. In 20 seasons with the New England Patriots, Brady won six Super Bowls, went to nine of them, and played in 13 AFC Championship Games. He is also a 14-time Pro Bowl honoree, a three-time first-team All-Pro selection, and a three-time NFL MVP. 
Not only do his accomplishments pop out, but his stats do as well. His 74,571 passing yards are second on the NFL's all-time list and his 541 passing touchdowns are also second. The touchdown record is going back and forth between him and New Orleans Saints quarterback Drew Brees too. Brees is currently No. 1 with 547. Additionally, Brady's 6,377 completions are second all-time and his 9,988 attempts are third all-time.
Brady is 42 years old but he showed that he still has a lot left in the tank last season. He threw for 4,057 yards, 24 touchdowns, and eight interceptions in 2019. It is well-documented, though, that he did not have many weapons to throw to which could have skewed his numbers in a negative way.
Buccaneers provide Brady with immense offensive talent
The wide receivers on the Tampa Bay Buccaneers probably have a lot to do with Tom Brady going there. Tampa Bay's Mike Evans is one of the best wide receivers in the entire NFL. Evans caught 68 passes for 1,051 yards and 12 touchdowns during his rookie season in 2014 and has been a monster ever since. He has gained 1,000 or more receiving yards in each of his six seasons in the NFL, earning three Pro Bowl selections. Last season, Evans caught 67 passes for 1,157 yards and eight touchdowns in 13 games.
In addition to Evans, the Buccaneers also have a good young receiver in Chris Godwin. During his rookie season in 2017, Godwin caught 34 passes for 525 yards. However, in the past two seasons, 2019 specifically, Godwin has become a star. In 2018, Godwin caught 59 passes for 842 yards and seven touchdowns. Then in 2019, Godwin earned his first Pro Bowl selection as he caught 86 passes for 1,333 yards and nine touchdowns.
Brady hasn't played with receivers like Evans and Godwin since he played with Randy Moss from 2007 to 2010. He has had talented pass-catchers like Julian Edelman and Rob Gronkowski, but not guys like this.
Brady's jersey sales are up 900% since signing with the Buccaneers
Now that Tom Brady is a Tampa Bay Buccaneer, his Patriots jerseys are outdated. With that, fans are now eager to get his Buccaneers jersey. In an article published by Bleacher Report on Friday afternoon, Fanatics said in a press release that Brady's jersey sales have grown 900 percent since his signing with the Buccaneers. The Buccaneers just officially made the announcement around 8:30 a.m. on Friday. That's a pretty quick response.
In addition to Brady jerseys, the Buccaneers are also the highest-selling team on Fanatics while the Patriots are No. 2, according to Bleacher Report. This should not be a surprise, though, as Brady had the NFL's highest-selling jersey in 2019 and 2018, according to NFL.com.
Will Brady wear a different number with the Buccaneers, though? Brady has worn No. 12 his entire career and even has a health and wellness business called TB12. However, Chris Godwin wore No. 12 for the Buccaneers last season. It will be interesting to see if Godwin can give it up. Whether Brady wears No. 12 or some other random number, though, his jerseys will still sell and they will sell quickly.