Tom Brady's Confidence Gave Kyle Van Noy 'Chills' and Memories of Michael Jordan: 'Any Man Can Talk S*** When They're Ahead'
Article Highlights:
New England Patriots linebacker Kyle Van Noy reminisced on Tom Brady's trash-talk abilities
Van Noy compared Brady to Michael Jordan and The Last Dance
Van Noy said he had "chills" thinking about how similar the two legends are
There's no getting around it, not in 2021. Chicago Bulls legend Michael Jordan and Tampa Bay Buccaneers quarterback Tom Brady are arguably the greatest players ever to don a jersey in their respective sport.
Both have the statistics, the championships (a combined 13 as of October 2021), and the simple fact that they were better than everyone else in their line of sight regardless of the circumstances. New England Patriots linebacker Kyle Van Noy, a former teammate of Brady, says the two legends have a dangerously similar personality trait.
Patriots linebacker Kyle Van Noy compared Tom Brady's trash-talk skills to Michael Jordan's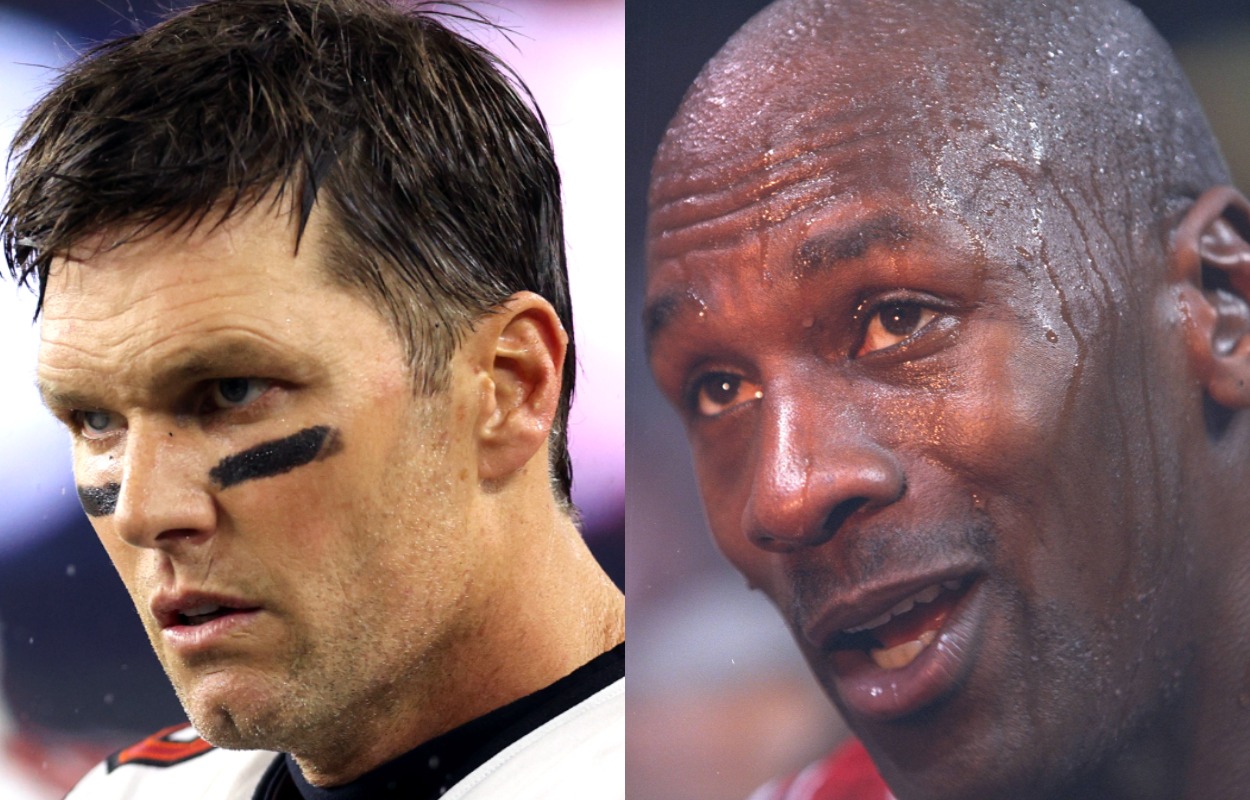 Brady and Jordan always let their play do the talking, whether it be a regular-season game in October or in the final minutes of a close playoff game. Still, both have sometimes allowed their vocal cords to get some action in, too.
In an appearance on The Pat McAfee Show earlier this year, Van Noy reflected on Brady's propensity for trash talk. The BYU product remembered a practice in spring 2018 when Brady and tight end Rob Gronkowski tormented the Patriots' defense during an organized team activity.
"It gives me chills thinking about it because it reminds me of Michael Jordan in his documentary where he has the baseball bat and the cigar right before the game, and he's like, you can tell a lot about a man when they can talk s*** when it's 0-0, or they're down. Any man can talk s*** when they're ahead."
Football fans are left to wonder what we would have seen had the Patriots ever appeared on Hard Knocks. That missed opportunity stings right now.
Brady has gotten to show far more of his trash-talking since leaving the Patriots
Perhaps the best thing Brady did for his legacy was leave the Patriots in 2020. He was already universally recognized as the greatest quarterback in NFL history by that point; winning a seventh Super Bowl ring in Tampa only boosted his reputation.
It also goes without saying that Brady's time in Tampa Bay has already gone better than Jordan's stint with the Washington Wizards, but we digress.
However, what really helped Brady is how much he's publicly expressed himself since joining the Buccaneers. He's used his Twitter account to smile after victories, poke fun at his father, and even take jabs at Green Bay Packers quarterback Aaron Rodgers and golfer Bryson DeChambeu ahead of their golf match earlier this spring.
That's probably not what you would have ever expected Brady to post if he still played for Bill Belichick, would you?
Brady also went viral for jawing with Kansas City Chiefs defensive back Tyrann Mathieu during Super Bowl 55. Cameras caught the veteran quarterback talking to the All-Pro safety following Buccaneers receiver Antonio Brown's second-quarter touchdown.
The three-time NFL MVP reportedly apologized to Mathieu.
"I know how Tyrann felt," Van Noy said when he appeared on McAfee's show. "You got a little upper hand on Tom. You want to let him know. But he eventually got the last laugh like he always does."
Just don't get on Brady (or Jordan's) bad sides
Brady and Jordan are intense competitors, which is fun if you're a fan at home or in the stands. The same can't be said for those who have had to deal with them as teammates, colleagues, and opponents.
Television cameras caught Brady screaming at Patriots offensive coordinator Josh McDaniels during the 2017 season. The veteran quarterback apologized several days later.
Brady yelled at Buccaneers center Ryan Jensen following a costly penalty during a 2020 loss to the Chicago Bears.
Jordan trash-talked everyone from Indiana Pacers legend Reggie Miller to U.S. President Bill Clinton. Then, there were his infamous comments regarding Charlotte Hornets guard Muggsy Bogues' height. Bogues stands 5-foot-3.
If Brady and Jordan ever team up for a celebrity golf match, we apologize to their opponents in advance.
Like Sportscasting on Facebook. Follow us on Twitter @sportscasting19.
RELATED: Tom Brady Joins Michael Jordan in Accomplishing Something Wayne Gretzky and Peyton Manning Couldn't