Tom Brady Congratulates Aaron Rodgers and Angers Bears Fans at the Same Time
Green Bay Packers quarterback Aaron Rodgers has been the talk of the NFL after his epic "I own you" comments at Soldier Field against the Chicago Bears. This weekend, the Tampa Bay Buccaneers and Tom Brady face the Bears in another daunting matchup for Matt Nagy's team.
In turn, Brady congratulated Rodgers and commended him for being a great quarterback. He also poked fun at the situation by offering praise to Rodgers for his new ownership stake.
Tom Brady applauds Aaron Rodgers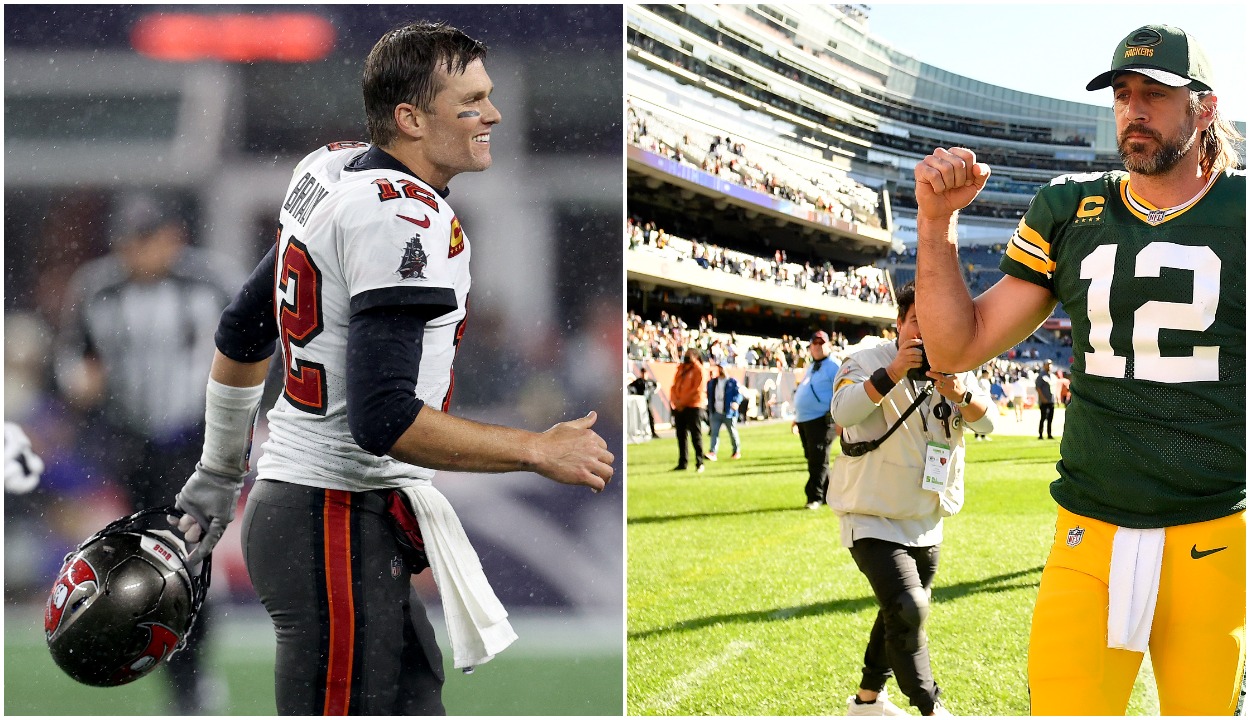 Rodgers is still among the best quarterbacks in the NFL and fresh off an MVP-winning campaign. But, Sunday was something else as he once again led the Packers to victory over the Bears — something that has become the norm.
After scoring a touchdown, he shouted into the crowd, "I own you" in a viral clip that will be remembered forever. Being as candid as he is, Brady congratulated the Packers gunslinger for ownership (h/t Chris Bumbaca of USA Today).
Actually, before we get started, I guess I wanted to say congrats to Aaron Rodgers…Obviously, I know he's a great quarterback, but I guess he's now a shareholder of the Bears."

Tom Brady on Aaron Rodgers
Brady is having too much fun lately and adds another hilarious quote to his file. Yes, Rodgers and the Packers have owned the Bears big time in recent years and are again in control of the NFC North division.
What is more interesting is that the Bucs and Brady will play the Bears, although that game will not be at Soldier Field, unfortunately.
Rodgers' domination is unreal
Rodgers' rushing score put the game away and gave the Packers another victory against the Bears. Green Bay is now 22-5 against the Bears with #12 behind center. He sits behind Brady and Ben Roethlisberger for best winning percentages against a single opponent and can tie Roethlisberger with a Bears victory later this year.
It just doesn't make sense. Every year Rodgers and the Packers make work of the Bears — just five losses during his tenure. This year, they are 5-1 and on a crash course for yet another NFC North crown and hopefully a trip to the Super Bowl. However, a rematch with the Bucs and Brady would have to be in the cards if they want to make that happen.
Rodgers is flourishing in 2021, tossing for 1436 yards with 12 touchdowns and three interceptions. Their lone loss was on opening weekend against the New Orleans Saints in a frustrating game where nobody was clicking on the entire roster.
Nonetheless, they are in the driver's seat, and as long as Rodgers is out there, the Packers have a decent shot.
Brady has dominance of his own
The Bucs star and debated GOAT holds the best winning percentage of quarterbacks against a single opponent. He has an uncanny 32-3 record against the Buffalo Bills, per ESPN. That will be tough for anybody to beat, and Rodgers will have to stick around a few more years to challenge that record.
Of course, Brady's time with the New England Patriots was full of championship-winning teams, and nobody in the AFC East could hold a candle to the loaded Bill Belichick squads.
But, at the age of 44, Brady has shown to everybody he isn't slowing down. Instead, he is thinking of a Super Bowl repeat. At some point, Brady and Rodgers will face off — most likely in the NFC title game — and boy, the storylines will be running rampant once again.
Either way, Brady had a little fun and gave Rodgers some praise while crushing Bears fans again. Oh, and he might torch the Chicago defense on Sunday, adding more insult to injury.
Stats Courtesy of Pro Football Reference
RELATED: Aaron Rodgers Taunts Bears Fans With Profanity-Laced Tirade After Clutch Touchdown Run Against Bitter Rival