Oh Gee, Tom Brady Could Break Another NFL Record in 2019
Not only is Tom Brady the best quarterback of his generation — if not all-time — but he is also one of the most durable. Brady has started all 16 games every season since 2002, except for 2008, when he suffered a season-ending injury in Week 1, and 2016, when he was suspended for the first four games. If he starts all 16 of the Patriots' regular-season games in 2019, Brady will set yet another NFL record.

The oldest position player to start all 16
Tom Brady turned 42 this offseason. If he starts all 16 games, then he would become the oldest position player to accomplish the feat, and just the eighth non-specialist to start even one game after turning 42.

Two of the seven to accomplish the feat are fellow quarterbacks Doug Flutie and Vinny Testaverde. Flutie led the Chargers to a win over the Chiefs in January 2005, and the following season — Flutie's last — he served as Brady's backup on the Patriots when Flutie was 43 and Brady just 28.

Testaverde, whose final start came in 2007 at the age of 44, played for the Patriots in 2006 and has said he has "been a big fan of Tom for a long time, calling him a "super nice guy" and "great quarterback of course."

Is age getting to Tom Brady?
Now that he is in his 40s, is Brady's age finally catching up to him? Sort of. His stats in recent years aren't at the same level as they were earlier in his career, but he's still putting up numbers that make him one of the league's top quarterbacks.

Brady completed nearly 60% of his passes last season, throwing for 4,355 yards and 29 touchdowns, with 11 interceptions — which was his highest number of picks since 2013. Most quarterbacks currently in the league, except for maybe Patrick Mahomes, would like to have numbers like that, let alone have those kinds of stats at the age of 41 — if they're even still playing at that point.

What does 2019 have in store for Brady?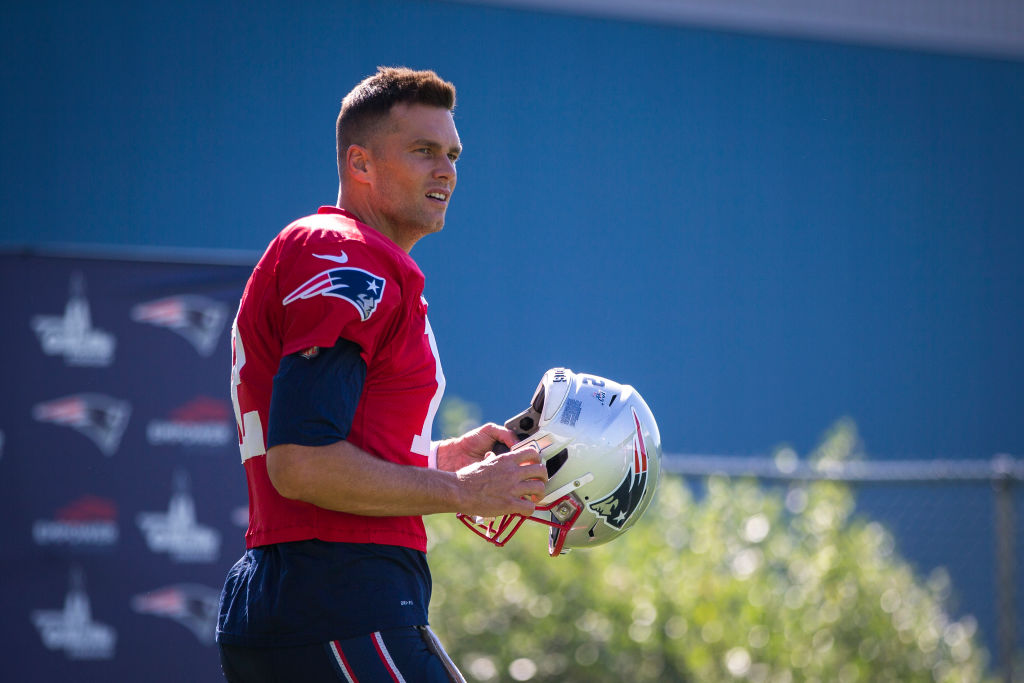 As Tom Brady enters the 2019 season, he will be doing it without Rob Gronkowski playing the tight end position after he retired earlier this season. That's not entirely new territory for Brady, as Gronk played in only 13 games last season and in as few as eight games as recently as 2016. But Gronk is a big target to be missing for the whole season, especially in the red zone. He had a knack for finding the end zone when he got the ball from his quarterback.

Veteran Ben Watson and Lance Kendricks are expected to get the majority of the snaps at tight end this season with Gronk out of the league. That leaves Julian Edelman as Brady's top pass-catcher this season. He has been dealing with a thumb injury in training camp, but it's not too serious. Edelman should be ready to play in the Patriots' season opener against the Steelers in Week 1, when the Patriots will raise their latest Super Bowl championship banner at Gillette Stadium.

Will Tom Brady win another Super Bowl this season?
Brady won his sixth Super Bowl title in February, and he'd like to win more before he eventually retires. Will he get his seventh ring this season? The AFC is going to be a tough conference to get through, with Mahomes leading the Chiefs' powerful offense, and a team like the Browns that has traditionally been an underdog expected to potentially compete for a Wild Card in the conference.

Tom Brady is one of the best postseason players in NFL history, so you can never count him out in January and February. But with young quarterbacks and talented teams in his way, it may be tough for Brady to lead the Patriots to back-to-back titles.