Tom Brady Doesn't Get Enough Respect for This 1 Stat
Tom Brady holds records in just about every category a quarterback can hold records in. His Super Bowl victories, regular-season success, and accolades, and historic performances even in his 40s make him the most reliable playmaker in the NFL.
One aspect of his game that doesn't get enough love, however, is his durability — not the durability with regards to age, although that is impressive, but his durability when it comes to injuries.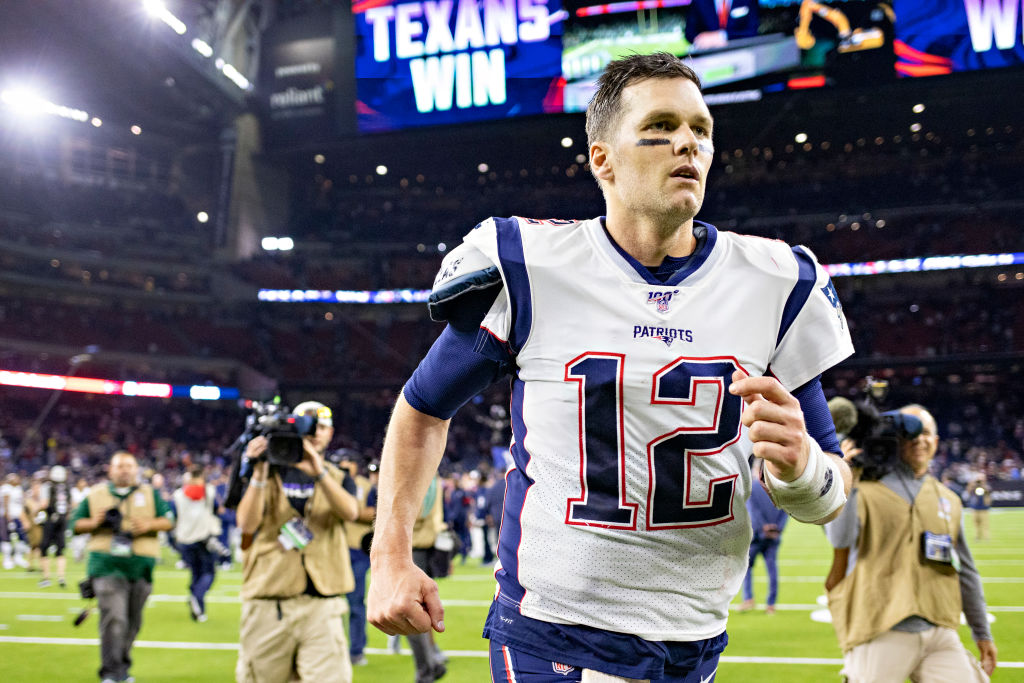 Has Tom Brady ever had an injury?
For a player who has been in the NFL for five presidential terms, Brady's injury history is almost hilariously barren. SportsInjuryPredictor.com looks at every player's injury history and tracks how injury prone they are as a result, and Brady's list shows relatively good luck with injuries and a toughness that allows him to play through his fair share, too.
His most recent injury, a hand laceration before the 2018 AFC Championship required stitches, but he was good enough to play and win. Before that, he sprained his ankle in October of 2014 but didn't miss any game. 
A month before that, Brady strained his calf in the preseason but was ready for the season opener. Four years before that, Brady was discovered to have a pedal foot fracture, but of course, he didn't miss any games, and many believed he had been playing on the injury for a couple of years. 
However, in Week 1 of the 2008 season, Brady did have a serious injury, and he missed the rest of the season as a result. He tore the ACL and MCL in his left leg in just the first quarter, and even an iron man like him couldn't play through that injury. This means that Brady has not missed a game due to injury since the 2008 season.
It should be noted that Brady isn't going to win any Cal Ripken Awards despite this, however, as he missed four games in 2016 as a result of his role in the infamous Deflategate scandal.
Where does this rank?
Tom Brady has not one, but two of the longest starting streaks of all-time. Leading into his 2008 injury, he had played in every game, 111 of them, since 2001.
After his 2008 injury, Tom Brady would not miss another game until his suspension after 112 more starts. All in all, Brady has both the 10th and 11th longest streaks without missing a start in NFL history, and it is no surprise that he joins many big names on the list.
According to CBS Sports, Brett Favre has the longest stretch without missing a start in NFL history and it still would take the second-ranked player, Philip Rivers, almost five seasons without missing a start to catch up with Favre.
Favre's streak lasted over 18 years, and even with a couple of retirements-turned-unretirements in there, he made it to every game. The streak ended on December 5, 2010, when he missed his first game since 1992. 
The Manning brothers are third and fourth, with 210 games for Eli and 208 for Peyton. Matt Ryan had ten years going until this season finally saw him miss a game, and Matthew Stafford and Russell Wilson both have active streaks going with 134 and 119 respectively.
Will Tom Brady's streak without an injury continue?
Brady likely won't play long enough to get a third entry on the list. His longevity in this regard is a testament not only to his willingness to play through some injuries but of the team the Patriots have put in front of him year after year that can protect him.
Brady's skill and will to win get the majority of the attention, but his drive to play at any cost might e even more impressive, and the reason that he's able to accomplish everything else he does.