Tom Brady's Eventual Retirement Will Have No Impact on Bruce Arians' Coaching Future: 'I'd Be Excited to Take Blaine Gabbert to War'
Tampa Bay Buccaneers fans are living a dream right now, but in the back of their minds, they must worry about two potential retirements: Bruce Arians' and Tom Brady's. Many people have speculated whether Arians will retire once Brady is done since, you know, he won't have the GOAT at quarterback anymore. But it appears that Brady's eventual retirement will have nothing to do with Arians'.
Tom Brady's NFL future is unclear
Brady has said before that he plans to play until 45 years old. So, does that mean he only has two seasons left since he will be 44 this year?
His future is unclear.
Brady just had his best season in years in 2020. He threw for 4,633 yards, 40 touchdowns, and 12 interceptions and, of course, won the Super Bowl. Brady also said prior to the Super Bowl that he would "definitely consider" playing past 45, according to Sports Illustrated.
Then, this offseason, Brady signed an extension with the Buccaneers that puts him on the team through 2022, and Tampa's GM Jason Licht later told Rich Eisen that Brady can play until he's 50.
So, will the GOAT play two more years? Could he play seven more years? We have no idea, but his retirement won't affect Arians'.
Bruce Arians will not base his retirement on Tom Brady's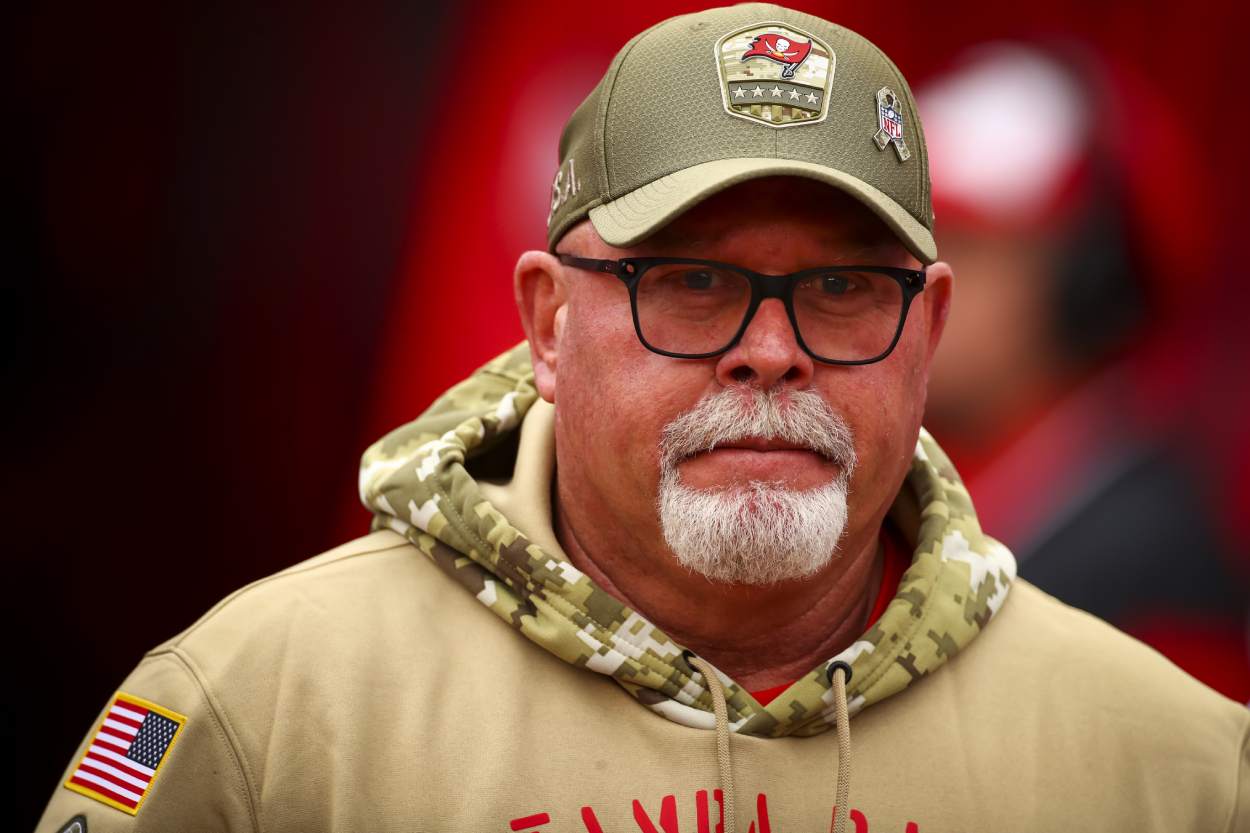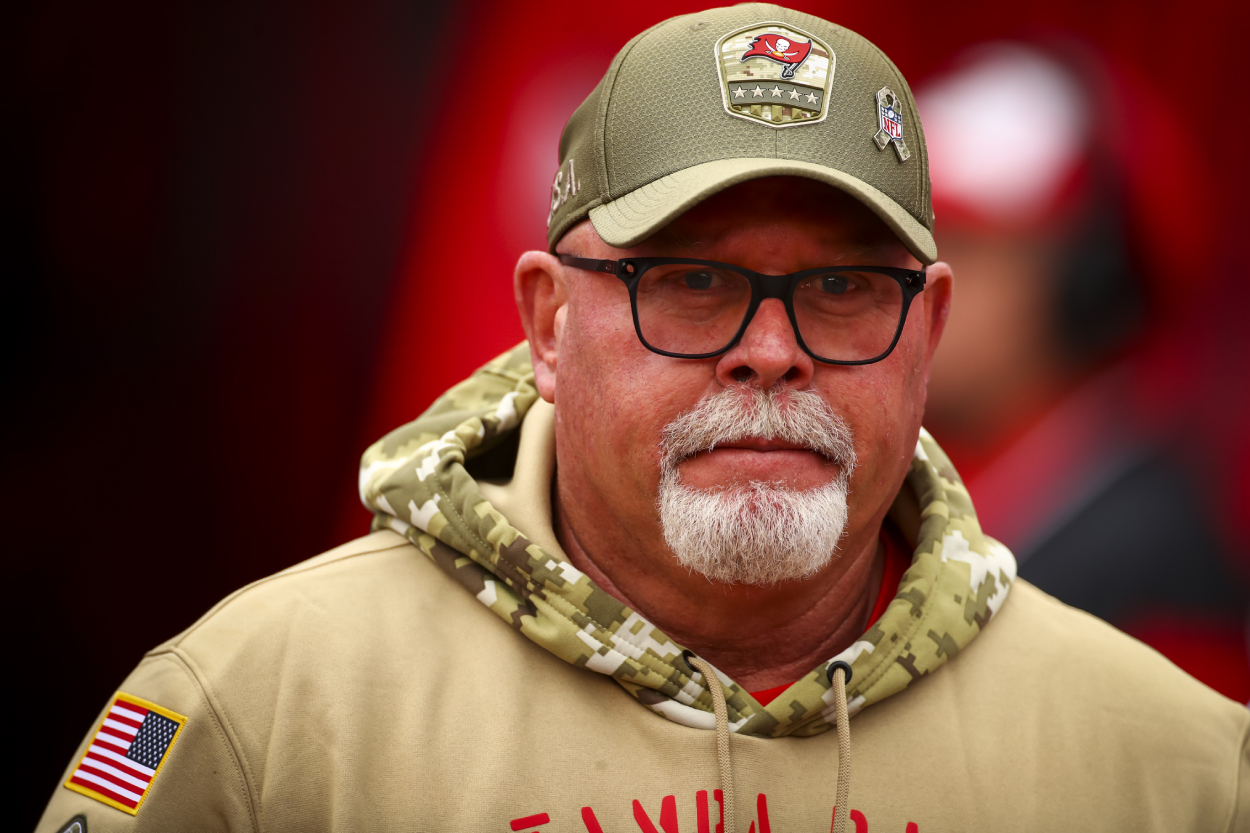 Arians retired during the 2018 NFL season but came back and became the Tampa Bay Buccaneers' head coach in 2019. He doesn't plan on going back into retirement any time soon, either, and Brady's eventual retirement won't have any impact on when he quits coaching.
"I don't have any plans on retiring. It's just, when do I not want to go back to work? When I'm not excited about going back to work then I'm cheating somebody," he recently said on the Pewter Report Podcast, according to ProFootballTalk. "I'm cheating the Glazer family, I'm cheating my players. Right now I can't wait to get back to work. I don't know when that's going to happen, but no, I'm not tied to any players."
He then took it a step further, saying he's completely fine with having a young quarterback like Kyle Trask; or even a veteran like Blaine Gabbert.
"I could get extremely excited about having another young quarterback and going to war with one," Arians said, per ProFootballTalk. "I'll be honest with you. I'd be excited to take Blaine Gabbert to war because I love Blaine Gabbert. I think he is the most underrated player in the NFL. So yeah, when it's not fun, then it will be time."
Wait, what? So, would Arians really make Gabbert his starter?
Blaine Gabbert is not the future of the Buccaneers
It may still be a while before we even have to think of who Brady's replacement on the Buccaneers will be, but it's probably safe to say it won't be Gabbert.
Gabbert hasn't started more than eight games in a season since 2012, and his play has never been anything to write home about. For his career, Gabbert is 13-35 in 48 starts and has thrown for 9,206 yards overall, 50 touchdowns, and 47 interceptions.
The Buccaneers also just drafted a solid young QB in Kyle Trask, who threw for 4,283 yards, 43 touchdowns, and eight interceptions in 12 games for the Florida Gators last season. The only way Gabbert starts on the Buccaneers is if Brady has to sit out a game or two this year. Once Trask has spent a year or two developing, he will probably be the man deemed the heir to Brady.
So, why did Arians say he'd "be excited to take Blaine Gabbert to war"? Well, if he has to turn to Gabbert for a game or two this season, it's only beneficial to the team that Gabbert is confident and believes his coach is confident in him. Given how Brady is typically a pretty healthy QB, though, things may never come to that.
Stats courtesy of Pro Football Reference