Tom Brady's Fans Don't Realize How Heavily Drew Brees Influenced the GOAT Signing With the Buccaneers
Tom Brady is entering his third season with the Tampa Bay Buccaneers, but there was a time when it was hard to imagine him playing anywhere but New England. When Brady decided to leave the Patriots several years ago, he had no shortage of suitors.
There was one team, in particular, the New Orleans Saints, that likely would have signed Brady had it not been for their former quarterback Drew Brees deciding not to retire before the 2020 season. 
Let's take a closer look at how heavily Brees influenced Brady signing with the Buccaneers.
The timing of Drew Brees' retirement
For the last several years of Brees' NFL career, there was speculation about when he would retire. Brees finally did decide to hang up his cleats following the 2020-21 season — the same year Brady won Super Bowl LV in Tampa. 
Upon retiring, Brees moved into a broadcasting role. He became an analyst for NBC's Sunday Night Football telecast. Jameis Winston and Taysom Hill became the Saints' quarterback options for the time. Both of these individuals showed promise at certain points, but they couldn't hold a candle to Brees' level of productivity. 
Brady couldn't have come to the Saints then; he was under contract with the Bucs by then. But it was the previous year when Brady-to-New Orleans was a distinct possibility that nearly happened. 
Tom Brady would've landed with the Saints if Drew Brees had retired a year earlier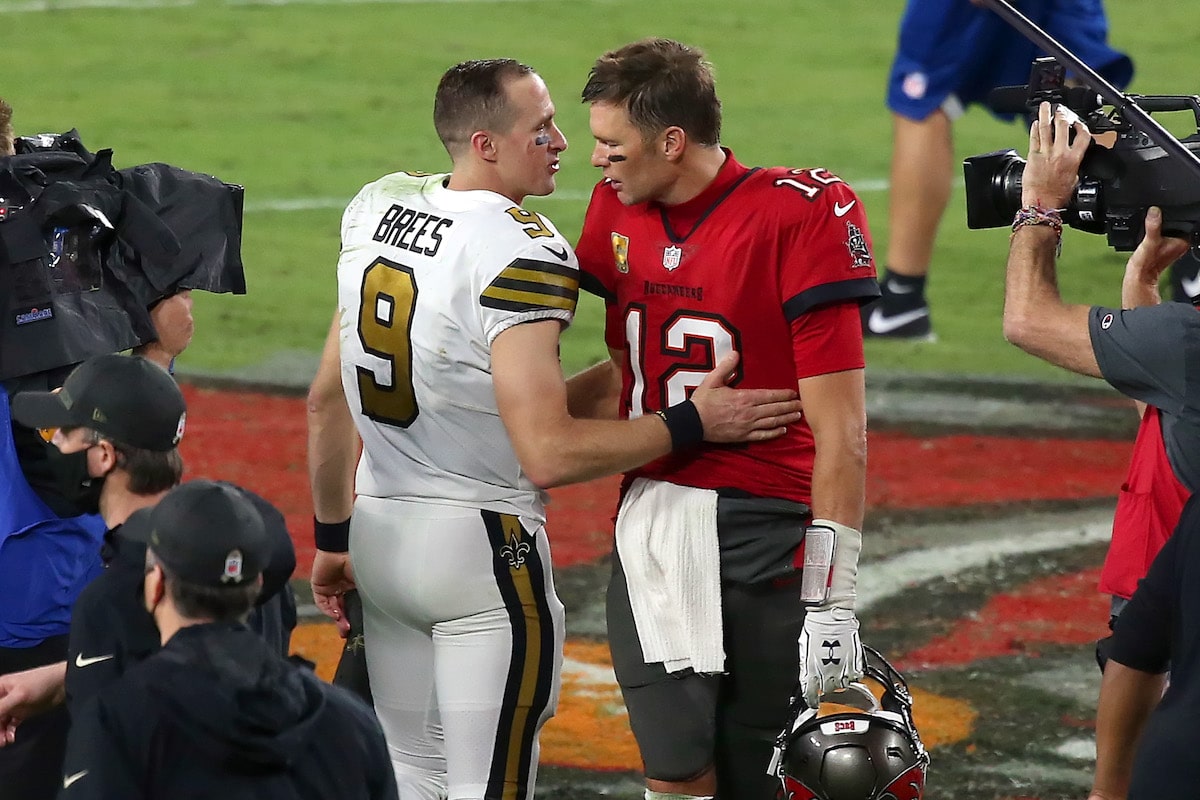 In an episode of the ESPN Daily podcast, ESPN's Jeff Darlington spoke about the Miami Dolphins' alleged tampering with Brady that resulted from Brian Flores' lawsuit against the NFL. Darlington noted that Brady to the Saints was something both parties expressed interest in. 
Darlington reported that Brady wanted to play for Saints coach Sean Payton. He said, "Had Drew Brees ended up as the Monday Night Football analyst at [ESPN], Tom Brady would have ended up with the Saints." 
Apparently, Brees seriously contemplated retirement. ESPN wanted to tap the QB for the Monday Night Football commentator role, but Brees wasn't ready to give up his career yet. He came back for one more run, and Brady ended up with the Bucs. One thing's for sure: Tampa fans are certainly glad Brees stayed put. 
Things might've worked out differently for the Saints and Bucs if Brees retired a year earlier
How would the Bucs and Saints have fared if Brees had retired a year earlier and Brady would've gone to New Orleans instead? 
Well, it's fair to say a Super Bowl likely would've been out of the question for the Bucs had Brady not come to town. They may have given Winston another shot at QB. While Winston has played admirably in spots, it's difficult to imagine him equaling the production of the GOAT. It's also hard to imagine any other replacement coming close to Brady's success.  
As for the Saints, there's no question it would've helped them if they had Brady under center. As Pro Football Reference reports, Brees had a solid season in 2020 — in 12 starts, he went 9-3 with 24 touchdowns to only six picks — but Brady is Brady.
One could also assume the Saints would trade three years of Brady for one year of Brees. There's also something to be said for the thought of Payton, an offensive mastermind, and Brady teaming up together. Of course, it didn't work out that way. Now Saints fans will have to dream of what might have been.
RELATED: Tom Brady's 'Personal Matter' Is About 'Work/Life Balance' According to NFL Insider Ian Rapoport