Tom Brady's Father Says That Things Get Boring After 20 Years
For the first time in his NFL career, future Hall of Fame quarterback Tom Brady will not play for the New England Patriots. As weird as it is to say, Brady is now on the Tampa Bay Buccaneers. While many people have their opinions on why Brady left the Patriots and why he joined the Tampa Bay Buccaneers, someone extremely close to him opened up about the situation – his dad.
Tom Brady leaves the Patriots after two decades of success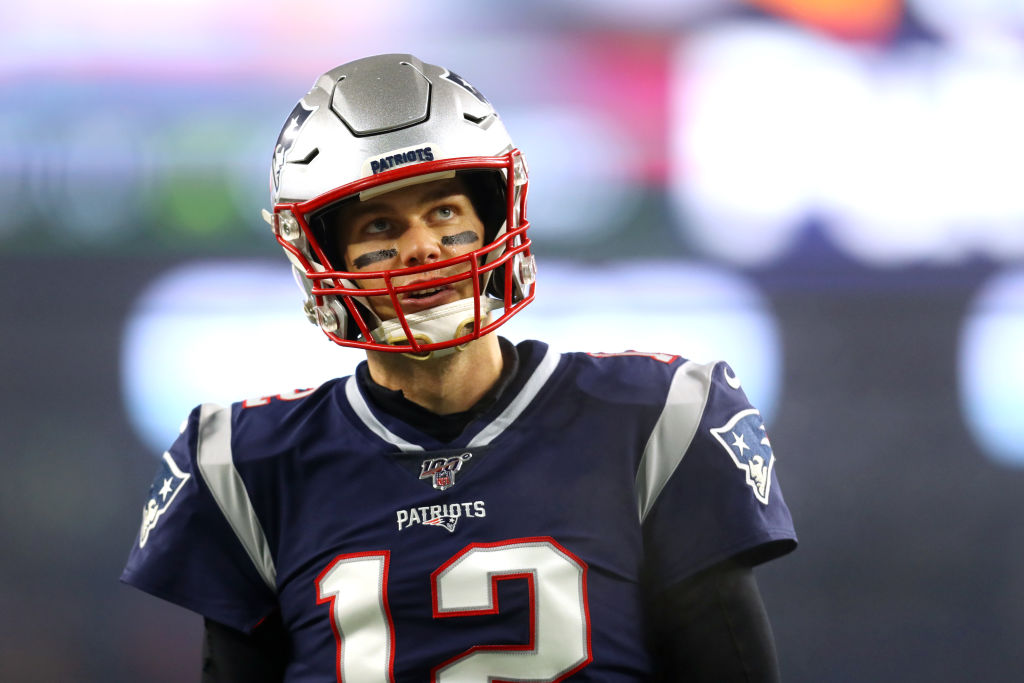 Many refer to Tom Brady as the greatest of all-time, and that's for good reason. In 20 seasons with the New England Patriots, Brady went to nine Super Bowls, winning six of them, and played in 13 AFC Championship Games. That is in addition to earning 14 Pro Bowl selections, three first-team All-Pro selections, and three NFL MVP awards. 
He also put up some of the best passing stats the NFL has ever seen. His 74,571 passing yards, 541 passing touchdowns, and 6,377 completions are all second all-time in the NFL. Additionally, Brady's 9,988 passing attempts are third all-time.
In his final season with the Patriots last year, Brady threw for 4,057 yards, 24 touchdowns, and eight interceptions. That was even with a below-average receiving corps too.
Joining a stacked offense on the Buccaneers
One of the main reasons people assume Brady signed with the Tampa Bay Buccaneers is the fact that they have two talented wide receivers for him to throw to. His No. 1 option will be one of the best receivers in the NFL in Mike Evans. Since his rookie season in 2014, Evans has gained 1,000 or more receiving yards in each of his first six seasons. This has ultimately helped him earn three Pro Bowl selections. In 2019, Evans caught 67 passes for 1,157 yards and eight touchdowns in 13 games.
While Evans will be Brady's No. 1 target, his No. 2 receiver in Tampa will still probably be better than anyone he had to throw to in New England last season. Chris Godwin just entered the league in 2017. After catching 34 passes for 525 yards in his rookie season, Godwin caught 59 passes for 842 yards and seven touchdowns in 2018. Then in 2019, Godwin had a breakout year as he caught 86 passes for 1,333 yards and nine touchdowns, earning him a Pro Bowl Selection.
It should be fun to see what Brady can do with multiple talented receivers. This will probably be the most talented duo he has had to throw to since Randy Moss and Wes Welker were the ones catching his passes.
Tom Brady Sr. opens up about his son leaving the Patriots 
Tom Brady's father, Tom Brady Sr., went onto the "Raising Fame" podcast hosted by Dell and Sonya Curry this week and talked about his son's departure from New England. He mentioned how 20 years is about four lifetimes in the sports world, according to NBC Sports, and that he has a sense that, "this is going to be kind of a new chapter, kind of a way to reinvigorate things." He also added, "The Patriots were darn good to us and darn good to Tommy.".
Additionally, Brady Sr. seems excited to see some other parts of the country.
"Now that he's moved on, it's kind of fun," Tom Brady Sr. said, according to NBC Sports. "We get to see some different sides of the world. We don't get down to Florida very often and down to that area. It's pretty cool, and I think it is for him, too. I think he's going to be a little bit reinvigorated because after 20 years things get a touch more boring."

Tom Brady Sr.
Maybe boredom is another reason why Brady left New England? We will probably never really know. However, while many believe a rift between Brady and head coach Bill Belichick was a reason he left, Tom Brady Sr. spoke highly of Belichick. He said, "Divorce sounds a little bit harsh. I think it's a separation. Bill's got a lot of responsibilities to keep the Patriots on track and that is a bigger responsibility than keeping Tommy under the hood. Both of them are mature individuals. I really respect Bill's decision and respect Tommy's decision as well. It's OK to take different paths."
Many people are excited to see Tom Brady on a new team. Everyone will get the opportunity to see what he is capable of outside of New England. It seems like no one is more excited, though, than Tom Brady Sr.