Tom Brady Says He's 'Finding My Voice Again' as He Thrives in the Relaxed Tampa Bay Culture: 'The Reality Is That I'm Very Human'
Nothing about playing for the Patriots encourages a carefree attitude. The frigid New England weather, the barely-warmer Bill Belichick, and the demanding "Patriot Way" (known for the mottos "do your job" and "no days off") combine into a uniquely regimented team culture.
After 20 seasons of dominating within that system, Tom Brady had developed a fitting reputation for stony discipline and no-nonsense media appearances. But with the GOAT's recent move to Tampa Bay, things might be changing: Call it a new coach or just something in the air, but the seven-time Super Bowl champion seems to be opening up in a way he hasn't before.
In a recent Wall Street Journal interview, Tom Brady revealed how moving to Tampa Bay has helped him to relax and find his voice — with a little help from an age-related perspective.
Tampa Bay has brought out a more relaxed and open Tom Brady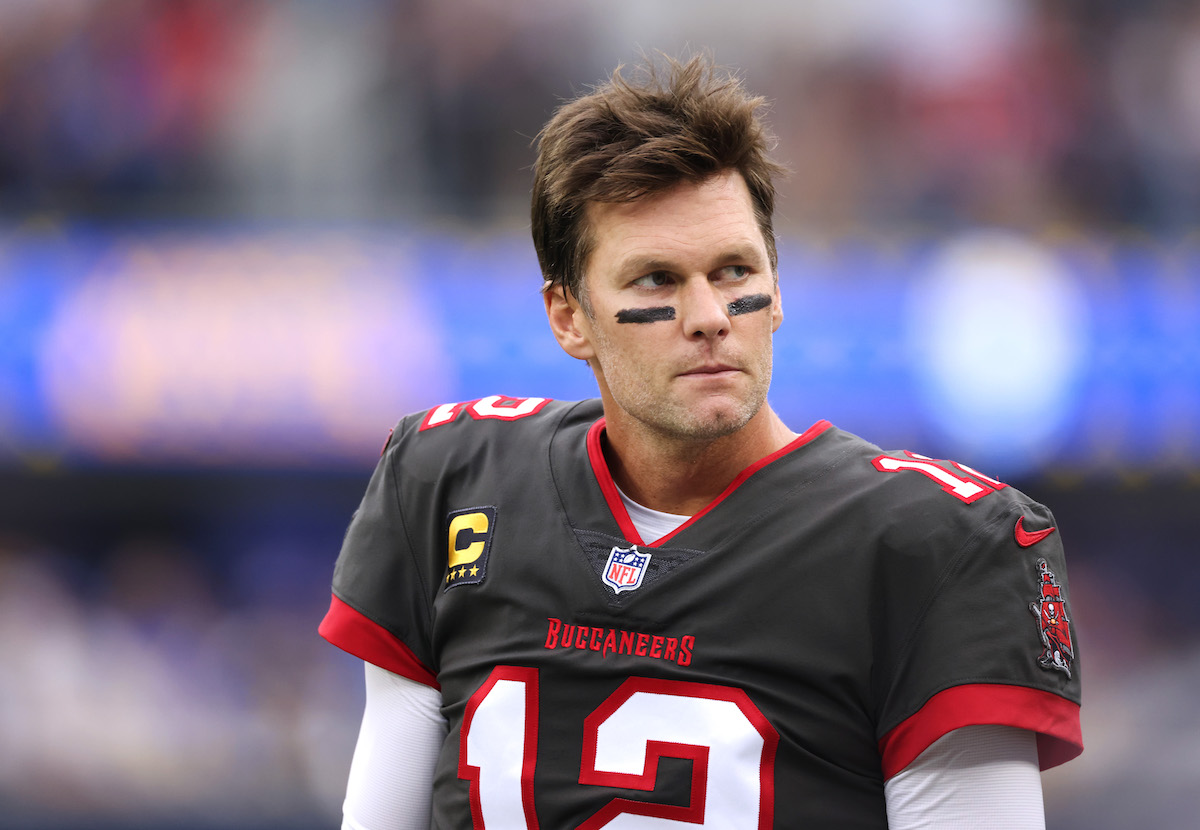 Teammates, reporters, and fans alike have noticed the shift in Brady's persona. For years, Brady was known to be tight-lipped and buttoned-up, especially when talking with the press. Recently, though, he's been far more willing to let loose, speak his mind, and crack a joke or two (even to the president himself, as CNN reported in July).
Asked about the change, Brady told reporters: "I think I'm finding my voice again, you know?" His wife, Gisele Bündchen, agreed, saying that, while the world already knows Brady for his "love and devotion to the game," she's glad people will finally "get to know him a bit more, as I do."
Why was Brady's pre-Tampa persona so serious?
While Brady hesitated to speak poorly of his 20 years in Foxborough, there's no doubt that the so-called "Patriot Way" affected his public persona during his time with Belichick. To hear Brady tell it, Patriots players must focus entirely on the good of the team, meaning that negative or speculative comments are off-limits as potential distractions. "When you're an employee of a company … you kind of take on the voice of what that company is," Brady said of his past media appearances.
In other words, while hints of his personality have shined through in the past, the Patriots star often played the part of spokesman rather than answering questions honestly. At some points of his career, Brady admits that as little as 10% of his public statements actually reflected his feelings. Instead of speaking as Tom Brady, he spoke as a Patriot: "When you're in a team, it is not necessarily always what you think. It is kind of what 'we' think … I've been a little bit trained to say […] this is what 'we' think. […] It's a little sad."
With some of this pressure off in his new team setting, Brady feels liberated in his public comments, allowing his lighthearted side to shine through for the first time.
Brady is now older, wild, and free
While moving away from the Patriots has certainly permitted a change in public persona, Brady does not believe it was the only factor. Alongside the change in setting, he also credits his age. While being 44 years old may be a disadvantage on the field (at least for most humans), Brady believes his age is an advantage when it comes to self-expression. "When you're going to be 44, you feel liberated to say, 'All right … I feel differently.'"
He attributes this phenomenon to a better sense of perspective. As you age, he says, "you care less what people think, and then you realize no one cared, anyway." Because of this, rather than obsessing over every stray remark, the wizened quarterback now feels free to express himself.
Still, although he didn't say so explicitly, age may not be the only thing that has lowered Brady's inhibitions. The Buc's casual, "win or lose, we booze" attitude can't hurt either.
Whatever the exact reason Brady began opening up to the public, the 44-year-old has proved that it's never too late to find your true voice.
RELATED: Tom Brady Passionately Debunks a Damaging Lie About His Relationship With Bill Belichick: 'Nothing's Really Accurate'