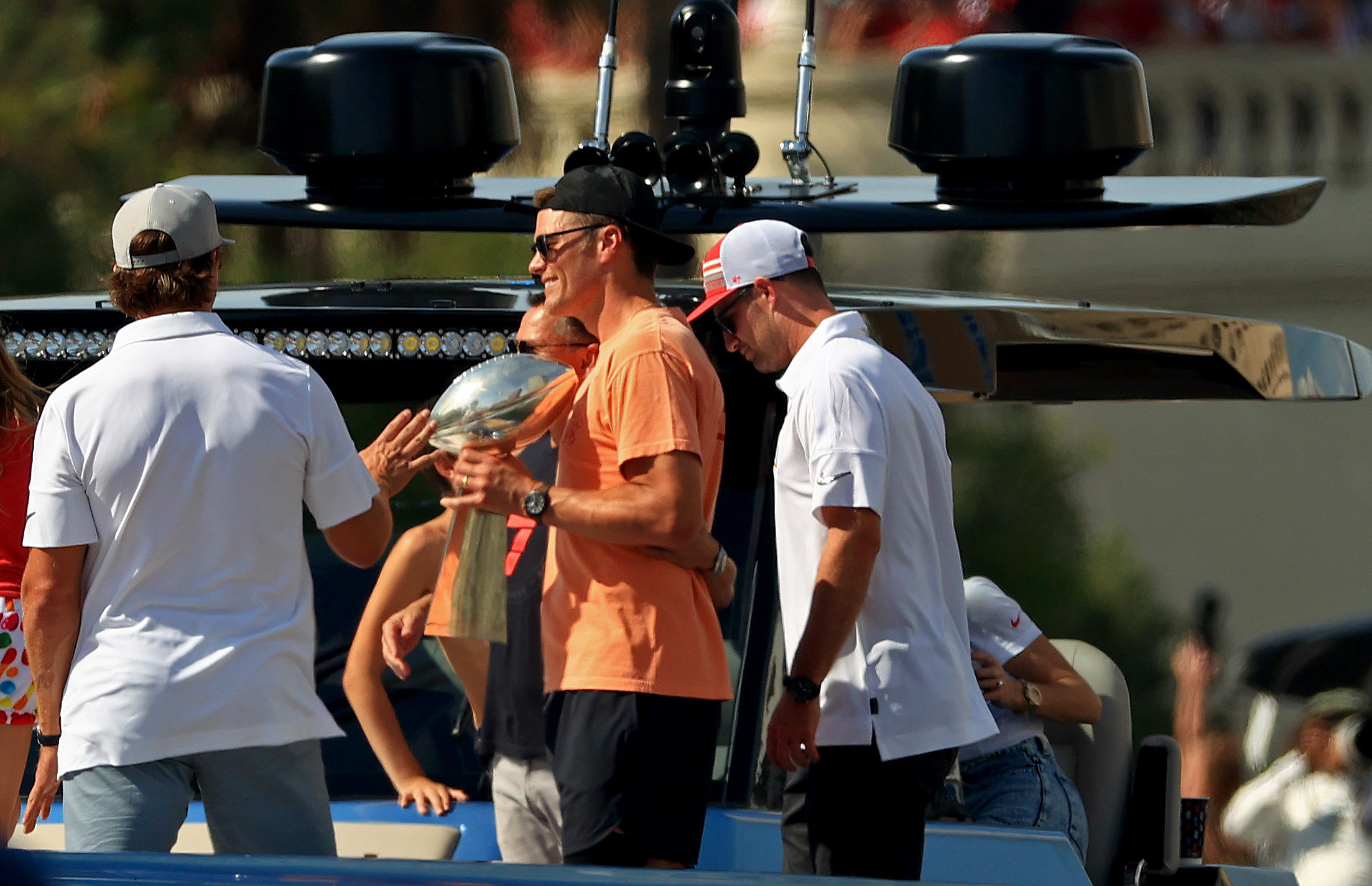 Tom Brady Fires a Shot at the Lowly New York Jets
Tampa Bay Buccaneers quarterback Tom Brady continues to beat the lowly New York Jets even when he's not on the field.
The intention wasn't to go out and take a shot at the New York Jets. Tom Brady just took the bait and ran with it. The seven-time Super Bowl champion made an appearance Tuesday on The Late Late Show with James Corden to speak about his recent Super Bowl title. Brady spoke about his famous Lombardi Trophy throw and then wound up taking a little shot at those lowly Jets.
Brady's seventh Super Bowl celebration caused a bit of a stir
RELATED: Tom Brady's Super Bowl Trophy Throw Infuriates Woman and She Demands an Apology
Tom Brady won six Super Bowls with the New England Patriots. Apparently, six wasn't enough for the 43-year-old quarterback. Brady and the Patriots parted ways after 20 seasons and he was quickly signed by the Tampa Bay Buccaneers. In his first year in Tampa, Brady threw 40 touchdown passes and threw for 4,633 yards.
Brady and the Bucs went 11-5 and won three straight road games to reach Super Bowl 55. Against Patrick Mahomes and the Kansas City Chiefs, the Buccaneers entered as the underdog but cruised to a 31-9 victory. The following Wednesday, Tampa held a parade for the champs and Brady made what turned out to be a controversial throw during the celebration.
Brady tossed the Lombardi to tight end Cameron Brate, who was in another boat. The throw made headlines when a Florida woman named Lorraine Grohs complained he was disrespecting the trophy and everyone who made it. Her father once helped make the first Lombardi Trophy.
Lorraine Grohs demanded an apology from Tom Brady
After Tom Brady completed his Lombardi Trophy pass to tight end Cameron Brade during the parade, one angry Florida woman exploded. Lorraine Grohs, whose father, Greg Grohs, was a master silversmith at Tiffany and Company for 27 years was angered. Greg Grohs helped make the first Lombardi Trophy.
"It just upset me that this trophy was disgraced and disrespected by being thrown as if it was a real football," Lorraine Grohs told Fox 4 Southwest Florida. "I have a big history of this trophy being made by my father and it's such an honor and I know all the craftsmen that made it when my dad was there also at Tiffany's and it takes a lot of hard work."
Grohs said she hadn't slept for two nights because of Brady's pass to Brate. She demanded an apology. "I personally would like an apology, not just to me and my family and the other silversmiths but to the fans, all the football fans the other team players," she said.
Brady zings the New York Jets
Tom Brady was a recent guest on The Late Late Show with James Corden and the two were talking about the fun Brady and the Buccaneers were having at the parade. The topic came up about the trophy-throwing incident and they laughed about it.
Corden then asked Brady, who is one year older, if Brady thought Corden could ever be drafted to play in the NFL. "Being completely honest, you have zero chance. Zero," Brady said. "I think you're so talented. I mean, you can't be great at everything."
Corden said he understood that he wouldn't be able to play for the Buccaneers but then asked Brady if he could play for the Jets. "You might be able to play for the Jets," Brady said. "You're right about that." Brady continues to beat the Jets even when he's not on the field.
All stats courtesy of Pro Football Reference.