Tom Brady Gave His Dad a Priceless Gift After His First Super Bowl Win
With the Tampa Bay Buccaneers winning the Super Bowl over the Kansas City Chiefs, Tom Brady won his seventh NFL championship. That's more than any single NFL franchise.
Without a doubt, he's considered the greatest quarterback of all time, but he's come a long way from his first Super Bowl run back in 2002. At that time, celebrating the victory with his parents, it was hard to believe his life and career could get any better. 
Tom Brady's heartwarming gift after his first Super Bowl victory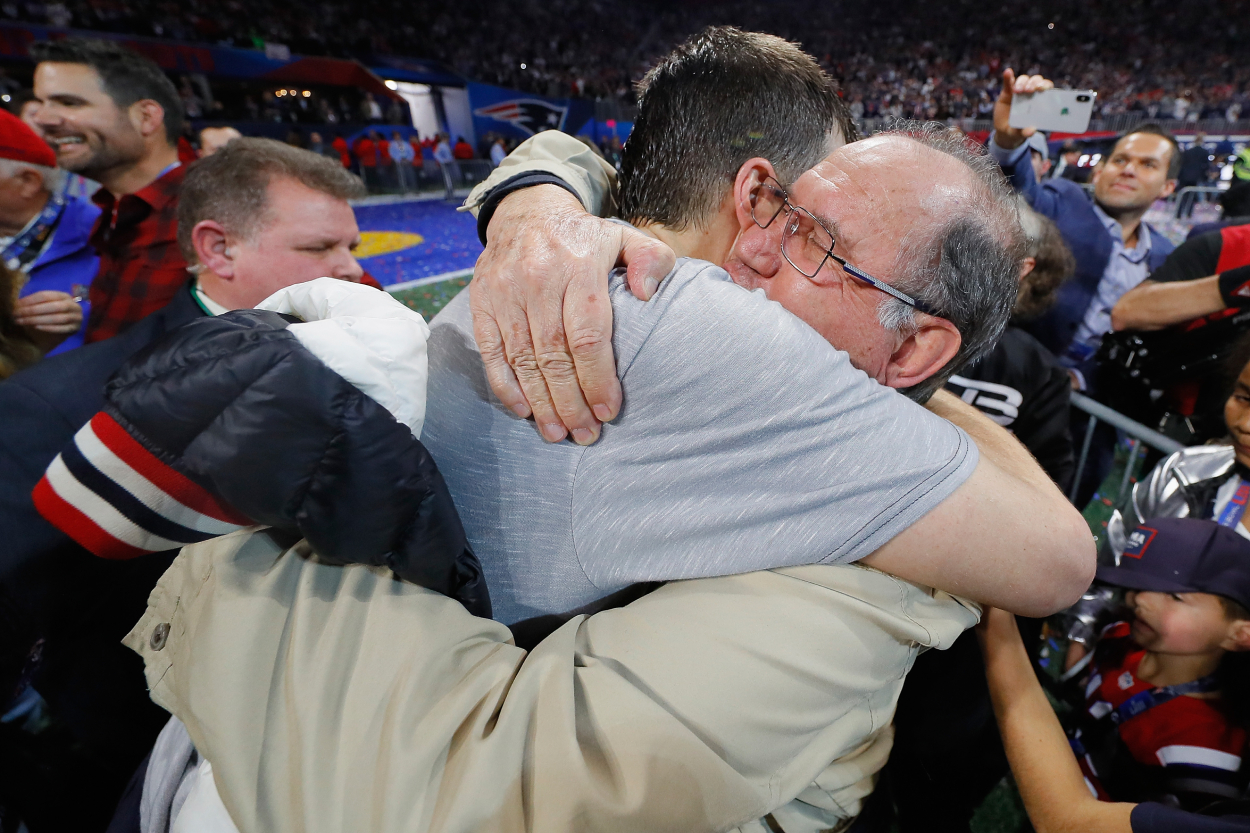 In hindsight, it's easy to look back at the start of Brady's NFL career and acknowledge what a great talent he was, but back in 2002, his team was still struggling.
The Patriots were in the midst of a mid-season slump before posting eight straight wins and making it to the playoffs. Sound familiar? It's similar to the Tampa Bay Bucs' season — a mid-season slump followed by a barrage of wins. Both seasons would end with Brady on top.
In the aftermath of that first Super Bowl win, Brady wanted his father, Tom Sr., to have his ring, but the elder Brady declined telling "Tommy" he wasn't the one to earn it. His father's refusal didn't stop young Brady. That night, he crept into his father's room and stowed the ring into his carry-on luggage. 
How Tampa Bay changed their season
RELATED: Tom Brady's Post-Super Bowl Instagram Post Proves He's Still Living by a Lesson He Learned at the University of Michigan
Tom Brady was never one to back down from a challenge, and with a new team, new head coach, and a season filled with unknowns because of coronavirus, he would need to be at his best.
With Tampa Bay struggling by mid-season, Brady and head coach Bruce Arians decided to meet up with each other and figure out how to salvage the rest of the season. 
Because of COVID-19, the pair nixed the meetup and instead got in touch by phone. They discussed tweaking the offense to make it better. Looking back, that discussion between head coach and quarterback was key to the rest of the season.
They won the rest of their regular-season games and then headed into the playoffs, where they picked off some of the best quarterbacks around — Drew Brees, Aaron Rodgers, and Patrick Mahomes. 
Arians felt Brady's intense drive during the season was twofold. He told SportsIllustrated, "Tom is playing for his teammates right now. He wants those guys to experience what he's experienced six times. I think personally, too, he's making a statement. You know? It wasn't all coach [Bill] Belichick."
What is Tom Brady's legacy?
It's easy to say Brady is the greatest of all time. With seven Super Bowl rings, a slew of quarterback records (combined passing yards and career touchdown passes, to name a few), and a five-time Super Bowl MVP, he's as decorated as football players come. What's even more impressive is the growth from his college days to now.
Back in the late '90s, Brady had to battle for playing time at Michigan. Even his entrance into the NFL wasn't impressive. Drafted in the sixth round, he was never a highly regarded prospect. But an overhaul of his diet and exercise regime, along with an impressive work ethic and willingness to learn, has made him still relevant even at 43. 
After spending 20 seasons with the New England Patriots, his move to Tampa Bay was highly analyzed and examined. Was this the end of his career? Could he help turn the team around?
In just one season, Brady silenced his critics. Through a season filled with unrest, new players learning the ropes, and grappling with his own parent's health issues, Brady managed to put all that behind him, focus on the game, and pull out a victory that solidified his status as one of the best.