Tom Brady Guessing Mandarin Phrases and Using Chopsticks Made His Team the No. 1 Followed NFL Franchise on Chinese Social Media
Tom Brady is everywhere. He has his brand, TB12, which takes a holistic approach to improving athletic performance. And he plans to launch a clothing line named Brady later this year. The NFL great also has an upcoming docuseries co-produced by his production company, 199 Productions, and ESPN.
But Brady doesn't limit his branding to the United States. He's also popular in China and even starred in a TV show there.
What is the 'Tom Brady China Show,' and why did the QB film it?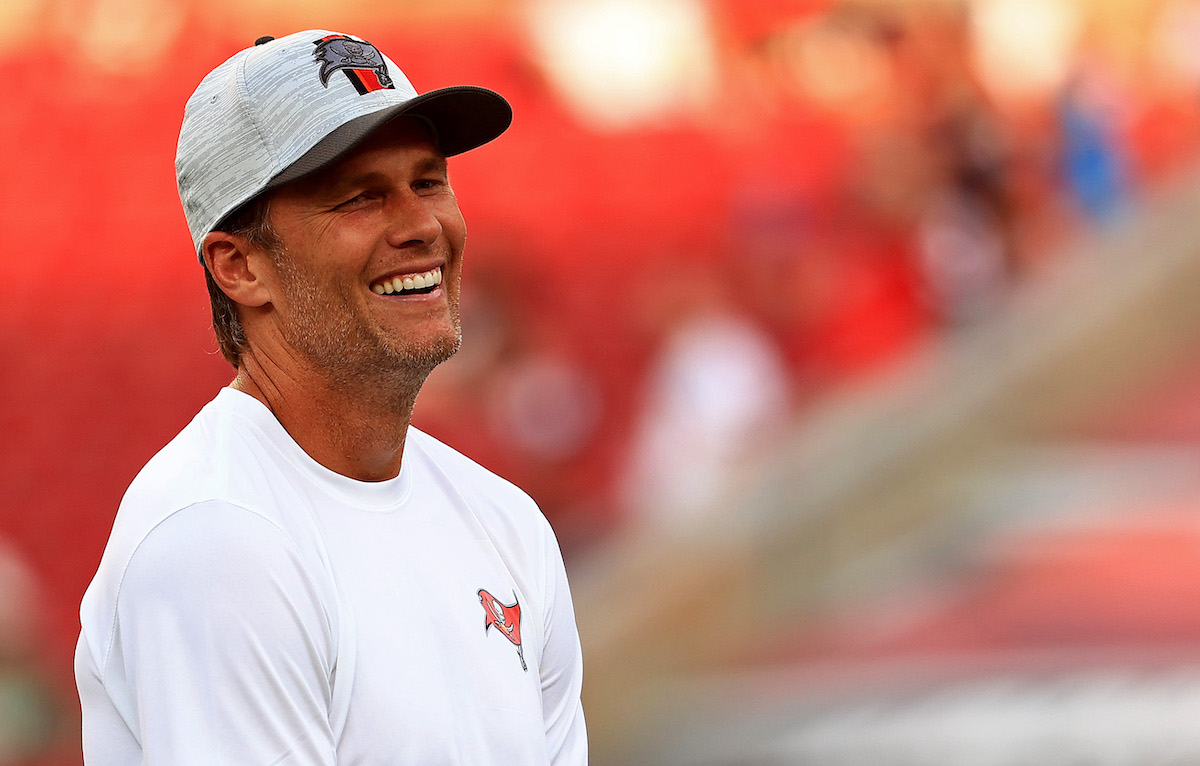 According to Sporttechie, the New England Patriots and Brady were part of two shows intended to increase interest in the NFL in China. The first show, Foxborough TV, featured game previews and reviews, a Patriots legend, and unique local fan stories.
The second production, starring Brady, was the Tom Brady China Show. It featured him interviewing teammates, demonstrating training techniques, and answering questions from fans in China. It aired during the 2018 NFL season once a month into December.
It is pretty entertaining to watch the GOAT do things he is not great at
At first glance, the show seemed centered on football, specifically aimed at fans in China. It turns out it was so much more.
Instead of Brady demonstrating why he is the GOAT, he had to do things he was not great at doing. These activities included guessing Mandarin phrases and using chopsticks to pick up a cleat. Oh, and the show had an NFL-prediction dog.
It aired on social channels exclusively in China. Unfortunately, there is no word on the dog's accuracy.
Now China loves Tom Brady, who wants to play an NFL game there
In 2019, CNN reported that the Tom Brady China Show garnered 15.8 million views, making it the most-watched NFL club content series of all time in China.
Additionally, the Patriots were the first NFL team to gain 500,000 followers on the Twitter-like platform Weibo. And as part of the NFL's push to expand its fan base in China, the league was reportedly planning a game in China in 2020. However, the COVID-19 pandemic put the kibosh on the plans. And though two games are scheduled for London this season, they likely won't happen soon.
Even before Brady's show, he had a considerable fan base in China. Sporttechie says RADII China previously posted pictures from Brady's Instagram and tracked a trip he made to China and Japan in 2017, posting photos taken from WeChat, similar to WhatsApp.
Brady took his oldest son, Jack, with him on that visit and said, "it was a great trip for a dad and a son at about 10 years old." Brady also mentions how he used to take trips with his father, and he hopes Jack has as many great memories of the trip.
It's not a big surprise that Brady has so many fans. Even players who want to hate him for being the GOAT end up admitting Brady is a great guy. And with his positive attitude, incredible skillset, and sheer determination and drive, the GOAT would have no problem taking the world by storm. If that's what he decides to do anyway.
RELATED: Not Even Patrick Mahomes and Tom Brady Have Been Able to Achieve the Rare Feat That Jim Brown Accomplished