Tom Brady Has a Terrifying Message for the Atlanta Falcons That Should Have Fans Shaking in Utter Fear
Tom Brady is hot off an impressive Week 1 win over the Dallas Cowboys, and the reigning Super Bowl MVP has little plans of slowing down. The Tampa Bay Buccaneers quarterback is in hot pursuit of an eighth championship, and that process starts during the regular season.
With a Week 2 matchup against the Atlanta Falcons looming, Brady delivered a simple — yet ominous — message to Falcons fans.
Tom Brady took a subtle jab at Falcons fans this past week
Following Brady's win over the Cowboys to kick off the 2021 NFL season, he took to Twitter with a brief video to hype up Buccaneers fans. Brady didn't say anything too outlandish or notable during the brief, 24-second clip. It was more so cookie-cutter material to get fans riled up.
However, upon a closer look, it's clear that Brady is looking to orchestrate some serious mind games with the Falcons. If you peek over Brady's shoulder anywhere during the first 13 seconds of the Twitter clip, you'll notice the clock is set at 3:28.
Sound familiar?
"3-28" can be used to represent the monumental lead that the Falcons blew to Brady and the New England Patriots during Super Bowl 51. It's an iconic talking point when referencing Brady and Atlanta, one that he is blatantly leaning into.
Tom Brady has only gotten better since the 28-3 debacle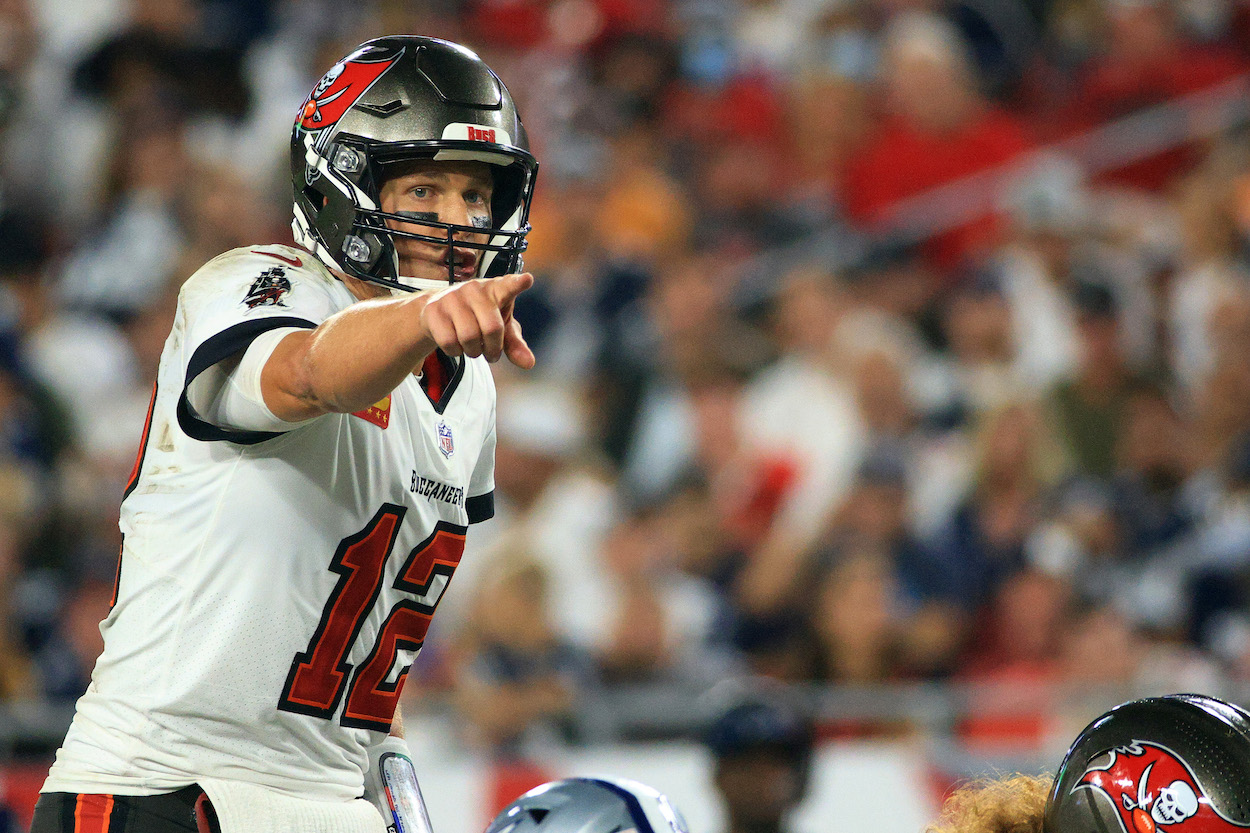 Defending against Brady is never an easy task in the NFL. However, what's even more concerning for the Falcons is how much better Brady has seemingly become since the iconic 28-3 blown Super Bowl lead.
Brady is fresh off a 40-touchdown season in 2020. He looked more than comfortable slinging the football around against the Cowboys during Week 1.
To make matters even worse, the Falcons have regressed since their notable encounter with Brady in 2016. They finished with the fourth-worst record in the NFL last year and were absolutely smashed to pieces by Jalen Hurts and a below-average Philadelphia Eagles team to kick off their 2021 campaign.
Facing off against a confident, motivated, and somewhat cocky Brady isn't exactly the best circumstance to achieve a bounce-back victory.
The Atlanta Falcons are due for a rough Week 2
Win or lose against Brady on Sunday, the Falcons appear to be spiraling toward back-to-back poor seasons. Their offense looked anemic and lethargic against the Eagles during Week 1. In particular, Matt Ryan looked somewhat helpless without Julio Jones.
Additionally, rookie tight end Kyle Pitts failed to make his presence known during his NFL debut. There's plenty of time for him to turn things around throughout the season, but drafting a tight end No. 4 overall was always a risky move. There's only so much a TE can do.
Stopping Brady isn't an impossible feat, but as the Falcons have seen firsthand, it's always easier said than done. The future Hall of Famer is never out of it, especially when he throws passes to Mike Evans, Chris Godwin, Antonio Brown, and Rob Gronkowski.
The Falcons' defense will have its hands full during Week 2, even more so when you consider Brady is coming in with a bit of extra swagger.
All stats courtesy of Pro Football Reference.