Tom Brady's Incredible Durability Left a Profound Impact on Chargers Star Justin Herbert
Justin Patrick Herbert was 2 years old when Tom Brady threw his first NFL pass for the New England Patriots in November 2000. Herbert, the Los Angeles Chargers' star quarterback, was 22 years old when he faced Brady, then playing for the Tampa Bay Buccaneers, in October 2020.
So much of that sentence is unbelievable to even consider, but such is reality after Brady played parts of 22 NFL seasons. With the seven-time Super Bowl champion entering retirement, Herbert is left to reflect on how much of an impact the three-time NFL MVP had on him.
Chargers star Justin Herbert spoke highly of Tom Brady's durability and legacy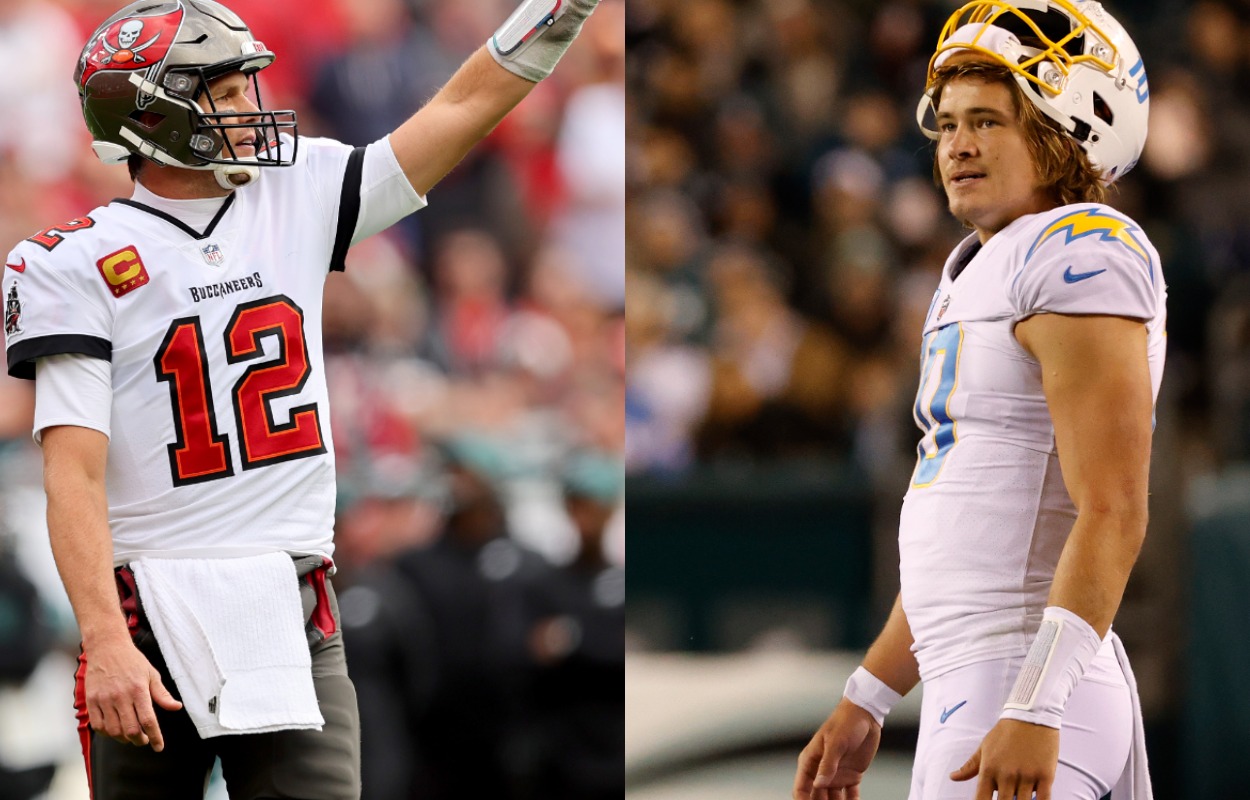 Now is an appropriate time to remind readers Brady began his NFL career two years before the Houston Texans played their first game and retired only weeks after the six-time AFC South champions finished their 20th season.
There is no shortage of fun facts involving Brady's longevity, and Herbert remains in awe of what the future Pro Football Hall of Famer accomplished over the last two decades. Herbert recently told Fox News' Ryan Gaydos he believes it's "incredible" that Brady played for 22 seasons and, aside from a torn ACL in 2008, avoided missing time because of injuries along the way.
Herbert, a first-time Pro Bowl selection in 2021, also commended Brady for finding ways to win games even if the process of securing the victory wasn't the prettiest.
"I think that's what's most important about the quarterback position is putting your team in a position to win it. You know, whether that's getting the ball out quickly, finding checkdowns. Making sure that you're playing the game the way you need to be played, not the way that you want to play. I think he was the best at that."

Justin Herbert
Brady retired with a 243-73 regular-season record and went 35-12 in the playoffs. Although quarterback wins are an imperfect stat, there's a reason why the Michigan product appeared on the NFL's 100th Anniversary All-Time Team as an active player.
Brady's durability is especially remarkable when one truly examines his numbers
A quick glance at Brady's Pro Football Reference page shows plenty of seasons where he played and started in all 16 games — or, in the case of the 2021 season, all 17 games. From 2002-20, the three-time MVP only missed 19 total games, a number that looks significantly better considering when one remembers he only played one quarter in 2008 because of the knee injury.
The only other time Brady missed games during that span was when he served a four-game suspension in 2016 for his part in the DeflateGate scandal. That's it. Although the seven-time champion had lingering injuries throughout his career, including a knee problem in 2020, he never missed a game.
There aren't many other quarterbacks who can speak to the durability Brady enjoyed throughout his career. Green Bay Packers star Aaron Rodgers missed significant time in 2013 and 2017 with clavicle injuries. New Orleans Saints legend Drew Brees sat out five games in 2019 because of a torn ligament in his thumb. 
San Francisco 49ers great Joe Montana, Brady's childhood hero, frequently missed a game or three in his 30s because of injuries. The four-time Super Bowl champion played only one game from 1991-92 because of elbow problems.
None of that is to say Brady escaped injury-free. According to NFL Media, Brady played the entire 2010 season with a stress fracture in his right foot. Not that a foot problem would have prevented him from winning his second career MVP Award.
Herbert is among the young star quarterbacks who are in excellent shape to try following in Brady's footsteps
The 2021 season all but officially marked the end of the Golden Era of Modern Quarterbacks. Brady and Pittsburgh Steelers legend Ben Roethlisberger each retired after legendary careers. Brees and Los Angeles Chargers great Philip Rivers hung up their cleats after the 2020 season, one year after Eli Manning, a two-time Super Bowl champion, called it quits.
Most of the league's top active quarterbacks are those drafted in 2016 or later. The only outliers are Green Bay Packers star Aaron Rodgers (a first-round pick in 2005), the Los Angeles Rams' Matthew Stafford (the No. 1 overall selection in 2009), and Seattle Seahawks icon Russell Wilson (a third-round pick in 2012). Matt Ryan, the third overall pick in 2008, is still around and recently wrapped up his 14th season with the Atlanta Falcons.
Although Herbert is only 15-17 as an NFL starter, he completed 66.2% of his passes for 9,350 yards, 69 touchdowns, and 25 interceptions in his first two seasons. At only 23 years old, he joined Kansas City Chiefs star Patrick Mahomes as the only quarterbacks to join the 5,000-yard club within their first two NFL seasons.
The future of the NFL is in great shape with the likes of Herbert, Mahomes, and Cincinnati Bengals standout Joe Burrow. Things will look even better if those three can copy Brady's durability and stay on the field for the next decade or two.
Like Sportscasting on Facebook. Follow us on Twitter @sportscasting19.
RELATED: Pro Bowl QB Justin Herbert Has Shawne Merriman Excited About the Chargers' Future: 'It's Downright Scary What He's Going to Be Capable Of'