Tom Brady Inspired Odell Beckham Jr. to Invest in His Body
Two of the most impressive athletes in football are Odell Beckham, Jr. and Tom Brady. Beckham impresses with his sheer athleticism. He regularly pulls down one-handed circus catches and is terrific at getting open. Brady, on the other hand, may not be the physical specimen Beckham is, but he's equally impressive. He's managed to play at a high level well into his 40s — a feat almost no other players achieve in the NFL. 
Beckham looked to Brady as a guide for how he takes care of himself. He served as his inspiration for why Beckham invests so much time and money into his body and its upkeep.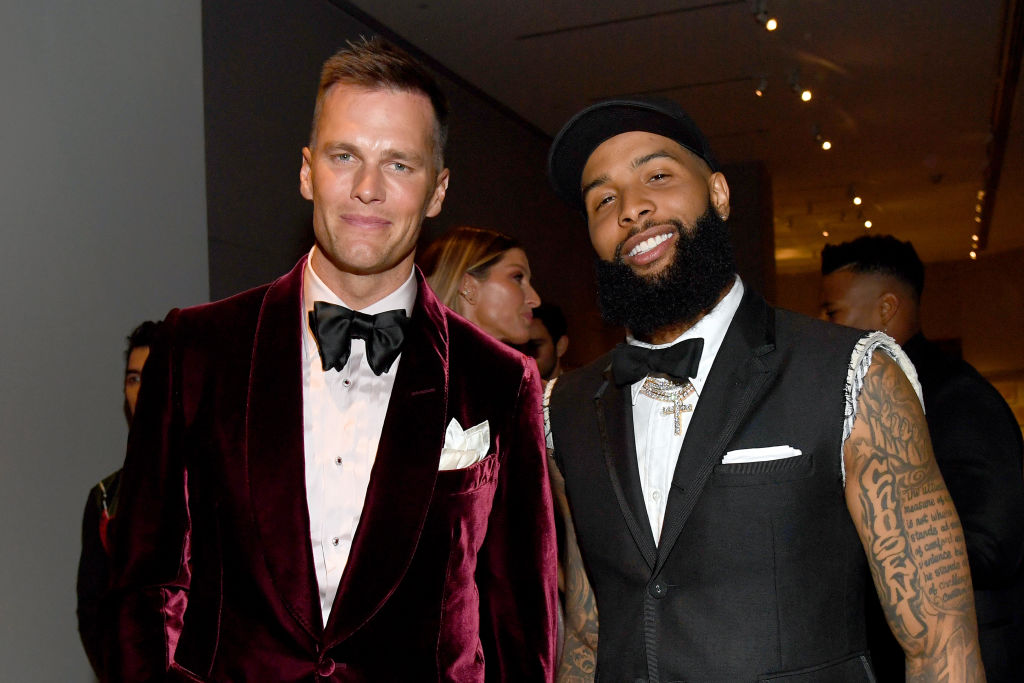 The career arcs of Odell Beckham, Jr. and Tom Brady
Beckham's career has been one of both excellence and frustration. Whether it was last season (his first with the Cleveland Browns) or his career before that with the New York Giants, Beckham's teams have struggled to win.
That's hardly due to Beckham's efforts, however. He's been one of the best wide receivers in football since entering the league. He's also worked wonders for both Baker Mayfield and Eli Manning, the two quarterbacks he's played with the most in his career. Beckham has a habit of making incredible catches and getting plenty of yards after the catch. 
Meanwhile, Brady's career had much humbler beginnings than Beckham's. A sixth-round pick out of the University of Michigan, Brady has since won six Super Bowls as the quarterback of the New England Patriots. Almost every football fan remembers the now-common image of Brady's doughy frame at the NFL Draft Combine.
Since that day, he's worked hard to get in top physical condition. It's allowed him to become probably the greatest quarterback ever over the last two decades. Now with the Tampa Bay Buccaneers, he still has high expectations at the age of 43. 
How much does Odell Beckham, Jr. invest in his body?
According to Beckham, the amount he invests in his body is into six figures. He spoke about it with ESPN:
"I take care of my body each and every day. I put, probably, over $300,000 in my body in the offseason…It's a lot to upkeep. I don't ever want to decline."
Beckham's money goes toward doctors, trainers, and track coaches who help him recover from injuries as well as train his body for optimal performance. Beckham name-checked Brady in particular and the longevity he's shown throughout his career. It's apparent that Beckham wants to have a similarly long career as Brady, who's still going strong well into middle age. 
But how exactly has Brady changed his lifestyle to help his body last longer on the football field?
How has Brady managed to play this long?
Brady keeps his body in tip-top shape. He's managed to do this with a variety of training and dietary techniques:
His carefully constructed diet consists of 80% vegetables. 
He doesn't lift heavy weights but instead trains for flexibility. 
Brady goes to sleep every night at 8:30. 
Brady has parlayed his approach to wellness into a lifestyle brand with a company called TB12. He's even released a "playbook" that details his workout tips and keys to recovery.
It's hard to argue with the results: even if you think Brady declined somewhat last season (and most will agree that he did), there's no denying that he's playing better than just about any 43-year-old has ever played in NFL history.
Beckham is smart to model Brady's approach to personal health. There's no telling how long Beckham will play, but if he combines his already impressive athleticism with Brady's no-nonsense approach to fitness and nutrition, he'll be in the league for a long time.