Tom Brady Is Doomed if This Statistical Anomaly Holds True for Super Bowl 55
Stop me if you've heard this one. (deep breath) 10 conference championships. Six Super Bowl wins. Four Super Bowl MVPs. Three NFL MVPs. At this point, it'd almost be easier to list the things that Tom Brady hasn't achieved as an NFL quarterback. Shockingly, we're going to do so right now.
Brady has the Bucs' offense on a roll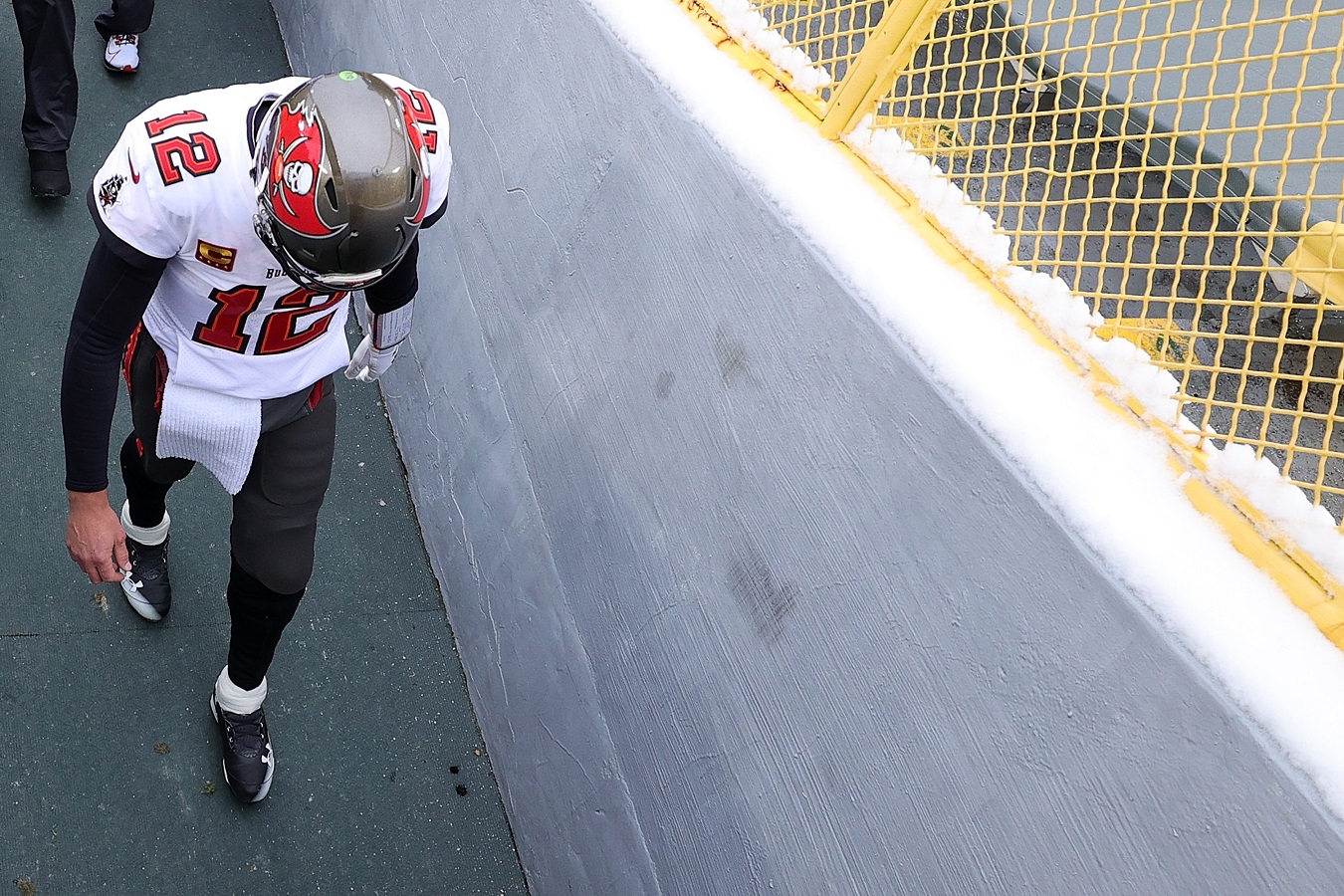 RELATED: Tom Brady Isn't the First Super Bowl QB Trying to Get Revenge After a Regular Season Loss
The last time Brady and his Tampa Bay Buccaneers encountered the Kansas City Chiefs, it didn't go well for them. Despite a late rally, they lost 27-24 at home as Patrick Mahomes and Tyreek Hill repeatedly torched their defense. That November afternoon, the Bucs stepped off the field unsure of whether they would even make the playoffs.
Two months later, they haven't just made the playoffs, they're in the biggest game of all. The Buccaneers have won their last seven games, including three postseason games all on the road. They've won on the strength of an offense that finished the 2020 regular season third in the NFL in points scored, trailing only the Packers and Bills.
At the age of 43, Tom Brady has not lost an ounce of his accuracy or arm strength. He finished the 2020 season with 4,633 passing yards, third in the NFL behind Deshaun Watson and his Super Bowl opponent, the Chiefs' Patrick Mahomes.
Tom Brady may not have stats on his side
RELATED: Tom Brady Has an Interesting Way of Dealing With Practice-Squad Players Who Intercept Him
As Football Perspective points out, the three Super Bowls that Tom Brady lost all followed seasons in which his team finished third or better in passing yardage. By contrast, all six of his Super Bowl wins followed seasons in which Brady's team finished outside of the top three.
In 2007, Brady's Patriots finished with an undefeated regular season, while his passing attack led the league in both yards and touchdowns — the latter of which set a new record. Despite this, New England still lost that year's Super Bowl in a monumental upset to the Giants. Similarly, the Patriots finished second in passing yards in 2011 and 2016, but lost both of those Super Bowls.
It is a testament to Tom Brady's incredible skill, longevity, and luck that we have a sample size so large to find this statistical anomaly. For this one,
A hidden weakness in the Buccaneers offense
If Brady had worse luck in Super Bowls where he came in as one of the highest-rated passers of the season, that must mean his teams lacked offensive balance. This was definitely true of all three of the Patriots teams Brady lost a Super Bowl with, none of which had a 1,000-yard rusher. Even on the near-perfect 2007 team, their top running back — Laurence Maroney — reached only 835 yards.
The same is. unfortunately, true of the 2020 Buccaneers. While the team finished 3rd in the NFL in passing yardage, they also finished 28th in rushing yards. Their top runner, Ronald Jones II., has not rushed for 100 yards in a game since their November 15th win over Carolina.
This lack of offensive balance could come back to haunt the Buccaneers. If the Chiefs' defense keeps up with Tampa's passing game, they will have to have some alternative.
Statistics courtesy of Pro-Football-Reference.