Tom Brady Is Still Haunted by His Super Bowl 52 Drop Against the Eagles
In just a few days, Tom Brady and the Philadelphia Eagles will once again be facing off in this postseason. Granted, the stakes are far lower this time, seeing as it's a wild-card game (the last two meetings were in the Super Bowl). However, this doesn't mean Brady isn't looking forward to the opportunity to get some revenge against an organization that stole a Super Bowl ring from him.
In fact, according to Brady himself, he's still haunted by his loss to Nick Foles and the Eagles back in Super Bowl 52. One play, in particular, sticks out from the loss to Brady.
Tom Brady is still haunted by his Super Bowl 52 dropped pass
Super Bowl 52 will go down as one of the more memorable Super Bowls in NFL history. It had everything you could ask for out of a championship — the underdog versus dynasty dynamic, a backup QB, trick plays, etc. While the Eagles successfully executing the "Philly Special" at the end of the first half is the trick play everyone remembers from the game, Brady and the New England Patriots tried their version of a trick play earlier in the game.
On a play that looked eerily similar to the Philly Special that had yet to happen, the Patriots ran a double reverse that resulted in Brady streaking down the right sideline, completely wide open. There was nobody in between him and the end zone — all he had to do was catch the pass coming from one of his Patriots receivers.
Instead, the ball tipped off Brady's fingertips, landing incomplete. The whole play became a massive meme amongst rowdy Eagles fans, especially considering Foles' successful touchdown catch later in the game.
According to Brady on a recent episode of Sirius XM's "Let's Go," Brady is still haunted by the drop.
"I get reminded of that play," Brady said. "Every time I see an Eagles fan, I get reminded of that play."
Tom Brady gets his chance at revenge against the Eagles this Sunday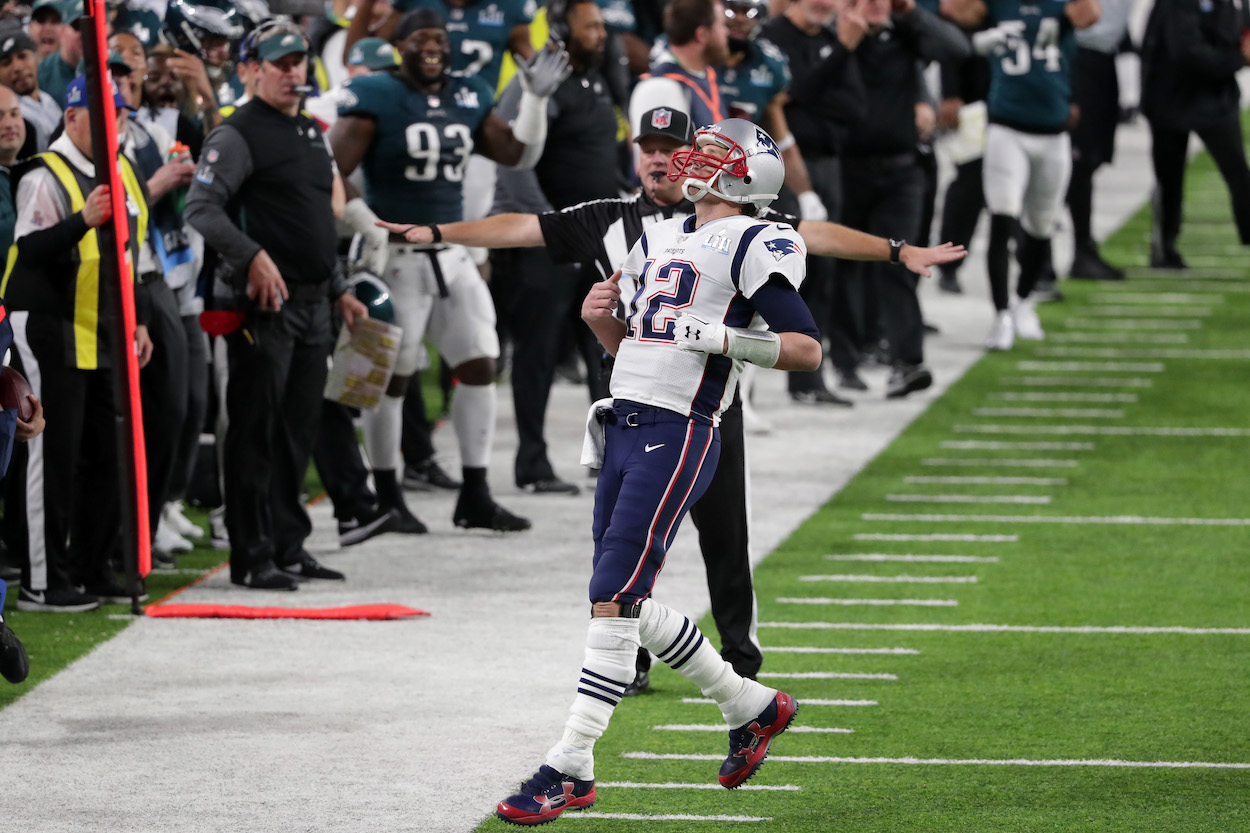 It's a far different-looking Eagles team that Brady faces compared to the Super Bowl 52 squad he lost to just under four years ago. However, this weekend's wild-card game is still a significant opportunity for Brady to shut up some Philly fans who keep giving him a hard time about Super Bowl 52.
Brady and the Tampa Bay Buccaneers are playing at home and are 8.5 point favorites (according to CBS Sports). The Bucs have also already beaten the Eagles once this season, which certainly gives them some added confidence.
If there were ever a time for Brady to beat down on the Eagles, it would be now.
Will we see any more trick plays?
Brady played at an MVP level this season. He led the league in passing yards, completions, and touchdowns. It's hard to imagine the Buccaneers looking to take the ball out of his hands by way of trick plays during Wild Card Weekend.
The Eagles, on the other hand, may turn to some trickery early and often. They have a uniquely constructed roster that relies on their running game to an extreme level. Their best option to pick up chunk plays through the air may very well be through the occasional trick play.
All stats courtesy of Pro Football Reference.