Tom Brady Isn't the Only Person With 6 Super Bowl Rings
In the life of an NFL executive, player, or coach, there's no greater feat than winning a Super Bowl. Some truly great representatives of the sport can go an entire career without winning a championship. Some, like Patriots quarterback Tom Brady, win many times.
While Brady has a stellar track record of championships, he's not the only person with six (or more) Super Bowl rings. Let's look at who joins him in this exclusive club.
Tom Brady's Super Bowls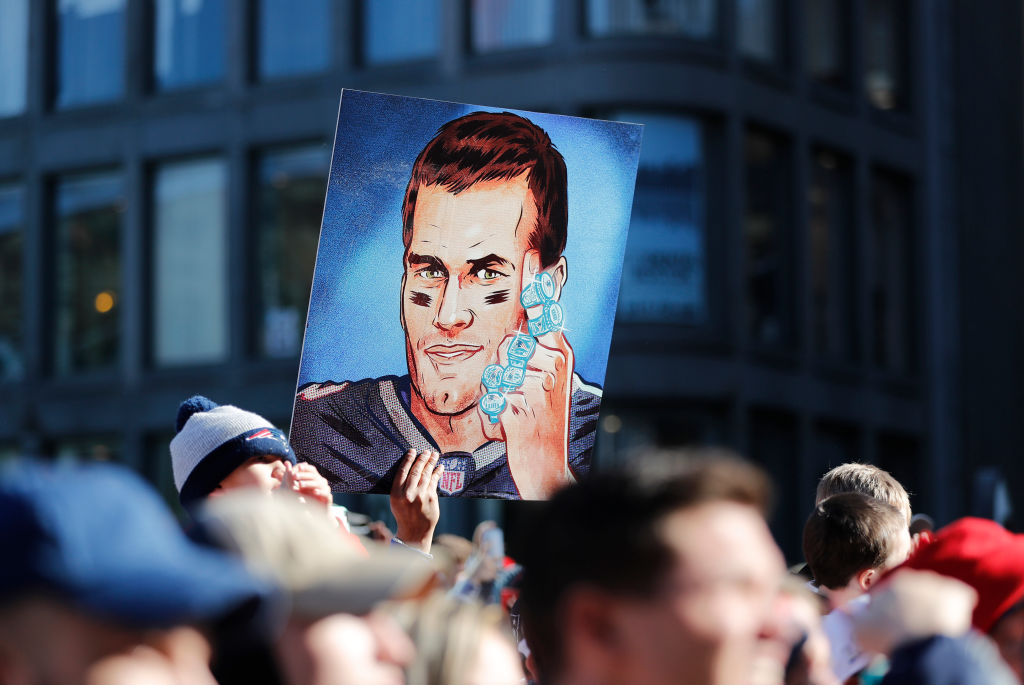 In 2002, Brady led the upstart Patriots to an upset over the St. Louis Rams. Since then, he's a regular fixture in the Super Bowl. While the QB has lost three Super Bowls (two to the Giants, one to the Eagles), he's defeated the following teams for NFL titles:
St. Louis Rams, 2001
Carolina Panthers, 2003
Philadelphia Eagles, 2004
Seattle Seahawks, 2014
Atlanta Falcons, 2016
Los Angeles Rams, 2018
Brady didn't win a Super Bowl this season, but if he returns next year with the Patriots, he'll have another shot. The 43-year-old would like to play until he's 45. But which players, coaches, and executives can make the same claim of six Super Bowl rings?
Players and personnel with six or more Super Bowl rings
Many of the people in the "six Super Bowl ring" club received them with Brady's team, the Patriots. Here is a list of every player, coach, scout, or front-office executive with six Super Bowl rings:
Executives/front office/scouting
Robert and Jonathan Kraft, owners, New England Patriots
Dan Rooney and Art Rooney II, owners, Pittsburgh Steelers
Ernie Adams, football research director, New England Patriots
Nick Caserio, various front office roles, New England Patriots
Bill Nunn, scout, Pittsburgh Steelers
Brian Smith, various front office roles, New England Patriots
Players/coaches
"Mean" Joe Green, player/special assistant, Pittsburgh Steelers
Mike Woicik, conditioning coach, Dallas Cowboys/New England Patriots
Chuck Noll, coach/special assistant, Pittsburgh Steelers
Josh McDaniels, offensive coordinator, New England Patriots
Ivan Fears, positional coach, New England Patriots
But believe it or not, none of these men hold the record for six Super Bowl rings. That would be two other football lifers.
Who has more than six Super Bowl rings?
The two most notable figures mentioned above are the two men with more Super Bowl rings than Brady: Patriots coach Bill Belichick and former executive Neal Dahlen.
Dahlen was an executive for the San Francisco 49ers, where he won five Super Bowls. He was also an executive with Denver, where he won two more championships. He is second all-time in Super Bowl rings with seven.
Belichick has, of course, won six Super Bowls as the Patriots' head coach. He also won two Super Bowl rings as the defensive coordinator of the New York Giants. Belichick's defensive wizardry was a big reason why the Giants prevailed over the Bills in Super Bowl XXV.
Will anyone surpass either of these two? Brady does have the best shot. But if he stays in New England, he'll never move past Belichick. Brady's only shot is to move in free agency so he could free himself from his coach. The smart money isn't on that happening, so expect Belichick to remain the all-time leader for a while.
Follow more updates from Sportscasting on our Facebook page.